The Latest On Epstein Pal Ghislaine Maxwell Includes Surge In Calls To A Sexual Assault Hotline, The New Man in Her Life
KEY POINTS
Maxwell's lawyers' appeared before a federal judge to address their motion to delay the release of documents from a 2015 civil case by three weeks
New questions have emerged surrounding Maxwell's relationship with a man identified as Scott Borgerson
One of the biggest sexual assault hotlines in the U.S. reported a surge in calls following the release of a Lifetime docuseries about the Epstein case
The last 24-hours have proven to be eventful for Jeffrey Epstein associate and ex-girlfriend, Ghislaine Maxwell. Along with a judge hearing her lawyers' arguments to delay the release of documents, new questions have arisen about her relationship with another man in recent years related to her conservationist efforts.
However, not all news related to the case was bad thanks, in part, to the Lifetime docuseries covering the sexual abuse ring allegedly run by Epstein and Maxwell.
Judge Denies Delaying Release of Documents
The first bit of news came out Wednesday when Maxwell's lawyers appeared before U.S. District Judge Loretta Preska in New York City's Manhattan-borough. Maxwell's legal team filed a motion on Monday to delay the release of documents from a 2015 civil suit against Maxwell by three weeks over "critical new information."
Her team did not disclose what this new information was, but the request was ultimately denied by Preska.
"Given that Ms. Maxwell is not at liberty to disclose this new information because it is subject to the protective order in the criminal action, the Court has no reasonable basis to impose a stay," Preska said in a press release. "And, as Ms. Maxwell knows, her ipse dixit [assertion without proof] does not provide compelling grounds for relief. Should the protective order in the criminal action be modified to permit disclosure of the relevant information to the Court, Ms. Maxwell may renew her request for a stay of the unsealing process."
Oral arguments in Maxwell's case are scheduled to begin Sept. 22 while the criminal trial is scheduled to begin July 2021.
What is the Relationship Between Maxwell Ghislaine and Scott Borgerson?
Another wrinkle in Maxwell's case is a report on her relationship with Scott Borgenson.
The New York Times said Borgerson, a former member of the U.S. Coast Guard, was the founder of maritime investment company CargoMetrics. He also worked as a fellow on the U.S. non-profit think tank Council on Foreign Relations.
It is not clear when he met Maxwell, but the two reportedly had started "working" together by 2014 on Maxwell's conservationist organization, the TerraMar Project. The organization was started by Maxwell in 2012 as the socialite looked to rebrand herself as an oceanic conservationist. However, TerraMar reportedly had no offices and did not provide grants to other conservation groups, the Times said.
At some point, Borgerson was referred to as a director at the TerraMar Project despite not working with it. People familiar with the situation said it was done to provide Maxwell credibility as an oceanic conservationist and to provide Borgerson with a list of useful contacts associated with Maxwell.
As time went on, questions among the pair's friends began to grow about their relationship. Borgerson's 2014 divorce from his now ex-wife, whose name has not been released, only added fuel to the fire. He repeatedly denied any relationship, saying they were only friends.
However, two friends of Maxwell, who asked the New York Times to remain anonymous, said the she and Borgerson began sharing a home in Manchester-by-the-Sea, Massachusetts, in 2016. They said they became more suspicious after Maxwell purchased a mansion in Bedford, New Hampshire, which is an hour from the home in Massachusetts.
This was the same mansion Maxwell was arrested at in July.
Borgerson added further fuel to the fire when he was recently seen walking a dog Maxwell's friends said is her champion-bred vizsla.
"Surviving Jeffrey Epstein" Causes Surge In Calls to National Sexual Assault Hotline
Some good appeared to have come out of the ordeals surrounding Epstein and Maxwell's alleged abuse ring. After Lifetime aired its docuseries "Surviving Jeffrey Epstein," the National Sexual Assault Hotline reported a surge in calls between Aug. 9 and Aug. 10.
"The Sunday and Monday that 'Surviving Jeffrey Epstein' aired, RAINN's National Sexual Assault Hotline experienced a 34% increase in usage," Rape, Abuse and Incest National Network president Scott Berkowitz said in a press release. "We thank Lifetime Television for their partnership and are moved by the powerful impact that our work with the media continues to have in inspiring survivors to seek out the healing they deserve."
The four-hour docuseries investigated the alleged ring Epstein and Maxwell oversaw and the survivors' life afterwards. It serves as a spiritual-sequel series to the two-part Lifetime docuseries "Surviving R. Kelly," which delved into the singer's own accusations of sexual assault and sex trafficking. In both series, Lifetime partnered with RAINN to encourage survivors and victims of sexual assault to reach out and seek help.
"Providing a platform for these women to share their stories is just one piece of the puzzle," Lifetime and LMN senior vice president of publicity and public affairs Kannie Yu LaPack told Variety. "Being able to partner with RAINN to provide resources for others is incredibly rewarding, to help them move beyond being victims as they continue on their journey to become survivors."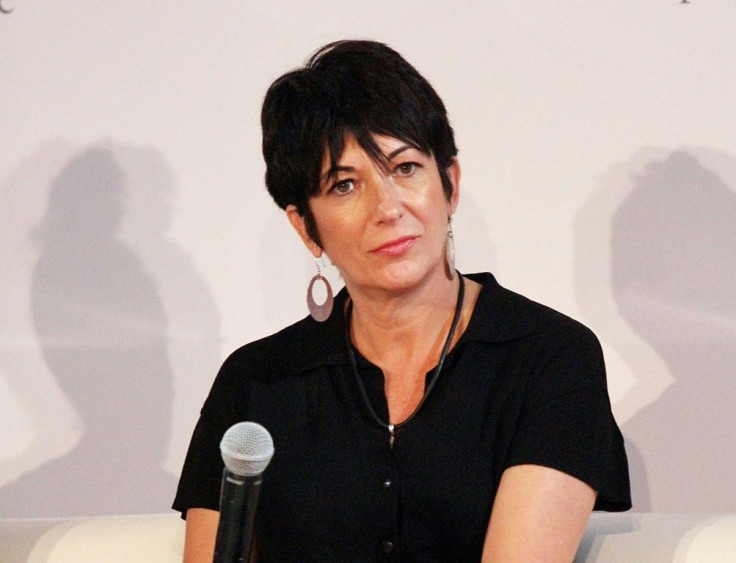 © Copyright IBTimes 2023. All rights reserved.