Latest Presidential Polls: How Much Does The Hispanic Vote Mean For Hillary Clinton, Donald Trump, Gary Johnson, Jill Stein?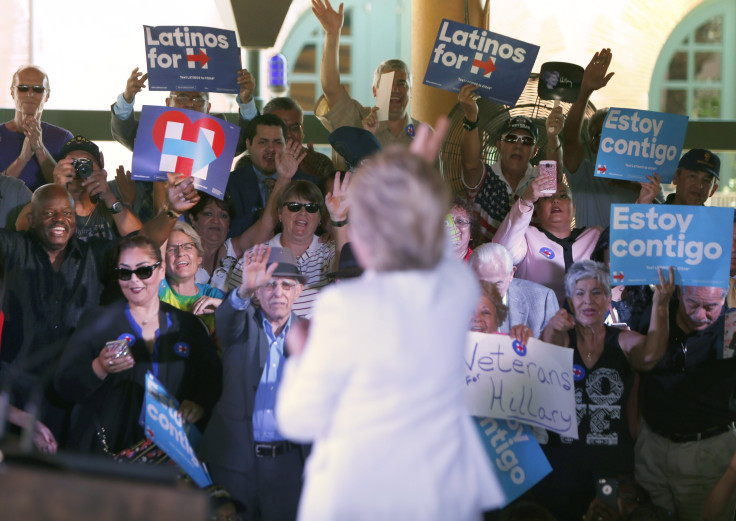 Despite improved polling numbers from Libertarian Party nominee Gary Johnson and Green Party nominee Jill Stein after dismal election returns in 2012, the next president is all but certain to be a Democrat or Republican. In an NBC News/SurveyMonkey poll released Tuesday, Democratic nominee Hillary Clinton holds a 45 percent to 40 percent edge over Republican nominee Donald Trump in a four-way matchup, followed by Johnson at 10 percent and Stein at 4 percent.
A problem for the third-party candidates might be their inability to successfully court Hispanic voters. A record 27.3 million Hispanics are eligible to vote and compose roughly 12 percent of the 2016 electorate.
After Trump's controversial stances on immigration, and third-party candidates not gaining much ground with Hispanics, it would seem logical to assume Clinton would be running away with such a crucial voting block, but that hasn't been the case.
A recent survey by Bendixen & Amandi International and The Tarrance Group for Univision Noticias shows Clinton's support among Hispanics lags behind President Barack Obama's in 2012, when the Democratic nominee was facing a Republican challenger who hadn't taken a hard-line stance on immigration.
A recent USC Dornsife/Los Angeles Times "Daybreak" poll tracking about 3,000 eligible voters had Clinton leading Trump among Hispanics, 55 percent to 33 percent. The poll didn't reference Johnson and Stein. In 2012 exit polls, Hispanics voted for Obama over Romney, 71 percent to 27 percent, with only 2 percent voting for third-party candidates.
Clinton, whose running mate Tim Kaine speaks fluent Spanish, also trails Obama's 2012 lead among Hispanics in four key swing states: Arizona, Colorado, Florida, and Nevada. Clinton leads Trump 53 percent to 29 percent in Florida, which has 29 electoral college votes. In 2012, Obama won the Hispanic vote in Florida, 60 percent to 39 percent.
Recent state polls suggest Clinton may need stronger Hispanic support to win the general election. An NBC/Wall Street Journal/Marist College poll had Trump edging Clinton among likely voters in Arizona, 42 percent to 41 percent. An Emerson poll has Trump leading Clinton in Colorado, 41 percent to 38 percent. In Nevada, Trump has a 42 percent to 39 percent lead over Clinton, according to a Rasmussen poll. In Florida, 46 percent support Clinton compared to 41 percent for Trump, in a Monmouth University poll.
The Hispanic vote seems a bit more important for third-party candidates in an election year with both the Democrat and Republican candidates having high unfavorable ratings, but Johnson and Stein have fallen short. Neither Johnson nor Stein is in contention to win a state with a heavy Hispanic population.
Johnson polls at 5 percent in Arizona, 6 percent in Colorado, 6 percent in Florida and 5 percent in Nevada. Stein polls at 2 percent in Florida and 3 percent in the other three states. Those figures are all below what Johnson and Stein poll at in the general election.
The recent poll numbers might be particularly concerning for Johnson, who is a former two-term governor of New Mexico. The state is 48 percent Hispanic, and represents the largest Hispanic statewide population share in the country, according to the Pew Research Center.
Johnson had previously done well with Latinos in this election cycle. Fox News Latino conducted a random national sample of 803 Latino registered voters in August, with Johnson receiving 16 percent of the vote.
In national polls, Johnson has polled as high as 13 percent in a four-way race. He failed to reach the 15 percent required by the Commission on Presidential Debates. Stein's best poll numbers were in June when she reached 7 percent.
© Copyright IBTimes 2023. All rights reserved.