Lawrence Lessig's Presidential Campaign Is About One Thing Only: Campaign Finance Reform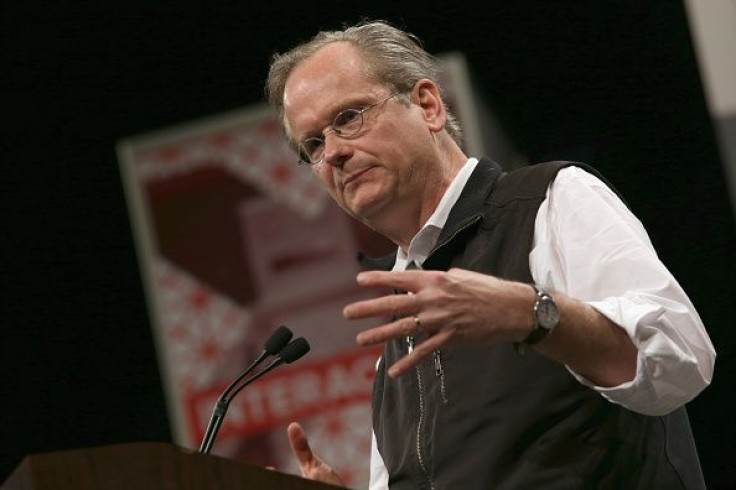 The race for the 2016 Democratic Party nomination just got a lot more wonky with academic-slash-activist Lawrence Lessig's announcement that he's exploring a run for the nomination. The Harvard professor, legal scholar and advocate for government transparency will look to force front-runner Hillary Clinton to address issues like campaign finance reform and copyright law, an issue near and dear to Silicon Valley.
Lessig, 54, announced his candidacy Tuesday with a video on his website, declaring his goal to publicly crowdsource enough money to "mount a credible" Democratic primary campaign, meaning raising $1 million by Labor Day.
His ultimate goal, Lessig said, is to pass the Citizens Equality Act of 2017, a campaign finance reform proposal that also would also expand voting access and target gerrymandering. Lessig said he would only serve as president until the Citizens Equality Act is passed, at which point he'd leave the Oval Office to his vice president.
"In an ideal world I'd be the president for one day," Lessig said during a conference call with reporters Tuesday before calling on other presidential contenders to tell the American people how they would actually achieve their campaign promises in political climate where corporate campaign donors are so influential. "One of the points I've been maing consistently is that it's not enough to identify what policies you'd like to see come to be. You've got to show me a plan."
The announcement comes two years after Lessig founded the Mayday Super PAC, a political action committee dedicated to raising public funds on behalf of reform-minded congressional candidates who support legislation that bans corporate campaign support.
"I think that he'd be unrealistic as a nominee, but issue-oriented candidates pull the parties to address certain issues," said Abraham Newman, a professor of political science at George Washington University. "Who knows, he could be the second or third nominee and force the main candidates to take a position on transparency or open government."
Lessig said his encounters with voters have convinced him that the only reason someone would bristle at campaign finance reform is that they either don't care, or see it as a useless pursuit. But he said his campaign, which will only occur if he meets his fundraising goal, provides voters to demand change on a bipartisan issue that otherwise might not be raised in a campaign stocked full of big-money candidates.
"Once we get this problem cleaned up we can move to other parties where there is a genuine difference," Lessig said. "What we need to recognize here is that the fight isnt between Republicans and Democrats. The fight is between inside the beltway and outside the beltway."
Of the major presidential candidates only Sen. Bernie Sanders, D-VT., has delved into campaign finance reform, repeatedly criticizing an American "oligarchy." Lessig said he's been in touch with Sanders and has tried to raise awareness among other prominent politcos including Michael Bloomberg, Joe Scarborough and California Governor Jerry Brown.
There's no word yet on whether Mayday will support Lessig's campaign, though the current chair Zephyr Teachout said she is only starting to explore the 2016 class of candidates now. Under Lessig, the PAC spent $7.5 million on eight races and won only two. But Teachout, the Fordham law school professor and former New York gubernatorial candidate, said that by raising millions of dollars from thousands of people Lessig proved "there's not a geniune question about whether people have concern about financing issues."
"I have an untested theory that Larry was able to do something magical in an area where most people say, 'Don't Bother,'" she said. "Our democracy is on fire. If you want more African Americans to run for office, and you want more demographics in power you have to reject the current funding model."
© Copyright IBTimes 2023. All rights reserved.