LeBron James vs Steph Curry Net Worth In 2017: Who Makes More Money?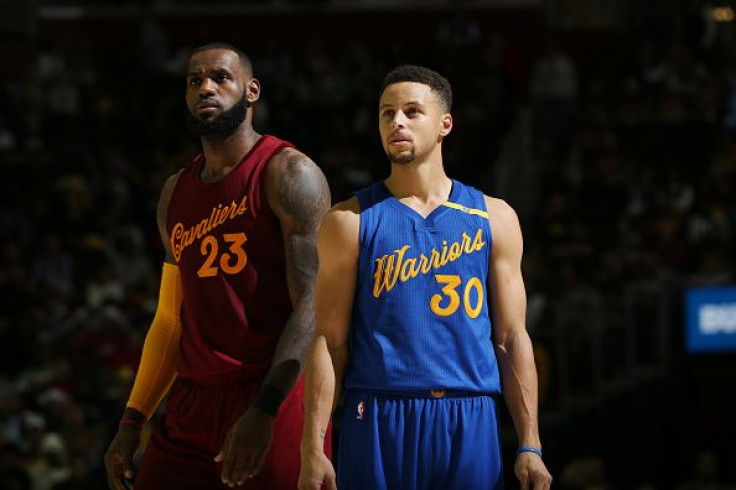 The 2017 NBA Finals have arrived. For the third straight year, juggernauts of the East and West Conferences — the Cleveland Cavaliers and the Golden State Warriors — will battle it out on Thursday for supremacy and bragging rights. Many consider respective superstars LeBron James and Steph Curry to be two of the most authoritative contemporary athletes in the sports and business world as everything they touch turn to gold — but who is worth more?
According to Spotrac, LeBron James is the wealthiest among all active NBA players and comes up fifth on the NBA's all-time list with a substantial net worth of $340 million. And while James' salary sits comfortably at $31 million, his endorsements are what bring in the most sizable cash amounts. His partnerships with companies like Kia Motors, Coca-Cola (Sprite), Nike, Beats Electronics, Intel and Verizon afford him a $55 million bonus each year.
READ: NBA Finals 2017 Betting Odds: Warriors' Sweep More Likely Than Cavaliers' Championship
James inked a three-year $99.8 million contract with the Cleveland Cavaliers — including $99.8 million guaranteed — which has him at an annual average salary of $33.2 million. During the 2016-17 season, LeBron will earn a base salary of $30.9 million while carrying a cap hit of $30.9 million and a dead cap value of $99.8 million. His teammates Kyrie Irving and Kevin Love are reportedly worth about $45 million and $30 million, respectively.
Golden State's Steph Curry, holding a net worth of $25 million, doesn't even scratch the all-time top 50 list — though his next deal has the potential to be his biggest ever.
Steph Curry's switch from his last sportswear brand, Nike, to his current UnderArmour deal has doubled the worth of the company, which is currently worth billions. James, by comparison, has netted almost as much cash as Beyoncé and also has pending deals in place worth upwards of half a billion dollars.
READ: NBA Finals 2017: Game 1 Start Time, TV Channel, Live Stream Info For Cavaliers vs. Warriors
Curry's deal with Under Armour, with whom he has a popular signature shoe deal, has the two paired until 2024 for an unknown amount as well as an equity stake in the company.
Curry signed a four-year $44 million contract with the Golden State Warriors, including $44 million guaranteed and an annual average salary of $11 million. During the 2016-17 season, Curry will earn a base salary of $12.1 million while carrying a cap hit of $12.1 million. However, Curry is "only" worth $35 million with his big upcoming deals.

While his net worth almost doubled from the previous year, Curry is finishing off the last year of a four-year $44 million contract with the Warriors. There has been speculation that the free-agent deal Curry will ink this summer could make him the NBA's first $200 million player, according to ESPN.
While experts are favoring Golden State to take the Larry O'Brien trophy this time around, it's Clevland's own LeBron James who emerges the victor in the battle of the biggest bankroll.
© Copyright IBTimes 2023. All rights reserved.