Legal Experts Question Department Of Justice Filing To Defend Trump In Defamation Suit
KEY POINTS
The Department of Justice filed to replace Trump's personal defense attorneys in a defamation suit fled by writer E. Jean Carroll
Carroll filed her lawsuit after Trump's comments denying he sexually assaulted her in the 1990s
Multiple legal experts have called into question the Department of Justice's filing
In a move that appears to have caught many by surprise, the U.S. Department of Justice is seeking to replace President Trump's personal legal team as part of an ongoing defamation lawsuit.
The lawsuit was filed last November by writer E. Jean Carroll, who previously accused Trump of sexually assaulting her in the mid-1990s. She said he assaulted her in the changing room of an upscale New York City department store. Trump has repeatedly denied the accusations, telling The Hill in June 2019 Carroll was "totally lying" and she was not his "type."
The comments sparked Carroll's lawsuit.
Trump's legal team sought to have the lawsuit dropped in a New York state court, claiming immunity. The court ruled against Trump, saying he was not immune and he needed to provide a DNA sample to be tested against a DNA on the clothing Carroll said she was wearing when she was assaulted.
The Department of Justice said in a five-page filing Tuesday that when Trump made these comments, he was acting in his capacity as president of the United States and could be defended by federal lawyers. It goes on to say that because he was acting within his official capacity, the court should change the defendant to read "United States" and move the case to federal court. This would effectively end the lawsuit as federal officials are immune from defamation suits.
Carroll and her team pushed back against the filing almost immediately, with Carroll going after Trump on Twitter.
"It offends me as a lawyer, and offends me more as a citizen," Carroll's lawyer Robbie Kaplan said in a press release. "Trump's efforts to wield the power of the U.S. government to evade responsibility for his private misconduct is without precedent, and shows even more starkly how far he is willing to go to prevent the truth from coming out."
The Department of Justice's filing was also met with doubt by various legal experts and former members of the department who questioned its grounds.
"The question is," University of Texas law professor Steve Vladeck told the New York Times, "is it really within the scope of the law for government lawyers to defend someone accused of lying about a rape when he wasn't even president yet?"
The closest case Vladeck could compare was a 2005 federal court ruling that allowed then-U.S. Rep. Cass Ballenger, R-N.C., to be defended by federal lawyers in a defamation lawsuit filed by the Council on American-Islamic Relations. However, Vladeck said Tuesday's filing was unprecedented because the department was trying to shield Trump's alleged personal behavior behind "sovereign immunity."
"The president has argued in multiple cases that he is immune from civil lawsuits in state courts, and at every turn that argument has been rejected," attorney Ben Berwick told the Times. Berwick is a former Department of Justice lawyer who is currently working with the legal group Protect Democracy, which is aiding multiple plaintiffs with lawsuits against Trump.
Other legal experts criticized the filing on Twitter, with some saying it was a waste of taxpayer money and could mean Carroll's case against Trump is stronger than the public realized.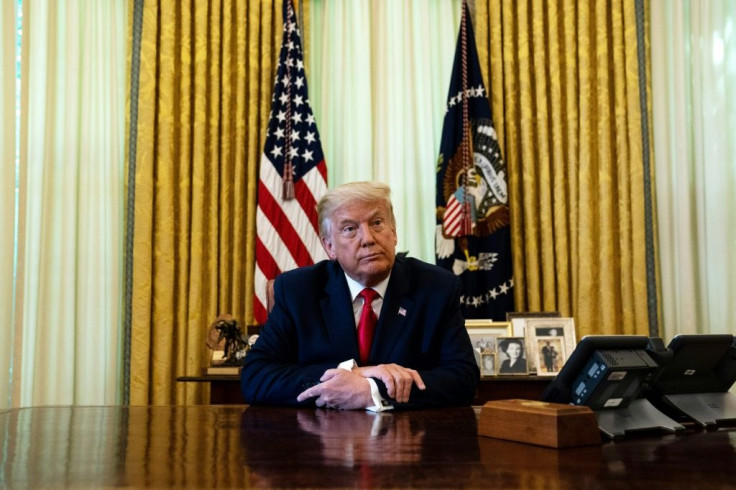 © Copyright IBTimes 2023. All rights reserved.