'Legends Of Tomorrow' Season 3 Finale: How Will The Team Defeat Mallus?
"Legends of Tomorrow" executive producer Phil Klemmer said that the Legends only have one way to take down Mallus in the Season 3 finale of the CW series.
In a recent interview with Entertainment Weekly, Klemmer said that the Legends' ability to operate as one is what will make them defeat the time demon once and for all. "The Legends … they're not fully capable individually. In fact, they're pretty broken and messed up," Klemmer said of the show's protagonists. "[So] their ability to take on something like Mallus would be only through coming together."
"Obviously that's kind of an abstract idea and you need to come up with the concrete way of showing what that looks like. [And] we did," Klemmer continued. "It's something we never would have imagined doing certainly at the beginning of the season or even the middle of the season, but by the time you reach the end of the season you're like, 'Yes!'… I feel like we've found it with our finale."
While the synopsis for the season ender revealed that the Legends' plan to vanquish Mallus using the totems doesn't go as planned, Klemmer said that the team will be getting some assistance from the people they helped in the past.
"What we wanted to do in the finale is to find, in all the messy way of doing things, that the Legends have managed to accumulate a lot of people who owed them one because of their unconventional methods," Klemmer said. "It's all about bringing the Legends to their lowest as totem bearers and their plan to let Mallus loose so they can take him on head-on is obviously soon quickly realized that was not a great plan. What we wanted to do in the finale is to have them be at their lowest and at the same time buoyed by all of these reminders of they've got friends out there. They're total eff-ups and there's plenty of people who hate them, but it's the people that they've helped that would stand by them at the very end of the world. That's what the finale is."
One of the characters that are set to return in the finale is Helen of Troy (Bar Paly). In the trailer for the episode, Helen seems to have joined the fight against Mallus while wearing what appears to be an Amazon-inspired warrior costume.
"Legends of Tomorrow" Season 3 finale, titled "The Good, the Bad and the Cuddly," airs on Monday, April 9 at 8 p.m. EDT on The CW.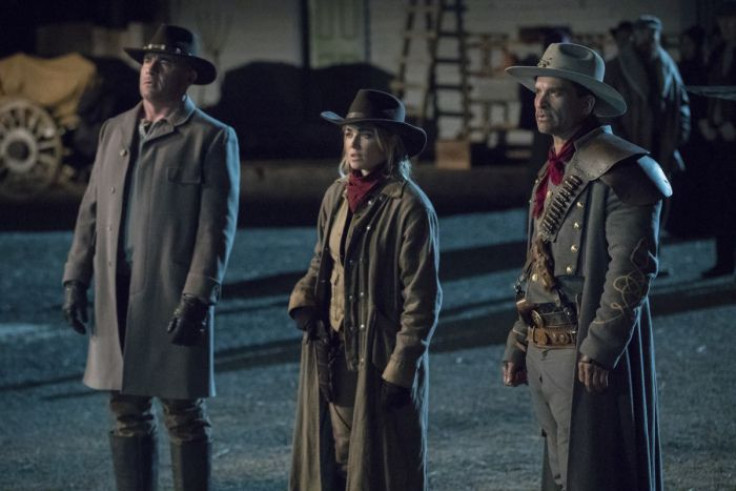 © Copyright IBTimes 2023. All rights reserved.
FOLLOW MORE IBT NEWS ON THE BELOW CHANNELS