LGBT Rights 2016: Kansas Law Allows Religious Groups To Discriminate Against Gay Students, ACLU Warns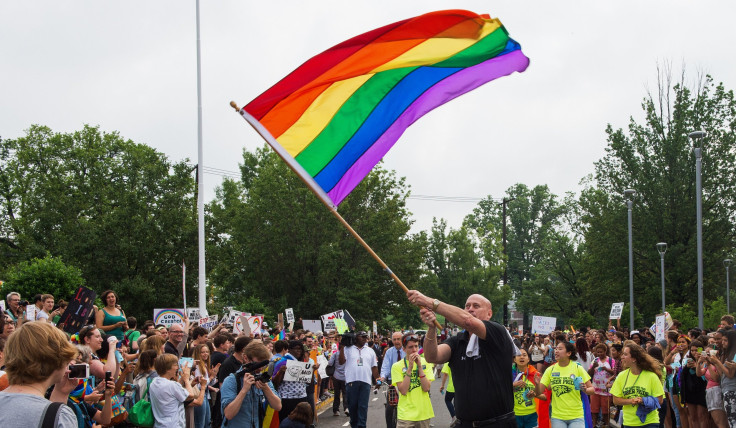 Kansas this week became the first state to successfully enact in 2016 so-called religious freedom legislation that critics say targets LGBT communities at colleges and universities. Sam Brownback, Kansas' conservative Republican governor, signed late Tuesday a bill that allows faith-based groups at college campuses to restrict membership based on their religious beliefs without risking a loss of public funding.
The legislation undoubtedly puts the state in jeopardy of civil rights lawsuits from lesbian, gay, bisexual and transgender advocacy groups, as well as civil liberties organizations. The Human Rights Campaign, the largest LGBT advocacy organization in the U.S., and the American Civil Liberties Union of Kansas on Wednesday denounced Brownback for signing the measure.
"Gov. Brownback's shameful decision to sign this measure into law puts tens of thousands of college students who attend school in Kansas at risk," Chad Griffin, HRC's president, said in a statement. "History has never looked kindly on leaders who promote discrimination, and Gov. Brownback has recklessly abandoned his responsibility to ensure all students are treated with dignity and respect."
Attitudes on Same-Sex Marriage by State | Graphiq
Kansas' law is part of an onslaught of anti-LGBT bills that attack fairness and equality for LGBT people, in the wake of last summer's validation of same-sex marriage nationwide by the U.S. Supreme Court, gay rights advocates have said. In 2016, there are nearly 200 similar measures proposed in 33 states that proponents say protect the religious liberties of clergy, religious organizations and even business owners who claim religious motivation from discrimination lawsuits over their objection to homosexual and transgender people.
The law signed by Brownback does not cover clergy and private businesses, unlike much-debated measures in Missouri, Arkansas and Indiana.
Kansas' law was signed despite warnings from LGBT and civil liberties group that it might also lay a foundation for discrimination in student organizations against racial minorities and women. But Brownback has said that he worked with lawmakers to ensure that the law would not be abused.
"This is very good, narrow, targeted piece of legislation that will serve the betterment of our college campuses," Brownback said, according to the Associated Press. Kansas' ACLU office told the AP it was "very seriously" considering a legal challenge to the law.
"It's a step backward to a time when government was actively enabling discrimination against people based on who they are," said Micah Kubic, the ALCU Kansas executive director.
The law will take effect July 1, the AP reported.
Critics also said the bill jeopardizes existing non-discrimination policies governing Kansas' public education institutions, including the Kansas Board of Regents and the University of Kansas. "This is a dark day for Kansas, and we must find a path to eventually seeing that this deplorable law is ripped out and thrown away," added Griffin of HRC.
© Copyright IBTimes 2023. All rights reserved.