Missouri Senate Filibuster Of Same-Sex Marriage Religious Freedom Bill Is Praised By National LGBT Advocates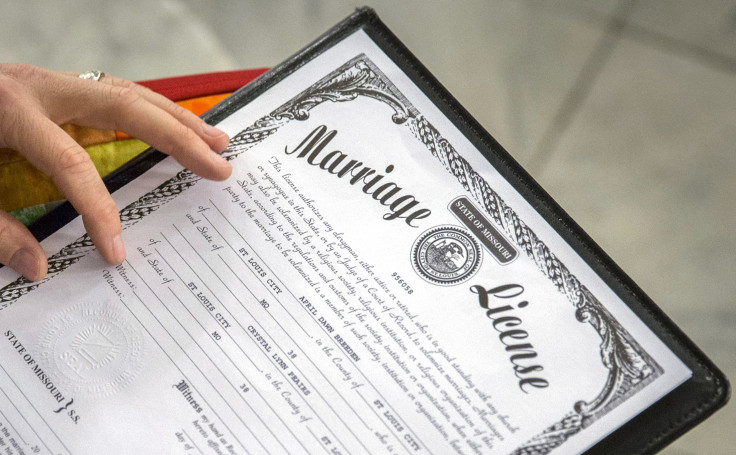 Democrats in Missouri's Republican-controlled Senate were unable to stop lawmakers from passing a bill early Wednesday that would allow same-sex marriage opponents to deny services and business to the lesbian, gay, bisexual and transgender community. But their defeat was not from a lack of trying.
LGBT groups on Wednesday were praising Democrats' day-and-a-half filibuster attempt against SJR 39, a religious exemptions bill similar to legislation being considered in nearly two dozen states around the country. The Missouri House of Representatives can take the measure up once the Senate votes on it an additional time, but there's little chance of it becoming law, as Democratic Gov. Jay Nixon has condemned it.
"We salute the senators who courageously filibustered this hateful bill for a record-breaking 39 hours and were willing to keep standing, even as the numbers were against them," said Jeffrey Mittman, executive director of the American Civil Liberties Union in Missouri. "The country is watching, and we will continue to fight until we've landed on the right side of history," he added.
Sarah Warbelow, legal director for Human Rights Campaign, the gay civil rights group, also praised the Democratic senators in a statement. "Discrimination against LGBT people should never be sanctioned by the state, and we call on the Missouri House of Representatives to resoundingly reject this outrageous resolution."
Supporters of the measure say the U.S. Supreme Court's validation of same-sex marriage nationwide last year has imperiled Christian church leaders and business owners' religious freedoms. "My conscience comes from the Bible, the inerrant word of the Bible," said state Sen. David Sater, a Republican supporter of SJR 39, according to the New York Times. He added: "It's a conscience-protection bill."
But gay rights groups said Missouri's bill targeted same-sex couples by pre-empting the inevitable discrimination lawsuits that could arise from denial of services to those couples. Much of SJR 39 deals with the right of clergy, religious groups and other organizations to refuse participation in or renting of facilities to gay wedding ceremonies and celebrations.
The bill would also give caterers and florists the right to refuse selling their products or services to same-sex celebrations. Courts in states where similar measures are in place have ruled against vendors claiming a religious objection to same-sex marriage. In all, 21 states, including Indiana and Arkansas, have considered religious freedom laws. None have become law so far, according to the Washington Post.
Same-Sex Marriage Legality Over Time | Graphiq
© Copyright IBTimes 2023. All rights reserved.
FOLLOW MORE IBT NEWS ON THE BELOW CHANNELS