Lindsay Lohan's Path Of Self Destruction: A Timeline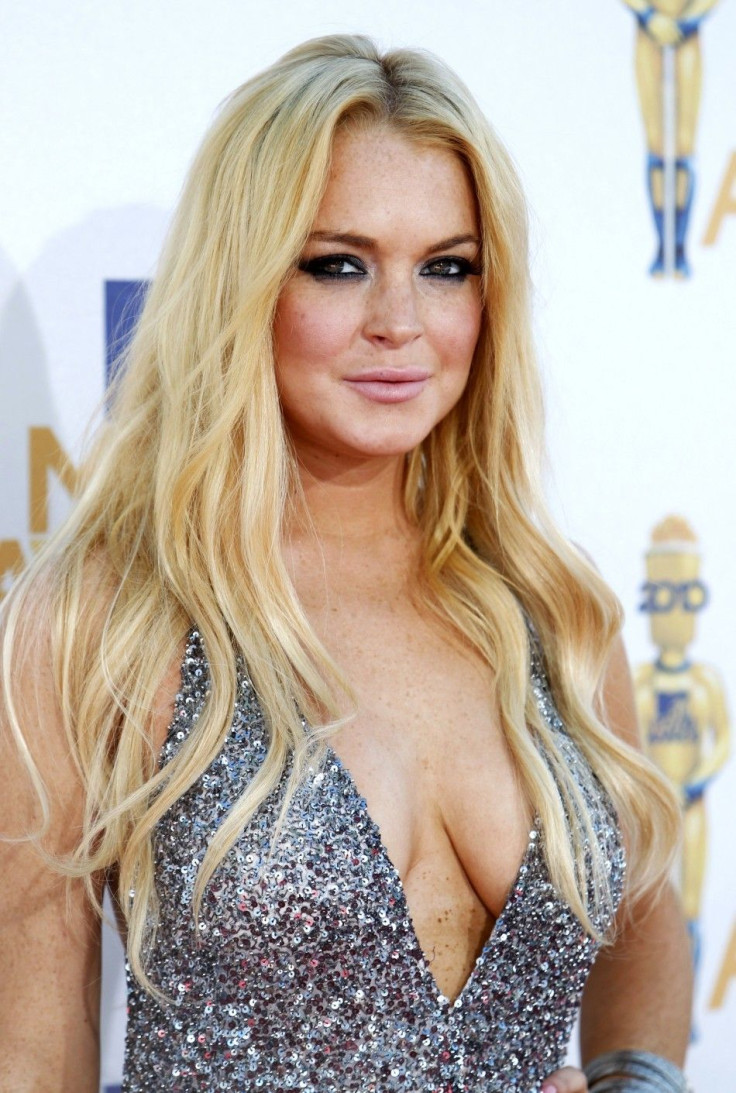 Lindsay Lohan's calamities continue to pile up: The "Mean Girls" actress was hospitalized on Monday after reportedly suffering from an asthma attack. The hospitalization came just a week after Lohan was once again arrested on suspicion of driving under the influence.
When a star with Lohan's troubled history is hospitalized, it's easy to speculate that bad habits or emotional stress might be to blame. But in the case of the asthma attack, Lohan's mother insists that only the changing seasons are responsible. Fresh off her embarassing appearance on the "Dr. Phil Show," the elder Lohan blamed New York City air quality for her daughter's poor health.
"Lindsay had not been feeling well all last week following a week of high pollen counts in New York," she told the Daily News. "She has had bronchial asthma ever since she was little."
According to the site, Lohan was later released and is home resting. It was a different story last month, when Lohan's reps claimed she had walking phenomena after she failed to report to the set of "Scary Movie 5." Yet the Daily News alleged that the troubled actress lied about being ill after failing to meet the obligations outlined in her contract for the film.
Though Lohan's latest ailment seems legitimate, the actress's poor mental and physical health has made headlines for years.
From medical issues to legal woes, here's a look back at Lohan's history of poor health and worse choices.
2004: While filming "Herbie: Fully Loaded," Lohan suffers a kidney infection and is hospitalized. The Daily Beast reports that her poor health was brought on by stress. Radar online later calls the illness the start of her "downward spiral."
"I ended up in hospital," Lohan told News of the World in 2006. "My liver was swollen and I had a kidney infection and my white blood cells were accelerated. I was really, really white, like a ghost, and my legs were so numb from not walking. My body did not have enough strength to take a shower."
January 2006: In an interview with Vanity Fair, Lohan admits to a history of bulimia and having dabbled with some drugs.
"I was sick," she tells the mag. "Everyone was scared. And I was scared too. I had people sit me down and say, 'You're going to die if you don't take care of yourself.' "
The star also admits to having done "a little" bit of illegal drugs but says, "I've gotten that out of my system."
July 2006: While filming "Georgia Rule," Lohan is chastised by James G. Robinson, the CEO of Morgan Creek Productions. In a letter that was obtained by the Smoking Gun, Robinson calls the starlet "irresponsible and unprofessional" for frequently being absent from the film's set.
The letter was written in response to a statement Lohan's rep made during filming, telling The Insider that the star has been suffering from "exhaustion" - but Robinson wasn't buying it.
"You and your representatives have told us that your various late arrivals and absences from the set have been the result of illness; today we were told it was 'heat exhaustion,' he says. We are well aware that your ongoing all night heavy partying is the real reason for your so called 'exhaustion.' We refuse to accept bogus excuses for your behavior."
January 2007: After telling People in Dec. 2006 that she's been attending AA meetings for a year, Lohan enters a 30 day treatment program at the Wonderland Center in Los Angeles, Calif.
"I have made a proactive decision to take care of my personal health," the actress tells People. "I appreciate your well wishes and ask that you please respect my privacy at this time."
May 2007: While driving in L.A. at 5 a.m, Lohan loses control of her black Mercedes and crashes into a tree. Splash News films Lohan running from the vehicle while TMZ reports that cocaine was found inside the car. Though the actress is arrested on suspicion of drunk driving, she does not serve any jail time.
Following the incident, MTV reports that the star has once again checked into a 45-day rehab program at the celeb-friendly Promises treatment center in Malibu, Calif.
July 2007: In a statement published by MSNBC, Lohan's rep informs the public that the actress is out of rehab and has agreed to wear an alcohol monitoring bracelet around her ankle.
"On Friday, July 13, 2007, Lindsay Lohan successfully completed her 45 days of residential and extended care treatment at Promises," she says. "She has transitioned to an intensive outpatient program, which includes attendance at daily AA meetings, outpatient therapy and daily testing. On her own, she has also made the decision in support of her sobriety to wear an alcohol monitoring bracelet."
Two weeks later, Los Angeles police receive a 911 call from a woman who Lohan is chasing with her car. The actress is arrested for drunken driving and cocaine possession. FOX news reports that Lohan was tailgating the mother of her former personal assistant at the time of her arrest.
August 2007: Lohan checks into the Cirque Lodge Treatment Center in Sundance, Utah. It marks her third stint in rehab. Later that month CNN reports that she has pled guilty to cocaine possession and driving under the influence. She is sentenced to one day in jail, community service, and three years' probation. She is also required to attend alcohol education classes on a regular basis.
October 2007: Popsugar reports that Lohan has checked out of the Cirque Lodge Treatment Center.
November 2007: Like many celebs sentenced to serve time in prison, Lohan is released from jail early due to overcrowding in the L.A. County Jail. According to TMZ, she serves just 84 minutes of her 24-hour sentence.
May 2010: Using the excuse that she lost her passport while attending the Cannes Film Festival, Lohan fails to attend a court hearing. According to the New York Post, she avoids arrest after a rep posts $100,000 in bail.
Later that month, Lohan is ordered to comply with random drug testing.
July 2010: After failing to attend the mandatory amount of alcohol education classes, Lohan is ordered to spend 90 days in jail. She is also ordered to enter a 90-day treatment program once her jail term is served.
According to the Los Angeles Times, Judge Marsha N. Revel, who presided over the case, cites Lohan's frequent disregard for the law as the main reason for the sentence.
"There were a number of instances of [Lohan] not taking things seriously," Revel says. "It's like someone who cheats but doesn't think it's cheating if they don't get caught."
A tearful Lohan offers hollow excuses for her behavior while sporting a profane message on her finger nail.
July 2012: Lohan begins her jail term at Lynwood Correctional Facility.
August 2010: Lohan is released after just two weeks behind bars and immediately enters rehab at the Ronald Reagan UCLA Medical Center. According to MTV, doctors at the treatment center discharge her early after determining that a three month stay is unnecessary. After 23 days, Radar online reports that Lohan has been released.
September 2010: Lohan takes to Twitter to tell the world that she has fallen off the wagon.
"Regrettably, I did in fact fail my most recent drug test and if I am asked, I am prepared to appear before judge (Elden) Fox next week as a result," the actress tweets.
Later in the month, Judge Fox orders Lohan to spend a month in jail for her offense. The L.A. Times reports that the ruling is overturned and Lohan is released on $300,000 bail. Days later, the actress checks into rehab at the Betty Ford Center in Rancho Mirage, Calif.
October 2010: According to MSNBC, Lohan is ordered to stay in rehab until Jan 3. Judge Fox informs her that if she fails another drug test prior to her next court date, she will be sentenced to 180 days in jail.
January 2011: Lohan checks out of rehab. Weeks later, Radar reports that she is accused of stealing a $2,500 necklace from Kamofie and Company, in Venice, Calif. Police retrieve the necklace from her home without a fight.
February 2011: After the necklace is obtained, CBS reports that Lohan has been accused of grand theft by the Los Angeles County District Attorney.
April 2011: According to the Hollywood Reporter, Lohan is sentenced to 120 days in jail and 480 hours of community service.
May 2011: According to FOX News, Lohan begins her jail sentence only to be released the same day and granted permission to serve out her sentence at home. Though she fails a drug test during this time, she is not penalized. Lohan serves only 35 days of her sentence and begins her required hours of community service.
October 2011: The Wrap reports that Lohan has missed several days of community service at the Downtown Women's Center. Lohan is arrested during a court appearance but released two hours later after posting her $100,000 bail.
November 2011: Lohan is ordered to serve 30 days in jail for repeatedly violating her probation stemming from her 2007 arrest. According to CBS, she is ordered to serve 30 days in jail but is released within a few hours of her arrival. The Daily News cites overcrowding as the reason for her early release.
July 2012: While filming the Lifetime movie "Liz and Dick," Lohan is found unconscious in her hotel room. Her rep tells Entertainment Weekly that the actress has been suffering from "some exhaustion and dehydration."
August 2012: TMZ reports that Lohan has been banned from the Chateau Marmont hotel in L.A. after failing to pay a $46,350.04 tab.
Reports surface that the 26-year-old been a nightmare for producers on the set of "Scary Movie 5," in which she is set to make a cameo.
According to the New York Post, "Lohan disappeared, blew off rehearsals, missed her flight to the set and even bizarrely claimed she had walking pneumonia" during filming.
September 2012: E! reports that Lohan clipped a pedestrian while driving in New York City. The incident, which occurred at 1a.m outside the Dream Hotel, is purportedly a hit and run. Lohan is arrested and released a few hours later. She is required to appear in court on Oct. 23.
During an appearance on the Today Show earlier this year, Lohan shared her excitement about playing the role of Elizabeth Taylor in "Liz and Dick." The film was said to feature her comeback role. Yet as her personal life continues to unravel, it may be difficult for audiences to take the made-for-TV movie seriously.
When the film's trailer was released last week, Complex asked, "Is this the trailer for Lindsay Lohan's "Liz and Dick" movie or a Funny or Die parody?"
Based on the brief trailer, it's clear that Lohan may need to find another comeback vehicle.
"Liz and Dick" is set to air this fall on Lifetime.
FOR FREE to continue reading
✔️ Unlock the full content of International Business Times UK for free
offer available for a limited time only
✔️ Easily manage your Newsletters subscriptions and save your favourite articles
✔️ No payment method required
Already have an account?
Log in
© Copyright IBTimes 2023. All rights reserved.