List Of Trump Family Global Trademarks: Ivanka Trump's Brand Wins China Trademark During Xi Jinping Visit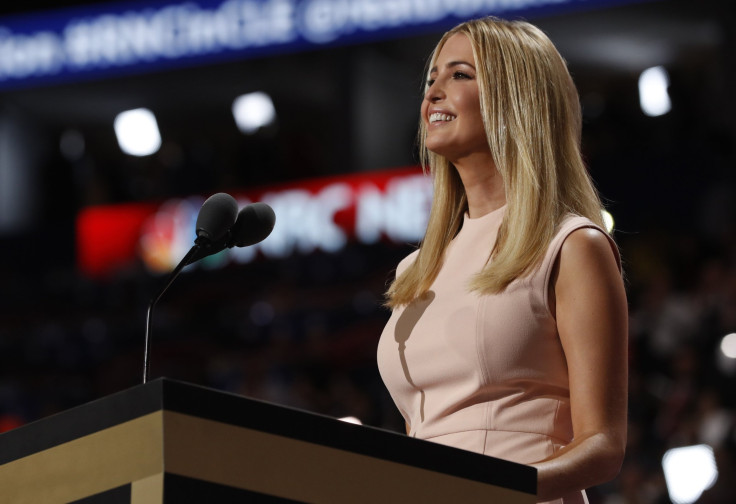 Ivanka Trump's company was granted three new trademarks by the Chinese government on the day when the first daughter and her husband Jared Kushner met with the Chinese President Xi Jinping on April 6 during the president's visit to the United States, Associated Press reported on Tuesday.
Following the approval of the trademarks, Ivanka Trump and her husband dined with Jinping and his wife at their father's Mar-a-Lago resort in Florida.
Bags, jewelry and spa services under Ivanka's brand were offered provisional approval by the Chinese government.
Ivanka's business continued to surge in spite of several companies dropping or sidelining her brand since her father took office. There has been a spike in the sales this year and in 2016 the brand's U.S. imports mainly from China jumped 1.66%, according to data from the trade tracking firm Panjiva, AP reported.
Ivanka stepped down from her company when her father became president and transferred her brand assets to a family-run trust, which is valued at more than $50 million dollar. She also gave the responsibility of her design business to the president of the brand, Abigail Klem.
"Ivanka will not weigh in on business strategy, marketing issues or the commercial terms of agreements," her attorney, Jamie Gorelick, said in a statement. "She has retained authority to direct the trustees to terminate agreements that she determines create a conflict of interest or the appearance of one."
According to China's Trademark Office, Ivanka's brand already has 16 registered trademarks and 32 applications awaiting approval in China. Since President Donald Trump took office, four trademarks for Ivanka's brand have also been granted the initial approval, AP reported.
Public records show that the company has more than 180 trademarks, some of them yet to receive approval, around the globe. Post- inauguration, four more applications for branded clothing and shoes in Philippines, and perfume and other products in Canada were filed.
In February this year, the New York Times reviewed nine databases, which showed that Trump companies hold about 400 registered foreign trademarks in 28 countries since 2000. Some of them include Russia, Egypt, New Zealand and the European Union. According to the same review, the Trump Organization has taken out trademarks in over 80 countries in the last few decades.
© Copyright IBTimes 2023. All rights reserved.