Los Angeles Schools To Reopen Wednesday After Being Closed Due To 'Credible Terror Threat'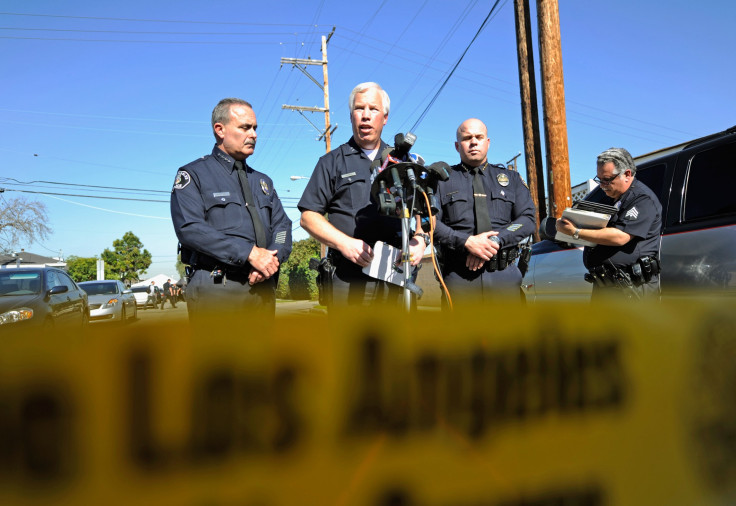 UPDATE: 5:13 a.m. EST -- The Los Angeles Unified School District will reopen Wednesday after a threat prompted local officials to cancel classes in the district, which serves more than 640,000 students in California, Reuters reported.
Authorities reportedly conducted an extensive search of more than 1,000 schools in the district but found nothing suspicious. Officials also said that the emailed threat was a hoax and that students were safe to return for classes.
UPDATE: 4:15 p.m. EST -- The emailed threat that shut down the Los Angeles school system Tuesday was merely a hoax, according to a congressman from California. The threat appeared to be false, U.S. Rep. Adam Schiff, a Democrat, wrote on Twitter, citing investigators who were working to determine the threat's legitimacy.
Hours earlier, schools in New York City faced a similar threat, which was promptly debunked by officials as also being a hoax.
The threat in Los Angeles, which was emailed to authorities early Tuesday morning, was reportedly traced to an email address in Germany.
UPDATE: 2:10 p.m. EST — The threat Tuesday that prompted local officials to close Los Angeles schools came from a source that claimed to be an "extremist Muslim who has teamed up with local jihadists," said Rep. Brad Sherman, D-Calif., the Los Angeles Daily News reported. "We do not know whether these claims are true or a lie," according to a written statement from Sherman. "We do not know whether this email is from a devout Muslim who supports jihadists or perhaps a non-Muslim with a different agenda."
The threat, which has not yet been officially described beyond just being "credible," was issued early this morning local time. The school superintendent took the swift measure of closing all schools and sent all students home. Officials were still on school grounds looking for the threat.
UPDATE: 1:24 p.m. EST — The White House and officials in Los Angeles responded Tuesday afternoon to reports of a "credible" threat at Los Angeles schools. The e-mailed threat has been traced to an IP address in Frankfurt, Germany, law enforcement said, the Los Angeles Times reported.
"We certainly do want to encourage everyone to be vigilant," White House Press Secretary Josh Earnest said during the daily White House press briefing. "At the same time, the president is resolute in his refusal to allow the citizens of this country to be terrorized." Earnest said people should go about their normal holiday routines while having confidence that the nation's law enforcement are doing the work needed to keep citizens safe.
Superintendent of Los Angeles Schools Ramon Cortines and Los Angeles Mayor Eric Garcetti joined other high-ranking local officials in addressing the press shortly after the White House press briefing concluded. Cortines said he was all but forced to act out of an abundance of caution, considering the current climate of terror threats around the world, and most recently in San Bernardino, California.
"Based on past circumstances, I could not take the chance as it relates to our staff or one student," said Cortines, who added that he was the one who made the decision to close the schools. Cortines said parents were notified through electronic messages of the closure and that students who walk to school, especially young children, were met out front of the schools by principals and that their children were not dismissed until parents came to pick them up.
"We are doing everything possible to make sure that children are safe," he added before crediting the mayor for his help in the situation.
"The decision to close the schools is not mine to make but is mine to support, said Garcetti, recalling the fatal Dec. 2 San Bernardino shooting attack attributed to radicalized Islamists. "We are here because our first job is to ensure people are safe."
Citizens of Los Angeles shouldn't jump to conclusions, Garcetti cautioned, noting that crucial decisions "need to be made in a matter of minutes," such as the one to shut the schools. "Whether this pans out to something or not, I don't want people to not speak up and not speak out" about any other possible threats, he added.
UPDATE: 12:30 p.m. EST — The New York City school system got a similar threat to the one that closed the Los Angeles Unified School District Tuesday, the Associated Press reported. But the New York Police Department determined it was not credible.
"We have an investigation underway, but it is an investigation into a hoax," Commissioner William Bratton said, according to PIX 11.
The threat came in the form of an email from a purported jihadist, NBC reported. But it included mistakes, like the name of Muslim god "Allah" written with a lowercase "a." "Kids should be in school today," Mayor Bill de Blasio told reporters. "We will be vigilant. But we are absolutely convinced our schools are safe."
UPDATE: 11:15 a.m. EST — The Los Angeles Unified School District set up a hotline for concerned parents at (213) 241-2064 after canceling classes due to a threat Tuesday. Superintendent Ramon Cortines said in a news conference that police were sweeping the district's more than 1,000 campuses.
"I literally woke up to the call," parent Jim Alger told NBC Los Angeles. "There's this element of fear. Things like this are kind of reminiscent of the post-9/11 days. But I guess it's better safe than sorry."
Students' reactions on social media varied:
UPDATE: 10:35 a.m. EST — Students in the Los Angeles Unified School District were instructed not to go to school Tuesday due to a "credible" threat to the system, and kids who were already on campus were sent home. School board president Steve Zimmer asked local employers to be lenient with the parents of the 640,000 children the district serves.
"We need the cooperation of the whole Los Angeles today," he said. "We ask you to show the maximum possible flexibility with your employees who are primarily mothers and fathers and guardians today in this situation."
Zimmer added that the choice to shutter schools was "swift and appropriate." The district's winter break was scheduled to start Friday.
UPDATE: 10:25 a.m. EST — The superintendent of the Los Angeles Unified School District, Ramon Cortines, said at a Tuesday news conference that the system had received an electronic threat that mentioned students at multiple schools. He mentioned the recent mass shooting in San Bernardino, California — about 60 miles away — as a factor in making his decision to cancel all classes for the day.
"In an abundance of caution, we have chosen to close our schools today until we can be absolutely sure that our campuses are safe," Los Angeles School Police Department Chief Steven Zipperman said, adding that the FBI had been notified of the threat.
Original story: The Los Angeles Unified School District canceled all classes Tuesday due to a threat. The Los Angeles Times reported the district, which serves more than 640,000 students in California, made the decision after a school board member received a bomb threat. Officials said there was a "credible terror threat," KTLA reported.
The district itself had not updated its website or social media with any official statement as of 10 a.m. EST.
© Copyright IBTimes 2023. All rights reserved.