'Love & Hip Hop: Atlanta' Alum Margeaux Simms Gives Update On Nikko Smith, Dishes On Season 6 Of 'Marriage Boot Camp'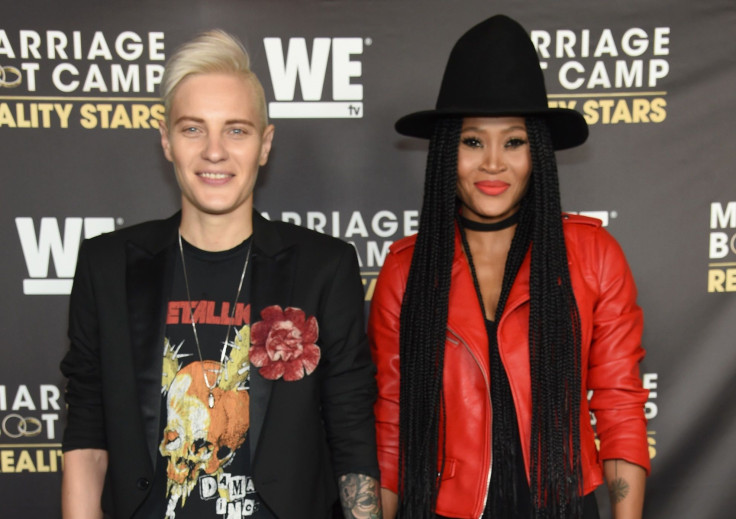 Margeaux Simms and her girlfriend Merika Palmiste will be one of the couples seeking relationship counseling on Season 6 of WEtv's "Marriage Boot Camp: Reality Stars." The pair are best known for being on Season 4 of VH1's "Love & Hip Hop: Atlanta" and are speculated to be a part of the show's highly anticipated first "throuple" this season.
Even though Margeaux and Merika wouldn't confirm if Margeaux's estranged husband, Nikko Smith, is a Season 6 cast member —"Just because someone is there, doesn't mean they're there," Margeaux teased — the couple did tell International Business Times about what fans can expect from them on the show. Margeaux also gave an update on her and Nikko's marriage.
"I was kind of nervous," Margeaux told IBT about joining the show at the "Marriage Boot Camp: Reality Stars" Season 6 premiere party in New York. "I was already nervous just being with my girl and then I'm like, 'Oh, man I hope everyone else is cool.' And luckily they were."
Margeaux explained that her relationship drama with Nikko on "Love & Hip Hop: Atlanta" wasn't exactly what led her and Merika to seek help from "Marriage Boot Camp" counselors. According to the couple, there were a lot of things they needed to work out in order for the relationship to continue.
"We didn't really have a platform [on 'Love & Hip Hop: Atlanta'] to be introduced and show our relationship and show that it's good," Merika explained. "We were the first same-sex couple, for me which is pretty cool because I'm a big LGBT supporter. And it's also good to show our relationship and to show that it's real because lots of people on those kinds of shows like 'Love & Hip Hop,' there's a lot of people that are gay for TV, or just trying to play that story. … In this case we had a chance to show our relationship is real."
"And we don't fake it," Margeaux added. "We don't have to tell them everything, but we can show that you're not the only one who goes through that kind of stuff. And also being the first same-sex couple on ['Marriage Boot Camp'], we go through the same things that other couples go through."
Of course Margeaux and Merika wouldn't reveal too many details about the upcoming season but Margeaux did reveal that the hardest part of the process was filming every day, dealing with everyone's emotions and finding out new things about Merika. However, the former VH1 star said the experience brought them closer together.
"I would say the best part is I love her more," Margeaux said. "We're stronger and I was surprised she was able to deal with me there. I feel like when we first got there I was in such a bad mood, because I just didn't want to do it anymore and I kind of took it out on her."
When it came to talking about Nikko, Margeaux had nothing but nice things to say about him. "He's like one of my best friends," she dished. "We wish each other the best, but you guys have to tune in though because it's exciting." Merika added that Margeaux wrote a song about her situation with Nikko, called "Want You, Need You." The track, which includes lyrics like "But I want you boy, but I need you girl," is available on iTunes and Spotify. The video will debut on "Marriage Boot Camp: Reality Stars."
Season 6 of "Marriage Boot Camp: Reality Stars" premieres Oct. 7 at 9 p.m. EDT on WEtv.
© Copyright IBTimes 2023. All rights reserved.