Lukashenko Gets A Nuclear Bomb As A Gift From Belarus' Defense Minister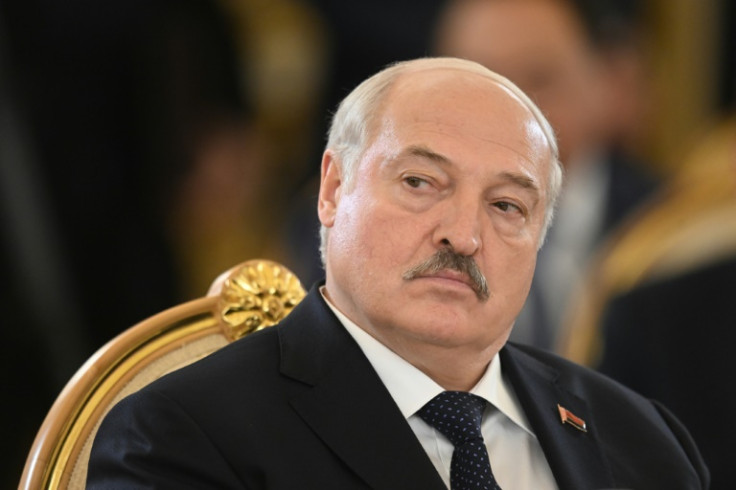 KEY POINTS
Belarus' president received a replica of the first Soviet nuclear bomb from his defense chief
Lukashenko said he doesn't want Belarus' enemies to think they are obsessed with nuclear weapons
Lukashenko denied reports that the Wagner Group would guard Russian nuclear weapons
Belarusian President Alexander Lukashenko has received an unusual gift from his defense minister.
Belarusian Defense Minister Viktor Khrenin gifted a "nuclear bomb" to Lukashenko before delivering his report Tuesday, Belarusian state media Belta reported.
"Let me accomplish one mission," Khrenin said.
"Have you brought a bomb?!" a surprised Lukashenko said to his defense chief.
"That's right. Let me give you a symbolic gift - the first nuclear bomb that was developed in the Soviet Union in 1949," Khrenin responded.
Belarus' defense chief said the souvenir is "a replica of the very first nuclear bomb" developed by the Soviet Union.
Lukashenko noted the difference between the Soviet-era nuclear weapon and its modern counterparts.
The Belarusian leader added that he doesn't want his country's enemies to think they are obsessed with or happy about nuclear weapons, describing the gift as "just a symbolic thing."
Meanwhile, Lukashenko claimed that a "large part" of the Russian tactical nuclear weapons that were planned to be moved to Belarus are already in the country.
Lukashenko said Russia is providing maintenance to the tactical nuclear weapons, and his country only assists in maintaining them, according to a separate Belta report.
"It turns out it is not a simple thing to do," Lukashenko said.
Lukashenko also denied reports claiming that the disgraced Russian paramilitary organization Wagner Group will guard the nuclear weapons, stating that "no private military company" will secure them.
He noted that Russian and Belarusian guards have been securing the Russian tactical nuclear weapons since they began arriving in his country.
The Belarusian leader also downplayed allegations that Belarus is only being used by Russia to house its nuclear weapons.
He called the allegations "rubbish" and "wild speculation," insisting that Belarus can "hypothetically" use the Russian tactical nuclear weapons based on their agreement with Moscow, the Russian state news agency TASS reported.
In March, Russian President Vladimir Putin announced he had agreed to deploy his country's tactical nuclear weapons to its neighboring country and close ally, noting that the U.S. had also deployed such weapons in its European allies.
Putin said at the time that Russia would start placing its nuclear weapons in Belarus once the special storage facilities are built.
Lukashenko previously described the Russian nuclear weapons deployed in his country as three times more powerful than the U.S. atomic bombs detonated in two Japanese cities at the end of the Second World War.
The deployment of Russian nuclear weapons to Belarus had alarmed President Joe Biden, who called it "absolutely irresponsible."
Biden also warned that Putin's threats of using nuclear weapons should be taken seriously.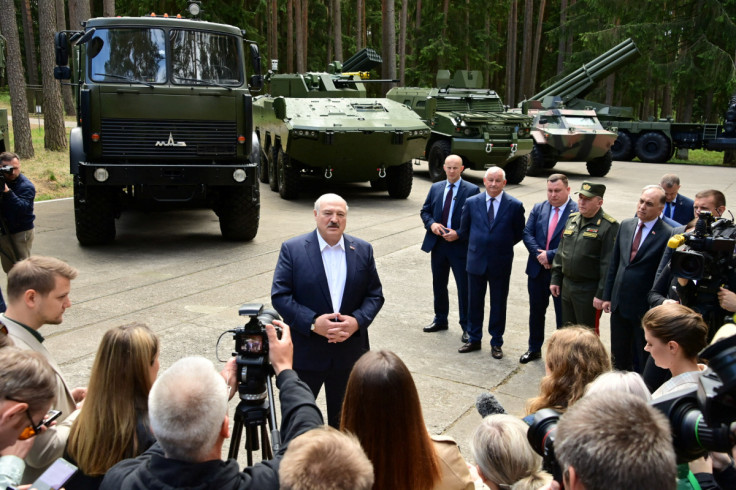 © Copyright IBTimes 2023. All rights reserved.