Luke Bryan Cheat Sheet Scandal Draws Apology After National Anthem Flub [VIDEO]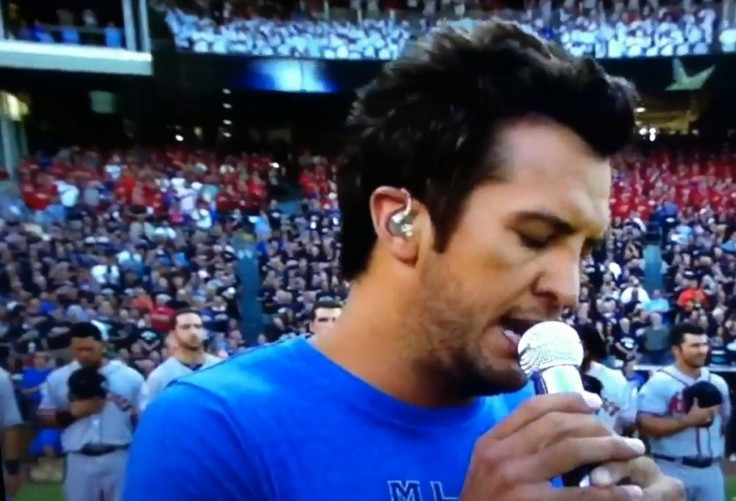 The Luke Bryan cheat sheet scandal erupted after video hit the web showing the singer reading lyrics to the National Anthem from his hand before the Major League Baseball All-Star Game Tuesday evening.
The country singer, who was invited to sing the National Anthem before the MLB All-Star Game in Kansas City, Missouri, as per tradition, apologized Wednesday for shocking his many fans by resorting to reading the lyrics to the American standard as he performed the tune.
Scroll to the bottom of this article to see the full video of Luke Bryan's embarrassing performance.
The singer, who shot to stardom with his hit song Drunk on You, admitted Wednesday that he wrote some of the lyrics to his song on his hand, which kicked off the whole Luke Bryan cheat scandal that has now gripped the baseball and country music worlds.
He also seemed to check his watch for the time during the National Anthem gaffe, adding another layer to what has become known as the Luke Bryan cheat sheet scandal.
Luke Bryan offered his apologies on Twitter Wednesday morning via a series of tweets in an attempt to ward off criticism and make amends with offended fans:
Morning everyone. I really wanna explain the national anthem performance from last night ... I had a few keys words written down to insure myself that I wouldn't mess up. I just wanted to do my best. I promise it was from the heart ... If I offended anyone with my approach I sincerely apologize Anytime I sing the anthem it is an honor and my heart beats out of my chest ... I did check my watch because I knew the stealth bomber would fly over 2 minutes in and I knew I started a little late ... Being a part of the all star game was amazing and I look forward to the next time I can perform the anthem. Thanks y'all. Love ya
But it may be a while before anyone invites him to such a prominent performance of the National Anthem, as the Luke Bryan cheat sheet scandal has tarnished his name for the time being, though he is certainly not the musician to mess up a performance of the song.
In fact, the story has become such a national obsession that the term Luke Bryan cheat sheet was the fourth biggest mover on MSN.com at one point Wednesday afternoon. The biggest mover rankings combine Bing search engine search terms and social media postings and combine them with other data in order to determine what topics are gaining the most traction and popularity at any given time. Luke Bryan cheat sheet ranked just behind the terms Miley Cyrus tattoo and NAACP boos Romney.
Press play below to watch a YouTube video of the entire embarrassing Luke Bryan cheat sheet scandal performance:
© Copyright IBTimes 2023. All rights reserved.