Lyme Disease: Everything To Know About The Tick-Borne Disease This Summer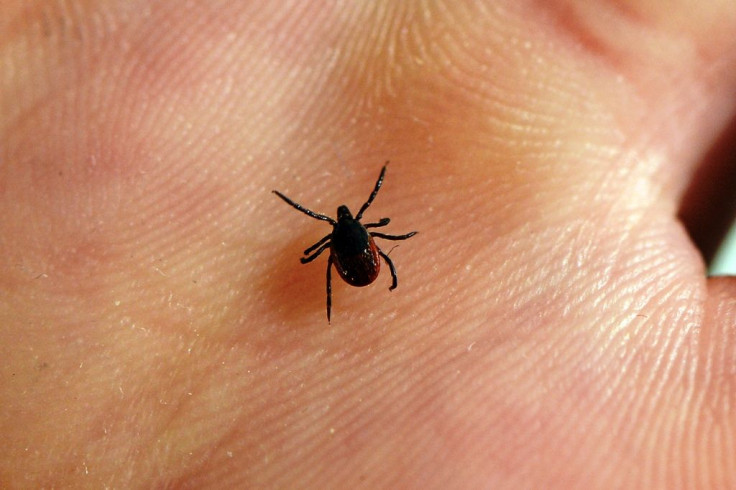 Lyme disease is a bacterial infection that spreads to humans through infected blacklegged ticks. The tick season or Lyme disease season is at its peak from April through September following the onset of summer. Health experts urge people to wear long sleeves and long pants to avoid contracting the infection.
About 30,000 cases of Lyme disease are reported to the Centers for Disease Control and Prevention every year. According to the center, however, the number does not reflect every case of the disease diagnosed in the United States every year.
Read: Ex-'Real Housewives Of New Jersey' Star Amber Marchese Staying Positive After Lyme Disease Diagnosis
A majority of the cases are found in the Northeast and upper Midwest, and more than 96 percent of those cases reported to the CDC are from 14 states. In 2015, 95 percent of confirmed Lyme disease cases were reported from the 14 states including New York, Connecticut, New Jersey, Maine and other northeastern territories. The blacklegged ticks are often found in woodland areas and they feed on the blood of mammals, birds and humans, according to multiple reports.
In March, scientists at the Cary Institute of Ecosystem Studies in Millbrook, New York, predicted 2017 would be risky for the Northeast in relation to the Lyme disease. "We're anticipating 2017 to be a particularly risky year," Rick Ostfeld, an ecologist the Cary Institute, said at the time.
Mice are known to infect the majority of ticks with the disease. In 2016, the Northeast witnessed a rise in the number of mice in several areas indicating the region was at risk of rise in the case of Lyme disease.
Ostfeld and his wife developed a system to predict the disease's rates by determining the number of mice appeared the previous summer. "An individual mouse might have 50, 60, even 100 ticks covering its face and arms," Ostfeld said.
Read: Model Gigi Hadid Breaks Down, In Tears Over Family's Battle With Lyme Disease
The typical symptoms of Lyme disease are fever, headache, fatigue and a characteristic skin rash called erythema migrans, CDC stated on its website.
If not treated in time, the bacterium travels through the bloodstream, houses itself in several body tissues, and can lead to a number of symptoms, some of which are severe, according to the American Lyme Disease Foundation. The Maryland-based nonprofit is dedicated to the prevention, diagnosis and treatment of Lyme disease.
Lyme disease is diagnosed through laboratory blood tests. However, CDC noted these tests are recommended for patients who do not have common symptoms. A patient can recover quickly if the disease is diagnosed in the early stages. Antibiotics commonly used for oral treatment include doxycycline, amoxicillin or cefuroxime axetil.
About 10 percent to 20 percent of patients who are often diagnosed at a later stage receive appropriate antibiotic treatment, according to the CDC. However, they may have persistent or recurrent symptoms of fatigue, pain, or joint and muscle aches, and are considered to have post-treatment Lyme disease syndrome.
© Copyright IBTimes 2023. All rights reserved.