'Mad Men' Season 5, Episode 7 Recap: Have Your Cake And Eat It, Too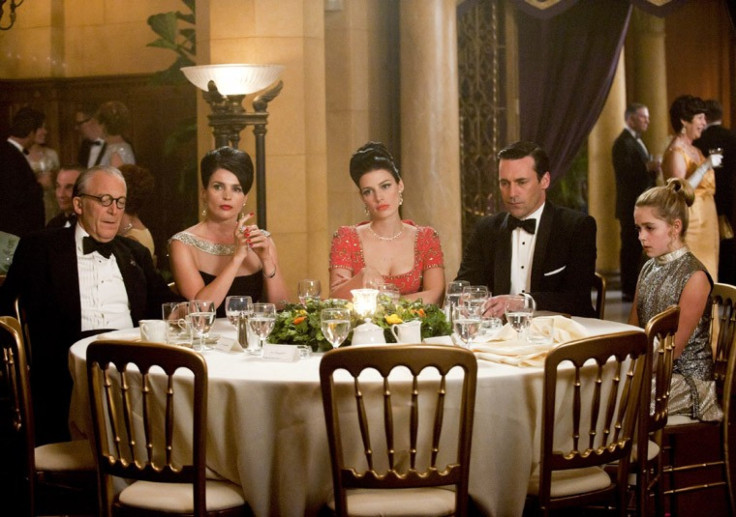 Come along and follow me/to the bottom of the sea beckons a seven-year-old Shirley Temple as she serenades a group of grown-up fisherman with At the Codfish Ball in the 1936 movie Captain January. This week's Mad Men episode borrows the song title, and the fish-out-of-water scene of a young girl swimming in a sea of male elders.
Young Sally Draper is pleased as punch to be brought into Don and Megan's sophisticated adult world after her step-grandmother/stand-in mom is forced out of commission by an ankle injury (which Sally inadvertently caused). Megan's visiting parents infuse her stay with some added glamour (and French-language bickering); the family Calvet successfully campaigns for Sally to come along to the American Cancer Society Ball, where Don will be honored and where Sally will encounter some things that leave a bad taste in her mouth.
But first, Megan Draper once again proves she is always a step ahead of the competition -- whether it's her husband or a rival agency. This week, Megan's playing for team Draper: Not only does she land the elusive Heinz account with a simple but effective cross-generational concept, she (wisely) insists Don takes the credit, at least in front of Raymond Geiger -- whose wife tipped Megan off that Heinz was planning on taking its business elsewhere. Megan's setup of the impromptu, dinner-table pitch -- which Don hits out of the park -- reminds us that when that Don and Megan both want the same thing, there's no stopping them.
Back at Sterling Cooper Draper Pryce, Megan self-consciously bathes in the glow of her success. While the other copywriters clearly wish the winning idea came from someone other than Megan, they can't dispute its merit, and everyone has tired of chasing Heinz. Peggy Olsen -- who was taken of the account last week after forgetting that she can't get away with behaving like Don Draper -- is almost suspiciously magnanimous. Sounding like a mentor to a protégée, Peggy goes out of her way to congratulate Megan, reminding the junior copywriter of her own failure on the account, and offering her some sisterly (and depressing) advice. This is as good as it gets, she insists. Savor it.
Twice in this episode the usually transparent Peggy is uncharacteristically difficult to read. Usually, she's sincere even when she's insincere, but it's impossible to tell if she's genuinely supportive of Megan or choking back resentment for the sake of looking like a good sport. Her internal conflict is slightly more apparent in a dinner scene with Abe at Minetta Tavern, when he makes her an offer she doesn't know how to refuse.
Initially, Abe's flustered and insistent dinner invitation makes Peggy assume he's about to break up with her. But a chat with Joan Harris, Wise Sage convinces her of the opposite. It's been my experience that when a man insists on a meal, he has something important to say, Joan says. Men don't take the time to end things. They ignore you until you insist on a declaration of hate. Joan then adds a subtle but hilarious dig about Peggy's current wardrobe, and Peggy rushes off to go shopping for her big night.
Which doesn't turn out to be so big after all -- Abe only wants to move in, not get married. But his proposal is sweet and genuine; easily convincing Peggy that he truly does want to wake up next to her every morning for the rest of the foreseeable future. And besides, Peggy's never been sure of how traditional a home life she wants, after breaking so many barriers in the workplace. Still, it has to be hard to accept the consolation prize even if you weren't sure how badly you wanted to win.
Peggy and Abe invite her mother over to break the news gently over dinner. Peggy's mom, who was never a superfan of Abe's in the first place, would rather Peggy had kept her shacking up plans to herself. You are selling yourself short, she tells Peggy, after relinquishing the cake she had brought for dessert. This boy - he will use you for practice until he decides to get married and have a family. And he will, believe me. The look on her face suggests Peggy just might believe her.
Sally's hopes are dashed and her innocence is shattered on the evening of the American Cancer Society ball, where just about everyone is let down by something. First, Don makes her take off her makeup and go-go boots; and then she finds her date Roger Sterling being orally serviced by Megan's mother (well hello, Julia Ormond). While his wife is absent, Megan's communist father takes another opportunity to call his daughter out for marrying well.
You skipped the struggle and went right to the end, he tells Megan, accusing her of giving up her dreams in favor of a bourgeois marriage. But Mr. Calvert doesn't seem to have it quite right: Megan might not be pursuing an acting career anymore, but she's still an ambitious woman - she's just redirected her ambitions to a career path with built-in stepping stones.
Don's confidence is shattered, too, when a tipsy colleague tells him that he put himself out to pasture with the Lucky Strike manifesto. They'll bury your desk with awards, but they'll never work with you after that letter, he tells Don. How could they trust you after the way you bit the hand?
A scene-closing shot of the banquet table after everyone has returned to their seats is a study in isolation and despair - everyone is staring straight ahead, distracted with disappointment and/or self-doubt. Back at Megan and Don's apartment, Sally sneaks a call to her boyfriend-who's-not-her-boyfriend. How's the city? he asks her. Dirty, she says. And she's not talking about the streets.
FOR FREE to continue reading
✔️ Unlock the full content of International Business Times UK for free
offer available for a limited time only
✔️ Easily manage your Newsletters subscriptions and save your favourite articles
✔️ No payment method required
Already have an account?
Log in
© Copyright IBTimes 2023. All rights reserved.