'Mad Men' Season 7 Ratings May Not Be As Bad As They Look
Since its season 7 premiere, the conversation surrounding "Mad Men" has been increasingly bleak, with audiences and critics ringing the death knell for both the show's characters and its cultural dominance.
You can't blame a "Mad Men" fan for worrying about Megan or Don Draper's fate, given the siren screams that have so often pierced the already foreboding atmosphere of the show's recent episodes. But it may be premature to write off the AMC drama midway through the first installment of its final season. While at first blush the season 7 ratings have been pretty dismal –- "Mad Men" has been consistently outpaced not only by "Game of Thrones" but repeat airings of "Law & Order SVU" – the numbers aren't telling the whole story.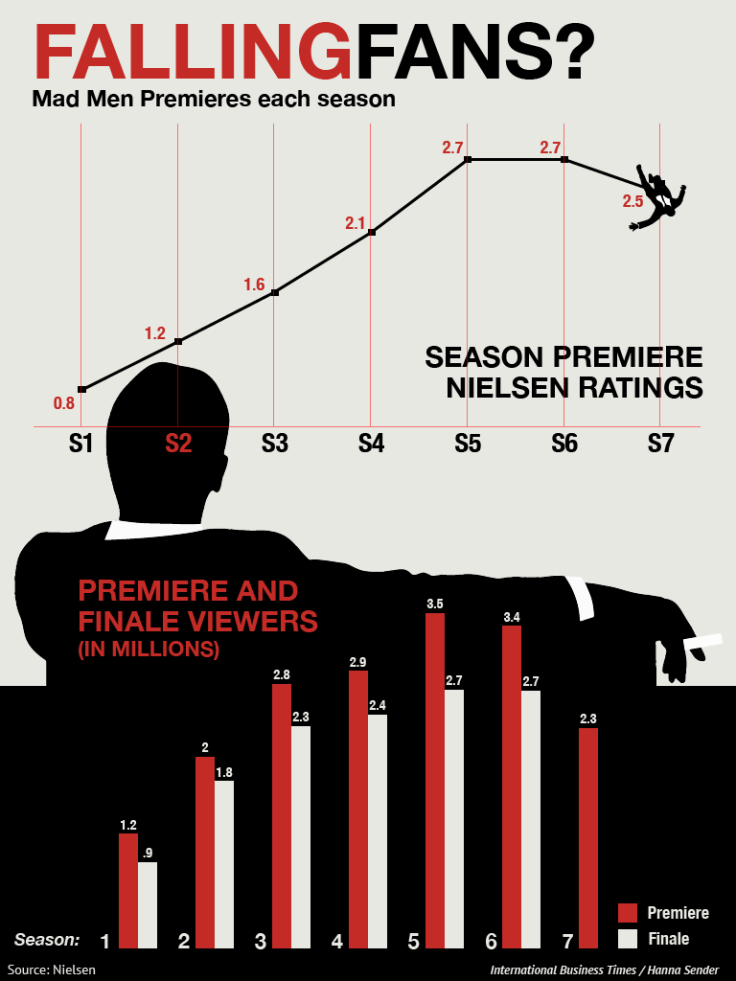 The figures that typically make headlines are the opening broadcast ratings, which only measure live viewers. "And that's getting to be fewer and fewer people," said Robert Thompson, director of the Bleier Center for Television & Popular Culture at the Newhouse School of Public Communications at Syracuse University. As has been widely reported, the season 7 premiere of "Mad Men" had the lowest ratings since its second season premiere in 2008. "But a lot has changed since 2008," Thompson said. "A lot of people are watching in ways that they weren't doing before."
Indeed, once the Nielsen ratings accounted for DVR viewership in the three days following the April 13 season premiere, the numbers went up by 75 percent. According to Nielsen, "time-shifting" (the TV analytics term for delayed viewings) has brought significant lifts in ratings for cable shows like "Mad Men" and "Game of Thrones" in recent years.
HBO's "Game of Thrones," considered the foremost competitor to "Mad Men" despite having a different time slot, is dominating the ratings even without taking DVR viewership into account. For four weeks in a row, "Game of Thrones" has broken its own viewership record, culminating in a season-high 7.2 million live viewers this past Sunday night. The fantasy series debuted with a built-in cult following that had devoured the popular George R.R. Martin books the show is based on, and has an additional live-viewing advantage of airing an hour earlier than "Mad Men." For fans staring down an early Monday morning alarm, another hour of sleep may be well worth the price of having to sidestep spoilers during the workday – assuming there is a plot twist to spoil in the first place.
Dustin Rowles, a popular "Mad Men" critic who writes for Uproxx, said the typical slow burn of the show's drama (which has had its exceptions) means viewers won't always feel the pressure to watch when an episode first airs. "Fewer people feel the urgency to watch 'Mad Men' live," Rowles wrote in an email to IBTimes. "There are [few] deaths, huge twists, no action-driven plotlines."
Jon Hamm himself, who shot to unexpected fame as the show's duplicitous protagonist, said in a recent appearance on the BS Report that a dip in ratings throughout the "Mad Men" lifecycle is to be expected as casual viewership has declined in favor of a smaller but deeply committed fan base.
"It's gotten to where it's only the hardcore people [who] are down with it," Hamm reportedly said. "It makes sense. It's a different viewing experience."
Logan Hill, who writes about "Mad Men" for the New York Times, agrees with Hamm. "It's a show that has always been built for the obsessive fan, and hasn't really cared very much for the casual fan," Hill said in an interview with International Business Times. "It's been kind of cocky about that."
Referencing "Monolith," the most recent "Mad Men" episode, Hill said, "Unless getting a giant computer ranks as dramatic television, you might be disappointed as a casual viewer."
Credited with reviving the mainstream popularity of both basic cable and the period drama, "Mad Men" has made a sport of weaving authentic 1960s history and style into its stories. In the view of Digital Spy's Emma Didbin, now that the series' signature decade is coming to a close, "Mad Men" has "ceased to be aspirational" and therefore fallen out of favor with mainstream viewers.
"The show's New York has been in decline for several seasons, reflecting the crime waves that carry on through the 1970s and 1980s, with several of Sterling Cooper & Partners' key players jumping ship to greener pastures in Los Angeles," Didbin wrote. "Maybe without the trappings and the haze of smoke, this just isn't a world audiences want to spend much time in."
But you could scarcely argue that Westeros, where one is always but a sword's length away from having her throat sliced open, is a cozy place to put your feet up. To a lesser degree, the same could be said for "Breaking Bad," AMC's enormously successful – and brutal -- drug kingpin drama that went out with record-high ratings in the fall of 2013. Like HBO did with "The Sopranos" in 2006 and 2007, AMC split the final season of "Breaking Bad" into two shorter installments, a strategy the network hopes will work for "Mad Men." So far it's not looking promising, but only time -- and the ratings for the second half -- will tell.
"We've got this memory in the not-too-distant past of this cable show that was a complete meltdown in terms of its cultural buzz in those last two split seasons," Thompson said, referring to "Breaking Bad." "'Mad Men' seems to be going more in the opposite direction."
Indeed, "Mad Men" and "Breaking Bad" have had very different trajectories; with "Mad Men" starting strong and "Breaking Bad" needing a few seasons of breathless fan chatter before it hit its ratings stride. As Mary McNamara wrote in the Los Angeles Times, "'Breaking Bad' struggled to find an audience early on, which meant that many were discovering the show even as it hurtled into its final bloody lap."
But even if "Mad Men" does make good on its tantalizing hints that someone is doomed to meet a gruesome end, we probably can't expect the AMC drama to significantly widen its audience before it enters its *final* final stretch in 2015.
"If you skipped seasons 5 and 6 and turned on [last week's] episode, you would have no clue what was going on," Hill said. "These arcane backstories just become more and more complex."
Hill also pointed out that splitting the final season into two installments means that there is less of a sense of urgency to watch a handful of episodes now when another, more important, handful is yet to come. "You feel like you could watch this set of episodes sometime this year," he said.
And while that might mean a dip in the ratings now, Hill thinks it could turn around later. "It feels like they are kind of setting the stage for the final arc … I wouldn't be surprised if ['Mad Men'] saw a spike in ratings for the last seven episodes," he said. "That's really going to be event television."
Between now and then, here's hoping "Mad Men" gives us something to talk about besides the ratings.
Questions? Comments? Tips? Email me at e.killoran@ibtmes.com and follow me on Twitter @EllenKilloran.
FOLLOW MORE IBT NEWS ON THE BELOW CHANNELS