'Mad Men' Star Christina Hendricks Says She Does Not Want Children; Wishes For A Tragic End For Joan Harris On The AMC Series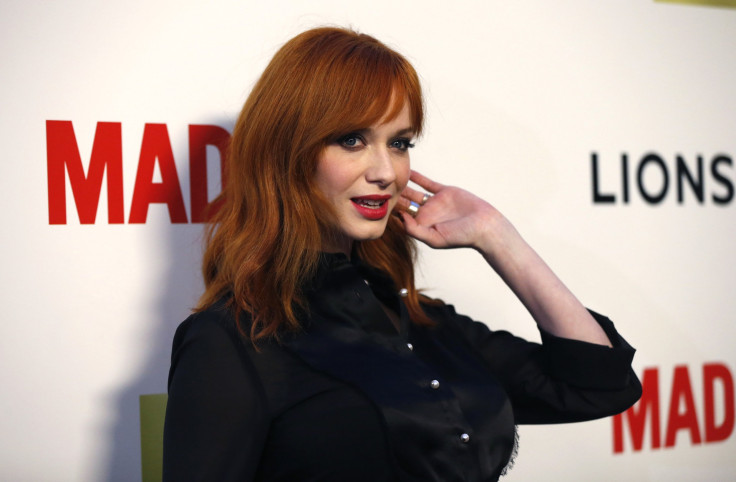 "Mad Men" star Christina Hendricks, who plays the role of Joan Harris and the mother of a baby boy, Kevin, in the hit AMC series, revealed that she does not want to have children and is happy being the mother of a new puppy.
"We got a puppy, and that's my idea of starting a family," the 38-year-old star said in an interview with Health magazine. "People say, 'Oh, that's practice for parenting,' but if it's practice for anything it's to be a mom to another puppy. We've decided that we are really not interested in having children."
The actress, who married actor Geoffrey Arend in 2009, reportedly said: "It's very normal for people to say, 'Well, when you guys have kids…' And then when I say, 'Actually, I don't think we're going to do that,' people will say, 'Oh, you say that now…'"
Hendricks added that it did not bother her anymore about what people said about her not being a mother after being married to Arend for five years, as there is very little chance she will change her mind.
The final season of "Mad Men" premiered Sunday and Hendricks said, in a recent interview with Rhapsody magazine, which features her in its April issue that she knew how she would want the end of her character to be like.
"As a fan of the show, I want something horribly tragic to happen to her," she reportedly said. "A terrible accident or something, because I think that would be interesting."
Meanwhile, Matthew Weiner, creator of "Mad Men," reportedly ruled out speculation about the series getting its own spin-off.
The AMC series will end with a two-part finale, with the second half of Season 7 premiering in 2015.
© Copyright IBTimes 2023. All rights reserved.