'Madam Secretary' Season 1 Spoilers: 5 Things To Know About The New CBS Show Before Sept. 21 Premiere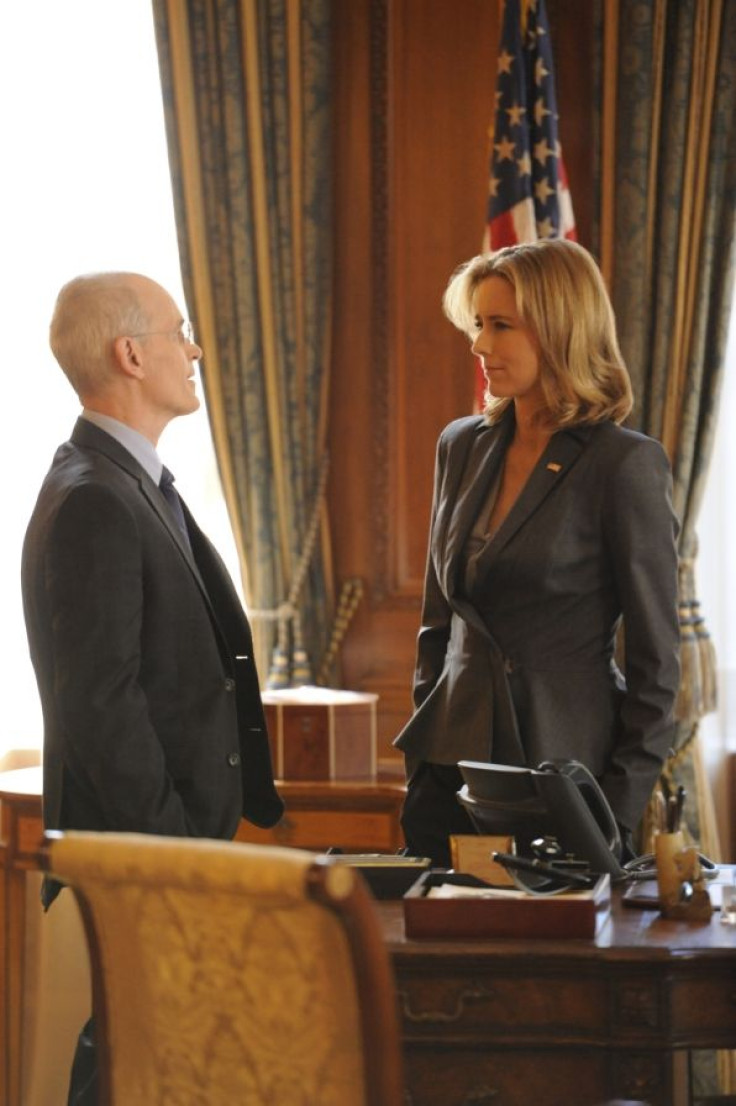 CBS is introducing a new Sunday night lineup. On Sept. 21, "The Good Wife" returns to the network for its sixth season, but fans won't want to miss the premiere of a brand new series before that – "Madam Secretary."
Starring Téa Leoni ("The Naked Truth"), Tim Daly ("Private Practice"), Bebe Neuwirth ("Blue Bloods") and Željko Ivanek ("True Blood"), the new drama follows Elizabeth McCord – a former CIA analyst and the newly appointed Secretary of State. The President approaches Elizabeth after the former Secretary of State dies in a suspicious manor. Elizabeth agrees to take on the position, where she not only deals with global and domestic issues in the office – but must also juggle her home life with her husband and two children.
"Madam Secretary" will premiere on CBS on Sunday, Sept. 21 at 8:30 p.m. EDT (8 p.m. PT). Check out 5 things to know about the new series:
1. Episode 1 Synopsis – Get ready to meet Elizabeth McCord (Leoni) in the premiere of "Madam Secretary. A former CIA analyst, McCord is now a mother, wife and college professor living a normal life – until The President approaches her about taking over the open position of Secretary of State. The pilot episode will follow McCord's first time in office as she faces "complex political challenges, and an international hostage situation." Meanwhile, Elizabeth must juggle her hectic home life as her children struggle to adjust to their new schools.
2. Chief of Staff – Željko Ivanek was initially just guest starring as Chief of Staff Russell Jackson in the pilot episode of "Madam Secretary," however his role expanded. In May he was upped to a series regular, and will butt heads with Elizabeth throughout the season.
3. An Episode 2 Newcomer – Viewers will be meeting all the characters during the premiere, however there is one person that won't make an appearance in the first episode – Elizabeth McCord's eldest daughter, Stephanie "Stevie" McCord" (Wallis Currie-Wood). TV Line reports that Stevie is not referenced or seen in the premiere, however she'll join the series in episode 2. Stevie is a college dropout who is "strong-willed and rebellious."
4. The Hillary Clinton Comparison – "Madam Secretary" will tackle something that real life former Secretary of State Hillary Clinton had to deal with – the Benghazi situation. In the episode, titled "Another Benghazi," Elizabeth McCord must try to "prevent a Benghazi-like disaster at the U.S. Embassy in Yemen."
5. Sneak Peek Video – Catch a sneak peek look at the pilot episode before the premiere:
The pilot episode of "Madam Secretary" will premiere at 8:30 p.m. ET on Sunday, Sept. 21. A special encore will air at 10:30 p.m. ET, following the Season 6 premiere of "The Good Wife."
Will you be tuning in for "Madam Secretary"? Tweet your thoughts on the new show to @AmandaTVScoop.
© Copyright IBTimes 2023. All rights reserved.