Making History: More Than A Quarter Of The 118th Congress Is Female
Congress will have a record number of female representatives after the newly elected are sworn in Tuesday.
The 118th Congress will now be made up of 28% women members, the highest percentage in history. Out of the 540 voting and nonvoting members, this year's chamber will include a total of 153 women – 128 House members (including delegates) and 25 senators.
It is a small increase from the 117th Congress, in which 150 women served, and marks a record-breaking number of female House members.
While the number of women in the House increased by two this session, the number of women in the Senate will not break records. The chamber will tie the record from the 116th Congress with 25 female Senators. The Senate did, however, gain one more female member than last year's Congress– Katie Britt, A Republican representing Alabama.
Across party lines, 93 of the female members are Democrats while 35 are Republican.
Twenty-two of the female representatives (15D, 7R) will be welcomed into their freshman year in the governing body. Democrat Marcy Kaptur will become the longest-serving woman in Congress, serving her 21st term in the House.
In total, women make up a greater share of Congressional Democrats at 41%, compared to the Republican party which includes 16% female representatives. However, the number of Republican congresswomen in the House is the highest yet, up five members from the previous Congress for a total of 35 members.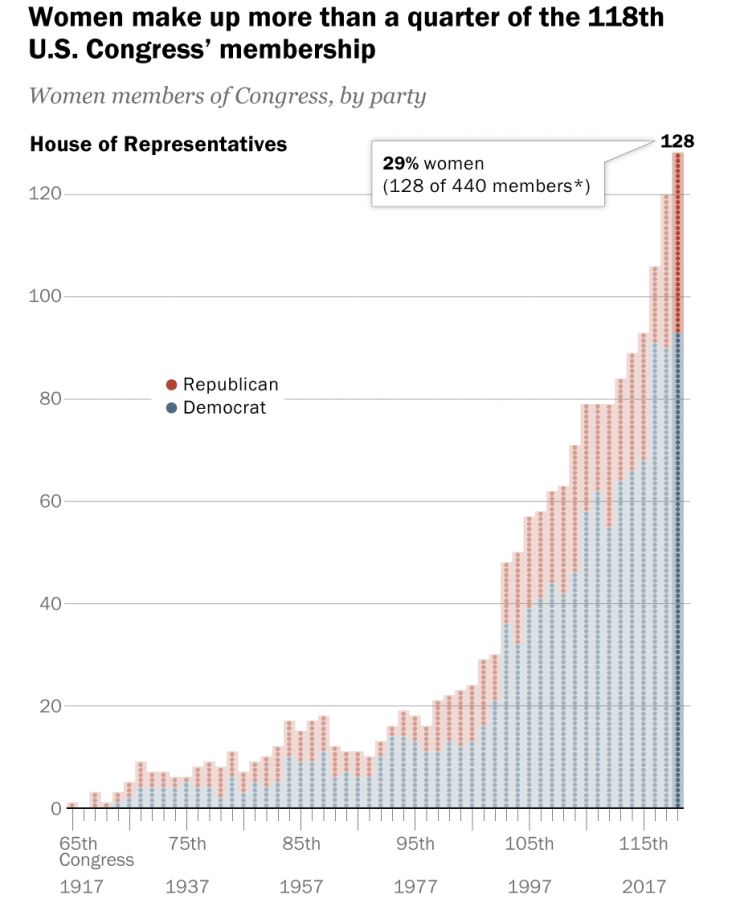 The record-breaking numbers show a shift in women's roles as political leaders. Jeannette Rankin, a Republican from Montana, was the first woman elected to Congress in 1916, four years before the 19th amendment granting women the right to vote was ratified. The first woman elected to the Senate was Democrat Hattie Caraway of Arkansas in 1932, who filled a vacancy following her husband's death.
The 2022 midterm elections also broke records in other areas. Vermont Democrat Becca Balint became the first female representative and openly gay person to be elected to Congress. The new Congress also boasts the first Gen Z member of Congress, Democrat Maxwell Frost of Florida's 10th District.
Democrat Alex Padilla of California is the first Latino elected to the Senate from the state. Several lawmakers are the first Latino representatives from their state including Republican Juan Ciscomani of Arizona and Democrat Yadira Caraveo of Colorado.
© Copyright IBTimes 2023. All rights reserved.