Malaysia Airlines Flight MH370 Disappearance Exposes Aviation Industry's Passport Problem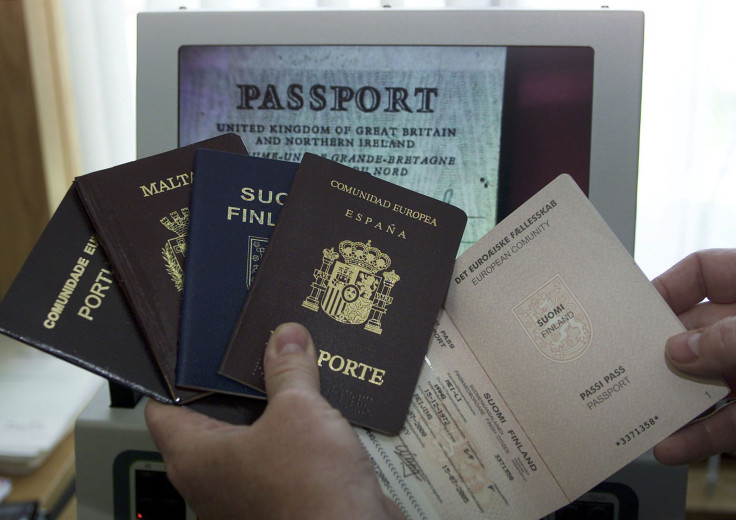 A recovery team set off from Vietnam early Monday morning to confirm sightings of the first fragments of Malaysia Airlines Flight MH370 as speculation swirled around the passenger manifest and two individuals in particular who appear to have boarded the flight with stolen passports.
The Boeing 777 carrying 239 passengers and crew disappeared early Saturday morning en route from Kuala Lumpur to Beijing. As search crews from Malaysia, Vietnam, China and the U.S. scoured the Gulf of Thailand and South China Sea for wreckage over the weekend, security experts issued a scathing critique of international aviation safety. The crash, they said, exposed a gaping hole and endemic problem in aviation security that allows four out of every 10 international passengers to get through without being screened against Interpol's Stolen and Lost Travel international database, or SLTD.
The Lyon, France-based agency said Sunday that it could confirm at least two passports listed in its SLTD had been used on Flight MH370. Later identified as the documents of Austrian Christian Kozel and Italian Luigi Maraldi, both individuals had reported their passports stolen in Thailand in 2012 and 2013 respectively.
Electronic booking records show that the men who flew on these passports purchased their tickets together from a travel agent in the beach resort of Pattaya, Thailand, and were due to switch in Beijing for onward flights to Europe, exempting them from Chinese visas and further identity checks.
"Whilst it is too soon to speculate about any connection between these stolen passports and the missing plane, it is clearly of great concern that any passenger was able to board an international flight using a stolen passport listed in Interpol's databases," Interpol Secretary General Ronald K. Noble said Sunday.
Noble added that not a single country, including Malaysia, had performed a check of the stolen Austrian and Italian passports since their owners reported them missing. Thus, the international police agency said, it was unable to determine how many other occasions these passports may have been used to board flights and cross borders.
"This is a situation we had hoped never to see," Noble noted. "For years Interpol has asked why should countries wait for a tragedy to put prudent security measures in place at borders and boarding gates. Now, we have a real case where the world is speculating whether the stolen passport holders were terrorists, while Interpol is asking why only a handful of countries worldwide are taking care to make sure that persons possessing stolen passports are not boarding international flights."
Analysts predict 1.5 billion passengers will have flown by 2017, and Interpol believes that, last year, passengers were able to board planes more than a billion times without having their passports screened against its database, which has grown from a few thousand passports and searches in 2002 to more than 40 million entries and more than 800 million searches last year. The U.S. alone searches the database annually more than 250 million times, the U.K. more than 120 million times, and the UAE more than 50 million times.
"If Malaysia Airlines and all airlines worldwide were able to check the passport details of prospective passengers against Interpol's database, then we would not have to speculate whether stolen passports were used by terrorists to board MH 370. We would know that stolen passports were not used by any of the passengers to board that flight," the head of Interpol concluded.
"For the sake of innocent passengers who go through invasive security measures prior to boarding flights in order to get to their destination safely, I sincerely hope that governments and airlines worldwide will learn from the tragedy of missing flight MH 370 and begin to screen all passengers' passports prior to allowing them to board flights. Doing so will indeed take us a step closer to ensuring safer travel."
Governments under the current model are left alone to screen the waves of individuals crossing borders on a daily basis, but Interpol unveiled a forthcoming "I-Checkit system" last year that it hopes will enable airlines, banks and hotels to determine if a passport has been reported lost or stolen before a ticket is ever issued.
Concerns first raised in a 2004 report from the 9/11 Commission over an effective way to ensure that a person presenting a passport is, in fact, the one to whom it was issued have yet to be addressed a decade later -- despite the fact that more than 40 million travel documents have been reported stolen since Interpol began its database in 2002.
The 9/11 Commission's report, which advocated for biometric passports, revealed how hijackers used modified passports to get into the U.S. It also listed a handful of ways in which terrorists can alter and use stolen passports.
Fake passports sell for between $800 and $1,500 on the black market and are often created by printing a false photo page on an existing passport. They're predominantly used for smuggling laborers, prostitutes or other illegal migrants, though convicted terrorists like the 1993 World Trade Center bomber, Ramzi Yousef, also flew on falsified documents.
Security experts warned Sunday that even if the Malaysia Airlines crash had nothing to do with the two individuals traveling on stolen passports, it should serve as a wake-up call that travel documents are easy to steal, alter and replicate -- and all too often, no one is checking.
© Copyright IBTimes 2023. All rights reserved.
FOLLOW MORE IBT NEWS ON THE BELOW CHANNELS