Man Dressed As 'Sesame Street's' Elmo Accused Of Groping 14-Year-Old Girl In Times Square
A man dressed as "Sesame Street" character Elmo was arrested Saturday night in New York for allegedly groping a 14-year-old girl.
Inocente Andrade-Pacheco, 54, from Wassaic, New Jersey, was wearing the red costume Saturday when he approached a 14-year-old girl to take a picture with her in the tourist-heavy neighborhood of Times Square. As the picture was being taken, Andrade-Pacheco's hand allegedly moved down the girl's back and squeezed her rear end, according to the reports.
The teen notified her guardians, who subsequently reported him to nearby police. According to the complaint, multiple people witnessed Andrade-Pacheco squeeze the girl's buttocks.
Andrade-Pacheco was then quickly arrested by the NYPD on one charge of forcible touching. The Manhattan District Attorney's Office has since filed a criminal complaint against Andrade-Pacheco and charged him with endangering the welfare of a child, sexual abuse, and harassment.
Andrade-Pacheco had his first court appearance on Sunday night for his arraignment in the Manhattan Criminal Court. Prosecutors reportedly asked for $7,500 bond, but Andrade-Pacheco was released of his own recognizance. He will have his next appearance in court on Sept. 26.
The incident is the latest complaint against Times Square street performers. Other complaints include forced touching, acting aggressively to earn tips and larceny. New York City legislature subsequently passed a law in 2016, zoning street performers and impersonators to select areas in Times Square in an effort to curb complaints.
Timothy Tompkins, president of the Times Square Alliance, held a livestream press conference Monday to address some of these concerns.
"We've been tracking a growing number of complaints about people being touched without consent, not only in a sexual way," Tompkins told media. "The police are doing what they can, but we think there's a need for some additional regulations or legislation, and we know the City Council is working on that."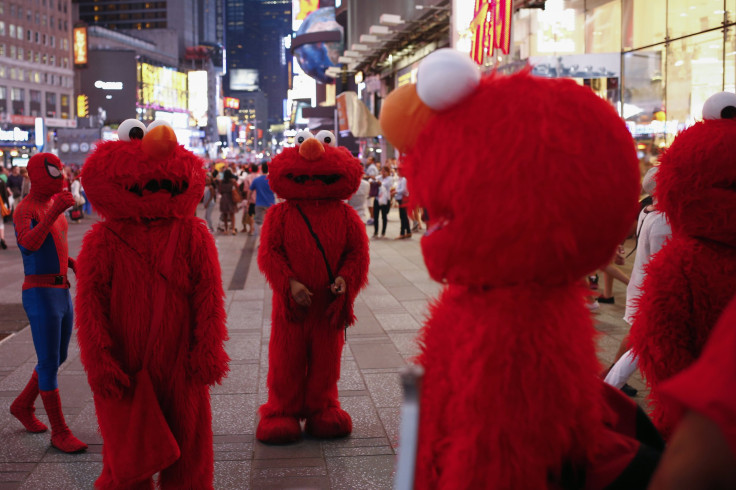 © Copyright IBTimes 2023. All rights reserved.