Man Tattoos Dog: Ernesto Rodriguez Under Fire For Branding Pit Bull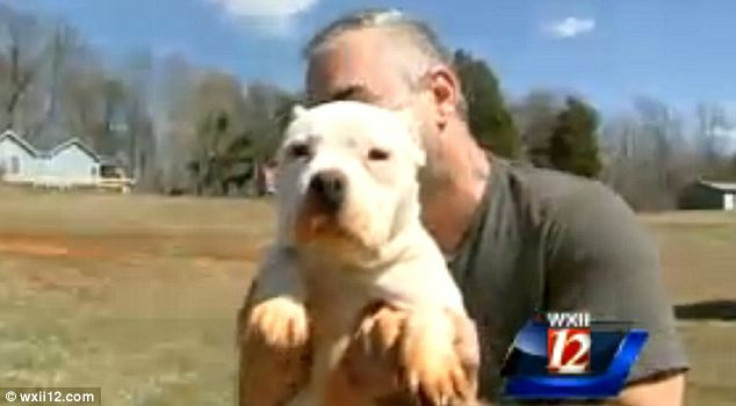 A North Carolina tattoo artist is facing allegations of animal cruelty from pet owners after tattooing his five-month-old dog.
Ernesto Rodriguez, of Pinnacle, N.C., sparked controversy when he posted a photo on Facebook of a tattoo he inked on his Pit Bull's stomach, the Daily Mail reports. Rodriguez, an Army veteran, told WXII12 News that he created the tattoo especially for his purebred dog Duchess. Rodriguez said that he modeled the image after a coat of arms, and that it represented Duchess' pedigree. He said the tattoo wasn't so dissimilar from brands given to farm livestock that can help identify them if they get lost.
"What do they do when they brand animals and tattoo horses on their ear and brand their cow? You're not abusing them. You're just protecting them so they don't get lost," Rodriguez said. "If you go on Google and type up dog tattoos, you'll get a thousand images of dogs tattooed. This has been going on for years."
Despite Rodriguez's assertions that there's nothing wrong with tattooing dogs, many pet owners expressed outrage over the act.
"This is so sad. There is not a dog in the world who deserves to go through this type of cruelty. I feel terrible for any dog in your care. I wish they would take them all away and find safe, loving homes for them," a Facebook user wrote.
Another Facebook user added, "'Please ... do us all a favor ... don't ever have children ... I would hate to see what you would to your children if you ever got bored with them in the house."
Stephanie Bay said the act of tattooing should be consensual. "You are an absolutely disgusting human being for claiming that you 'love' your dog and think that it's ok to tattoo him. Did he give you informed consent? No. He's a dog," Bay wrote. "You have no empathy for animals and should not be allowed to care for any and you should not be allowed to be a tattoo artist because you have poor ethics."
Rodriguez said that Duchess was anesthetized during the tattoo process and didn't experience any pain. "She got up and she's been fine."
"I love my dogs. There's people out there saying that I'm cruel, that I hurt my dogs, that I don't love my dogs ... that I should be in jail," he said. "I paid a lot of money for my dogs and I take care of them."
The Stokes County health department issued a cease and desist order, prohibiting Rodriguez from tattooing human clients at his facility called Planet Ink Tattoos until he obtains the appropriate zoning permits.
Correction: An earlier version of this article used a photograph that was mistakenly attributed to Ernesto Rodriguez. The image has been replaced at the request of the owner.
© Copyright IBTimes 2023. All rights reserved.