The Manchester United Defense Dilemma
This article uses affiliate links, which means if you purchase products through these links, we may earn a commission. Click here to see our
T&C
. For licensing please click
here
.
It would have been unthinkable just two years ago, when David de Gea was in the form of his life. A record four Sir Matt Busby Player of the Year awards, Premier League Golden Glove in 2018, FIFPro World XI, starting goalkeeper for the Spain national team. Manchester United fans had been ecstatic after that ill-fated transfer to Real Madrid fell through, keeping him with the club, where they felt he belonged.
Fast forward to 2020. De Gea's form hasn't so much dipped as hurtled down a steep slope. A string of keeper errors last season culminated in United's FA Cup semi-final against Chelsea, in which he was directly responsible for one of the goals conceded in the 1-3 defeat. This season alone, United have conceded twelve goals in just four games this season -- including six against Tottenham. And while De Gea is not solely culpable for that defensive lapse, he's not blameless either.
It would have been unthinkable two years ago, but manager Ole Gunnar Solskjaer faces a problem: drop David de Gea or not?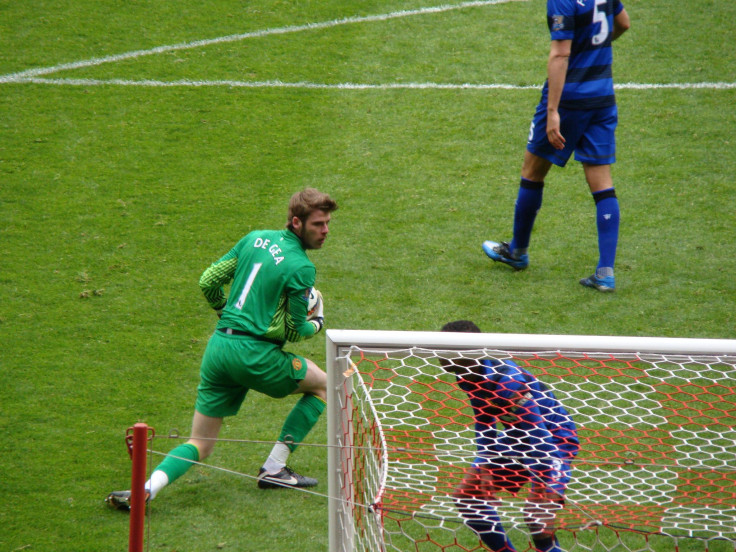 It feels simple on paper. United have three perfectly capable goalkeepers behind him. Sergio Romero remains first-choice keeper for Argentina's national team, a solid shot-stopper. There is clamor for Dean Henderson to get his chance between the sticks after good performances on loan last season. And Lee Grant remains an option, time-tested and reliable.
But the politics of soccer rosters are rarely that simple. Can Solskjaer drop such an influential figure at the club, with so high and new a contract? What does he risk by relegating him to the bench? Is now the time to stand by his No.1 and back his return to form, or does he sit De Gea out to give him room to get his head straight and recover?
At this point, to save both season and career, Solskjaer just might have to. The Spaniard looks increasingly lost out on the pitch, flubbing set pieces and failing to hold his line. Three goals conceded per game is a poor record, one that necessitates a change. It's a message that needs sending -- that De Gea needs to get his head straight; that no matter a player's reputation, if their performances are not up to par, they will not make the lineup. That Solskjaer is bold enough -- is authoritative enough -- to make the hard calls.
And it's not just De Gea over whom Solskjaer needs to make some tough decisions. The team's central defense has been equally guilty in those twelve goals conceded. Harry Maguire's United career got off to a solid start before tapering out, into something that befits neither reputation nor price tag. His off-pitch scandals have not helped, but whether or not they've been distracting the United captain is inconclusive. He redeemed himself somewhat in United's last game versus Newcastle, but he's a long way from absolving himself -- especially after pulling Luke Shaw out of the way of the ball, directly leading to one of Tottenham's goals.
It doesn't help that he doesn't have an established partner. Victor Lindelof, too, has lost the form that earned him the nickname 'Iceman'. Phil Jones wallows in limbo, status uncertain. Eric Bailly is in and out of the side, still searching for form after a string of injuries. Is it too soon to trust one of Timothy Fosu-Mensah or Axel Tuanzebe? Can Solskjaer convert Scott McTominay or one of his wing defenders?
It may feel too large a call and too large a risk -- dropping both captain and goalkeeper in one fell swoop (and that isn't even getting into the Paul Pogba predicament). But United are very clearly struggling out on the pitch, and its high-flying attack cannot be expected to outscore its defensive failures. One of the biggest criticisms levied against Solskjaer is that he lacks resolve, that he cannot make harsh calls with the big players. If he wants to solidify his authority -- prove he does have that resolve, that he deserves the reins to one of the biggest clubs in English soccer -- he needs to make those calls.
It's still early in the season, but United cannot start off already playing catch-up. And with rumblings of coaching changes and player transfers on the horizon, Solskjaer needs to draw the lines -- both for the club's sake and his own.
Catch United in domestic cup action exclusively on ESPN+. Subscribe for just $5.99 a month -- or save with the $49.99 annual bundle!