Manhunt For Remaining New York Prison Fugitive Intensifies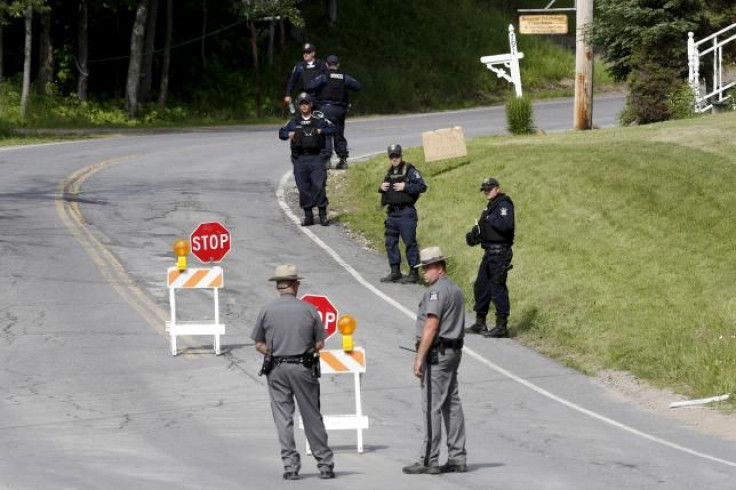 MALONE, N.Y. (Reuters) -- A manhunt for a convicted murderer who escaped from a New York state maximum security prison focused on a rural area near the Canadian border on Saturday, a day after his fellow escapee was killed.
David Sweat, 35, remained at large three weeks after taking flight from the Clinton Correctional Facility in Dannemora, New York. His accomplice on Friday was shot dead by authorities near Malone, New York.
After Richard Matt was killed by U.S. Border Patrol officers, a tight security perimeter was set up in the area, where Sweat was believed to be holed up.
About 1,200 federal, state and local law enforcement officers were searching through a 22 square-mile (57 sq km) area along a highway between the towns of Malone and Duane in northern New York, New York State Police said in a statement.
At checkpoints on the zone's perimeter, rifle-carrying officers stopped vehicles. As darkness approached, halogen lights illuminated makeshift checkpoints.
Police in vehicle caravans spent the day passing over roads, as officers with dogs combed the ground and helicopters patrolled overhead.
Franklin County Sheriff Kevin Mulverhill spoke hopefully about finding Sweat, who was sentenced to life without parole in 2003 for killing a New York sheriff's deputy.
"After three weeks, he would have to be fatigued," Mulverhill said. "He's not getting regular meals, not getting good sleep."
Authorities declined to say why they thought Sweat was still in the general area where Matt was killed. Malone is 27 miles (43 km) northwest of the Clinton prison where the convicts were discovered missing on June 6.
Police tracked Matt to the Malone area, just south of the Canadian border, when two burglaries were reported this week at backwoods cabins.
On Friday, after Matt apparently fired a shot at a passing camping trailer, officers spotted and confronted him outside a cabin, New York State Police Superintendent Joseph D'Amico told reporters.
Border Patrol agents warned Matt to drop the shotgun he was holding, and shot and killed him when he failed to comply, police said.
Matt was convicted in the 1997 torture, murder and dismemberment of his boss in Tonawanda, New York.
To stage their elaborate prison break, Matt and Sweat cut through the walls of their adjoining cells and slithered through a steam pipe beneath the prison before popping out through a manhole.
Two prison workers have been charged with aiding them. Gene Palmer, 57, a corrections officer for 27 years, was suspended without pay, the New York State Department of Corrections and Community Supervision said.
He is accused of bringing hacksaw blades and a screwdriver bit to the inmates, hidden in frozen hamburger meat supplied by Joyce Mitchell, 51, a training supervisor in the prison tailor shop.
Mitchell, who also was charged in connection with the escape, told investigators the inmates expected her to pick them up outside the prison walls and drive a getaway car.
When she instead checked into a local hospital with a panic attack, the escapees were apparently forced to take off on foot through rugged, mountainous terrain.
© Copyright Thomson Reuters 2023. All rights reserved.