Marco Rubio Credit Card Statements Show He Made $22,000 In Personal Charges, Repaid Florida GOP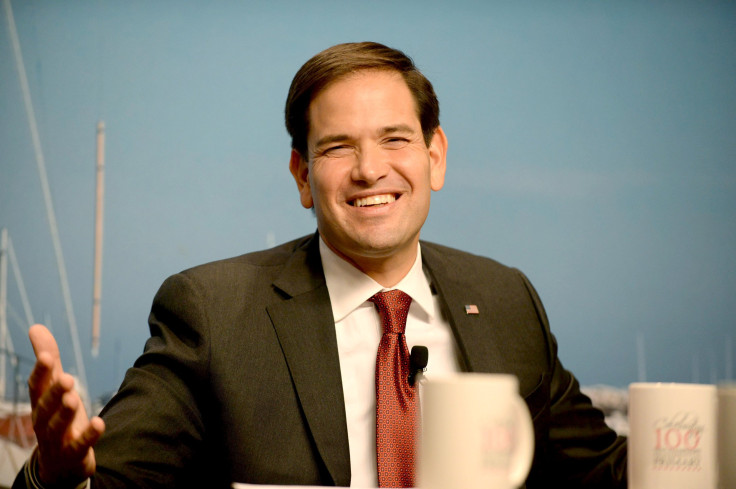 Sen. Marco Rubio spent about $182,000 on a charge card belonging to the Florida Republican Party between 2005 and 2008. Of that sum, $22,000 were personal expenditures -- and the Republican presidential candidate repaid all of that portion, according to statements his campaign released Saturday.
"Some of these charges are from more than 10 years ago, and the only people who ask about them today are the media and our political opponents," campaign spokesman Todd Harris told Politico. "We are releasing them now because Marco has nothing to hide."
Rubio's spending on the American Express charge card he had while speaker of the Florida House first came under scrutiny when he was running for the U.S. Senate in 2010. His opponent, then-Gov. Charlie Crist, published two years' worth of credit card statements showing that Rubio charged everything from movie tickets and flowers to hotel stays at Walt Disney World on the official account, ABC News reported. An ethics committee later dismissed a complaint against Rubio, and an independent audit cleared him for the charges between 2007 and 2009. Rubio won that election.
Saturday's release included the senator's records from 2005 and 2006. During that period, he made 484 charges totaling $64,800 -- "far less than other Republican leaders who succeeded him in the Florida House," Politico wrote. Eight of the charges, or about $7,200 worth, were personal.
The new release includes a trip to Las Vegas, where the campaign said Rubio funded an extension of a business trip to visit family, as well as an instance where he has said he "pulled the wrong card from my wallet to pay for pavers."
It's unclear what effect, if any, the matter will have on Rubio's presidential campaign. As of Saturday, the HuffPost Pollster showed Rubio in third place with the backing of 10 percent of likely GOP primary voters. Neurosurgeon Ben Carson and billionaire Donald Trump are comfortably ahead of him. Trump said earlier this week that Rubio was "a disaster with his credit cards," according to the Hill.
In recent years, several other politicians have gotten in trouble for misusing campaign funds. Rep. Aaron Schock, R-Ill., resigned in March amid allegations that he spent $35,000 on a "Downton Abbey"-style redecoration of his Capitol office and $100,000 on travel. Ex-Rep. Jesse Jackson Jr., D-Ill., recently finished serving his prison sentence for using campaign money on items like fur capes and Bruce Lee merchandise.
© Copyright IBTimes 2023. All rights reserved.