GOP 2016: Marco Rubio Helps Big Campaign Donor, Pressures Argentina For Full Debt Repayment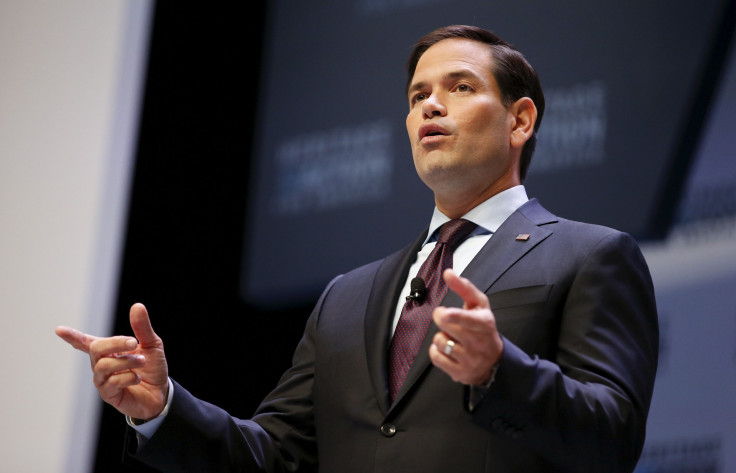 The Senate Foreign Relations Committee isn't typically seen as one of Congress' "money" panels -- it does not oversee economic policy or regulations, so it is not considered a prime spot for lawmakers looking to leverage legislative initiatives for campaign cash. But Sen. Marco Rubio may be the exception: The Republican lawmaker has used his position on the committee to slam Argentina, and now landed a major presidential campaign donor who could make a fortune off that country, if Rubio's criticism compels the South American nation to submit to its creditors' demands.
The Rubio donor in question is hedge fund mogul Paul Singer, who announced last week that he is backing Rubio's presidential campaign. Singer has financed his huge political donations to Republicans over the years with the fortune he amassed by -- among other things -- purchasing debt from troubled nations at discounted prices and then suing for full repayment.
Argentina has been the most high-profile example: Bloomberg reports that Singer's firm, Elliott Management -- through a subsidiary called NML Capital -- invested in the country's bonds, and after the country defaulted on its debts in 2001, Singer's firm was one of a few creditors to decline Argentina's request to reduce its repayments by 65 percent. Instead, the firm went to court to try to get a full repayment of up to $1.6 billion, at times attempting to seize the country's assets.
Argentine President Cristina Fernandez de Kirchner called Singer a "financial terrorist" who is pushing her country to the brink of financial collapse. The United Nations Office of the High Commissioner for Human Rights has declared that the kind of legal strategy Singer is pursuing against Argentina means "money that is earmarked for poverty reduction and basic social services, such as health and education, may be diverted" to Wall Street firms. The U.N. says such a diversion would threaten to prevent "heavily indebted countries from using resources freed up by debt relief for their development and poverty reduction programs."
Singer criticized Argentina for "imposing damage on themselves way out of proportion to the cost of paying the debt." That criticism has been amplified by a Singer-backed U.S. lobbying group called the American Task Force Argentina, and by Rubio -- whose third-largest Senate campaign contributor is Singer's firm, Elliott Management.
Over the past eight years, Elliott Management and American Task Force Argentina have employed an army of lobbyists to persuade Congress and the White House to pressure Argentina to pay its creditors. Together, the hedge fund and the group have spent $9.3 million on lobbying during that time period, according to the Center for Responsive Politics.
In Rubio's first year in the Senate, he offered an amendment to a bill to direct American officials at international financial institutions like the World Bank to deny development loans to Argentina until that country's government "makes substantial progress" in repaying creditors like Elliott Management. The American Task Force Argentina publicly touted the amendment. The legislation came only a year after employees of Singer's firm had collectively been a top contributor to Rubio's 2010 senate campaign.
According to a laudatory 2012 press release from the American Task Force Argentina, Rubio co-authored a letter that year pressing the U.S. Treasury department to oppose a restructuring of Argentina's debts until it pays back its private creditors.
In February 2014 during the confirmation hearing for the U.S. ambassador to Argentina, Rubio questioned the country's status as an ally of the United States on the basis that it "doesn't pay bondholders." He called Argentina "the most peculiar ally in the world, because it doesn't pay its debts and doesn't cooperate militarily." Federal records show Elliott Management lobbied Congress on the ambassador's nomination.
According to the American Task Force Argentina, Rubio sent a letter in July 2014 to Treasury Secretary Jack Lew requesting he "counsel Argentina to honor its outstanding legal and financial obligations to its U.S. and international private creditors" (Rubio's office and the Treasury Department did not release Rubio's full letter to IBT).
Then, earlier this year, Rubio called for the U.S. State Department to support launching an international investigation into the Argentine government, following the death of a prosecutor who had accused the country's president of covering up the details of a deadly terrorist attack two decades earlier.
Rubio's criticism of Argentina for not repaying creditors tracks his hardline position in another high-profile, potentially precedent-setting bond battle: the one over Puerto Rico's debt. In that standoff, he has similarly taken the side of the Wall Street creditors demanding that the Puerto Rican government lay off teachers and close schools to help finance a repayment plan.
Unlike other 2016 candidates such as Jeb Bush and Hillary Clinton, Rubio opposes allowing the island to seek bankruptcy protections. Instead, he advocates the same hardline approach he has taken with Argentina, declaring in a September op-ed that "allowing Puerto Rican municipalities to reorganize their debts under Chapter 9 of the U.S. Bankruptcy Code would not solve Puerto Rico's problems and should only be a measure of last resort considered if Puerto Rico takes significant steps to fix its budget and economic mess."
In May, Rubio received a $2,700 donation from a top executive at Monarch Alternative Capital, a hedge fund that holds Puerto Rican bonds.
© Copyright IBTimes 2023. All rights reserved.