Marco Rubio-Ivanka Trump Hug Leads To Florida Senator Joking About Twitter 'Investigation'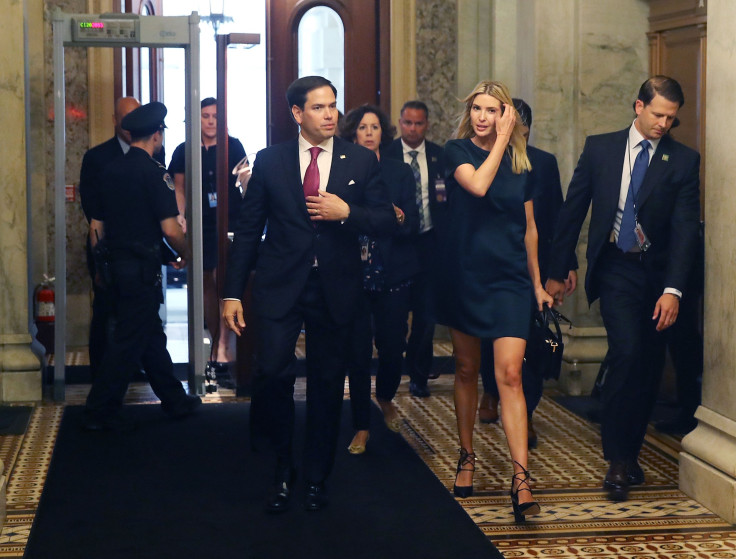 Sen. Marco Rubio (R) tweeted Tuesday and joked that he is "investigating" a photo of a "failed hug" between him and first daughter Ivanka Trump before the pair headed for a meeting on child tax reforms at the Capitol Hill in Washington D.C. on Tuesday.
The photo first posted on Twitter by an Associated Press reporter, Erica Werner grabbed quite a lot of attention on social media and Rubio was mocked by the users for the picture.
Read: Twitter Reacts To Ivanka Trump Supporting LGBT Community After She Wished For A "Joyful" Pride 2017
In the picture, the Florida Republican was seen leaning in to give the first daughter a hug as she stood straight with her arms at her side and did not reciprocate. Ivanka was still wearing her sunglasses as she had just entered the building ahead of her meeting with the lawmakers about her new child tax credit proposal.
Rubio weighed in on the issue on social media after the users started mocking him over the photo.
He jokingly posted a series of tweets saying that he was investigating whether or not a hug indeed took place. He even asked users to help him with evidence if they had any. He also invited users to post more videos and pictures they had filmed during the incident.
Rubio mentioned having photographic evidence that would "shed greater details on this incident," adding that he is trying to "acquire multi-angle video." He shared another photo, saying it offered "more insight into alleged failed hug." Ivanka also joined in Rubio joking about the photo on Twitter and responded with tweets borrowing some phrases from her father.
Rubio and Ivanka were pictured before their meeting Tuesday morning to discuss family and child care policy as the first daughter sought to build momentum around one of her signature issues concerning child care.
The meeting, which was conducted by Rubio, discussed child tax credit and Rubio's proposal for it being increased up to $2,500, as well as other incentives for companies which have the provision of paid family leave. Sens. Deb Fischer of Nebraska and Joni Ernst of Iowa were also present during the meeting. Others included Sens. Tim Scott of South Carolina and Mike Lee of Utah and Reps. Lamar Smith of Texas and Trent Franks and David Schweikert of Arizona.
"She's expressed a strong interest in many different elements that I think comprise a pro-family tax reform. We wanted her [Ivanka Trump] and the White House to be exposed to individual members who have been working on pieces that I think can be part of that reform," Rubio, who is particularly focused on the child tax credit, said during the meeting.
"And we'll see what the next step is, but it's certainly something we're going to continue to work on," CNN quoted Rubio as saying.
Read: Memorial Day Tweet About 'Champagne Popsicle' From Ivanka Trump's Brand Misses Sweet Spot
Fischer who introduced a bill to provide tax credits to companies that offer paid maternity and paternity leaves said: "It's so important to have Ivanka Trump use her platform to shine a light on the challenges working families face. I look forward to continuing to work with her on a way forward with policy solutions that can make a difference."
Following the meeting, Ivanka tweeted saying "Just left a productive meeting on the Hill to discuss issues affecting American working families." Ivanka had been focused on the issue of paid leave within President Donald Trump's administration, even though it stood against the opinions of many conservative lawmakers.
© Copyright IBTimes 2023. All rights reserved.