Rubio: God's Rules Trump Supreme Court Decisions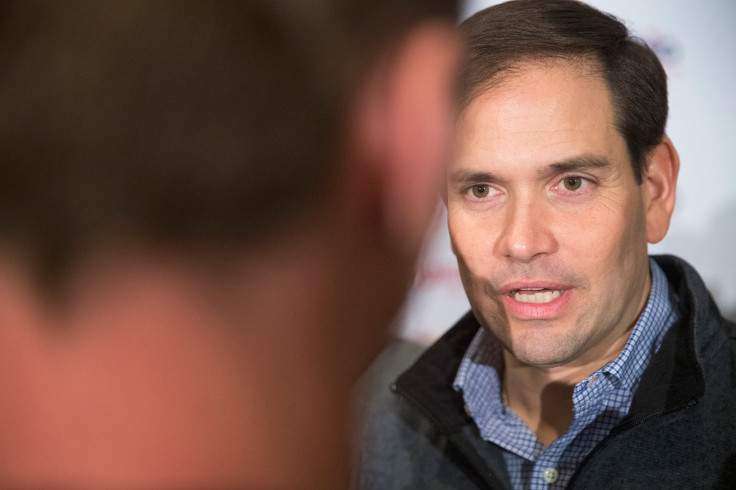 Republican presidential hopeful Marco Rubio told conservative news outlet CBN on Tuesday in Iowa that the same-sex marriage ruling by the Supreme Court earlier this year is only "current law" and is not a settled matter. The U.S. senator from Florida said that while it is important for Christians to follow civil law, it is necessary for them to peacefully find a way to change laws that conflict with the Bible.
"If we're ordered to perform a same-sex marriage, as someone who is presiding over it, we are called to ignore that. We cannot abide by that because the government is compelling us to sin," Rubio said. The remarks seem to mark a change of tune for the candidate since September when he said that Kim Davis, a county clerk in Kentucky who refused to grant marriage licenses to same-sex couples, was compelled to perform her duties as a government employee but that there should be ways to protect religious liberties.
Marco Rubio Presidential Candidate Profile | InsideGov
Rubio is engaged in a contested battle to win over evangelical voters in Iowa alongside several of his closest competitors. Texas Sen. Ted Cruz and retired neurosurgeon Ben Carson both want to appeal to those voters. Rubio trails both of those politicians, and real estate mogul Donald Trump, in the state, according to an average of polls compiled by Real Clear Politics.
Still, Rubio's fourth-place standing in the first voting state in the primary season can generally be seen as good news for the campaign. In national polls, he has seen a boost in his polling over the past month and is currently in third place behind Carson and Trump. His fortunes have risen in Iowa as well, but Cruz has seen a bigger bump there. In the other early nominating state, New Hampshire, Rubio is in second place behind Trump, though he still trails him by nearly 15 points.
© Copyright IBTimes 2023. All rights reserved.