Maria Bartiromo Of Fox Business Talks About Gender Parity On Wall Street And Lessons From The Dotcom Bubble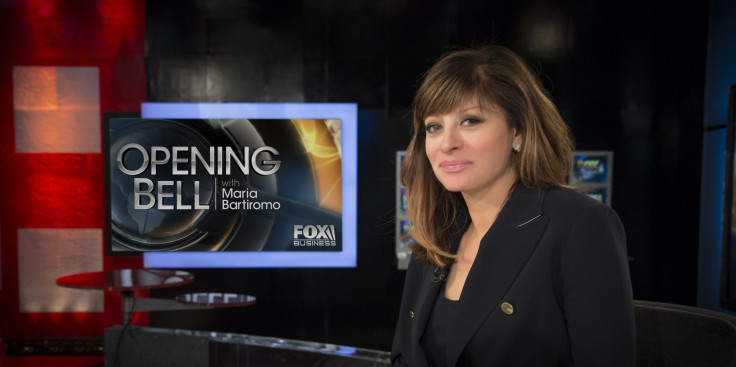 After more than two decades on CNBC, Maria Bartiromo left the ratings-challenged channel last year for a spot on Fox Business Network. Bartiromo, famously the first person to report live from the floor of the New York Stock Exchange, earned the moniker "Money Honey" in the late 1990s. But she says what she is most proud of is helping to "open up" the morning stock market call, giving everyday investors access to the same trading tips offered to high-paying clients of major wealth management firms.
On Tuesday, Bartiromo celebrated her first anniversary as anchor of "Opening Bell With Bartiromo." International Business Times spoke with the veteran financial reporter about gender parity in media, what she learned from the dot-com bubble and some of the biggest challenges facing the business of business TV.
International Business Times: Financial information is so much more accessible now than it was 20 years ago. How has that changed what you do?
Maria Bartiromo: When I first started, nobody had access to information in terms of upgrades and downgrades. When you have a large institutional investor, they pay big money to the Goldman Sachs and the Merrill Lynches of the world to get that research -- so the Merrill Lynches of the world are not just going to give it away to the media. But I had secured a number of sources at different trading desks. And little by little, I started getting every single firm. And I would have what they were upgrading, what they were downgrading. This is 7:00 in the morning. The market doesn't open until 9:30. By the time the market opens, the stock has already gotten away from you. So individual investor had really no shot to get that information ahead of time. I was getting my sources to tell me what they were telling their high-paying clients, at the same time. Basically, me and a couple of others at CNBC completely broke open the morning call.
IBTimes: Gender parity is an issue in business and journalism. You have the only all-female cast on business television. Can you talk about your efforts to open up the field to more women?
Bartiromo: Being a woman on the floor of the New York Stock Exchange in the early days was not easy. Now I'm not a cry baby about this. I feel like it should always be based on performance, and it just so happens the performance of the women on ["Opening Bell"] every morning is outstanding. We have people like Sandra Smith, who has a background in commodities; her family were all commodities traders or investors. We have somebody like Jo Ling Kent, who is becoming an expert in social media and technology. We have Elizabeth MacDonald, who has a background on Wall Street. So these women come to work every day, being in television with a business background. So, yeah, we have an all-women cast. I'm proud of that. Because I think that women for a long time have had a hard time on Wall Street. I feel very proud that I have been able to be on the floor of the New York Stock Exchange, grow up in business. But these things don't just happen. It's not just a coincidence. I worked really hard in a number of ways, not just learning and making sure that I knew my stuff, but also being able to stand my ground in a sea of suits.
IBTimes: What precipitated your move to Fox Business?
Bartiromo: Over my 20 years at CNBC, toward the end of my career there, I realized that we had become very "sound-bitish," and I was under pressure to do interviews in like four or six minutes. And I love CNBC, don't get me wrong. I'm not speaking out of school. But I had a heart to heart with my boss, and I said, "You can go on your phone at any given time and see what the market is doing. You don't need television for that. You need analysis. You need perspective." He did not agree. And so I was really yearning for a larger platform that enabled me to actually give perspective, and then along comes [Fox Television Stations chairman] Roger Ailes who offers me an opportunity.
IBTimes: So people really look to television for something a little deeper?
Bartiromo: You don't need TV for the basics. You can get the stock price online. When I started in 1993, it wasn't like that. My thinking has changed in that, yes, we want to give people access to information and make sure everyone is on the same playing field, but today there's an information explosion. Now there's a lot of information around, but what do I do with it? Why does it matter to me? That's what's most important. You can't do that in three minutes. I just felt like we were moving into a talking-head, three-minute situation where it was becoming irrelevant.
IBTimes: We're at a near-record Nasdaq right now, and there's been some chatter about a repeat of the dot-com bubble. Are you seeing the same kind of pop-culture enthusiasm we had in the 1990s?
Bartiromo: It's different. I think that we are seeing a similar enthusiasm around technology today. However, it's based on different things. In 1998 and 1999, for some reason, the mentality of business was: Throw away metrics, throw away fundamentals. There was all this excitement. We were entering a new century, the year 2000. And yet we threw out fundamentals. It was about clicks to the website, eyeballs.
IBTimes: With huge tech stocks like Twitter, there's always that talk about, how do they monetize this huge user base and is it worth the valuation?
Bartiromo: Right, and that's the right question to ask. We weren't asking that question in 1999. We really have to recognize that the most important thing in terms of valuation are fundamentals -- earnings, revenue growth, products -- that's how you value companies. So is today similar to 1999? Well, it's similar because there's vibrancy, but it's very different when you look at why certain companies are trading where they're trading. Apple Computer right now is $800 billion in market value. There's a debate. Is this company worth it? When you look at the earnings and the earnings potential, most people will tell you the stock is not trading at an expensive level, that it's trading at 18 times earnings. Back in 1999, companies were trading at 50, 60, 100 times earnings, because we weren't caring about earnings. So the fact that people are questioning [valuations] today, that's very much the right question to ask.
IBTimes: Some people have blamed the financial press for not asking those questions back then. Do you think that they share some of the blame for what happened?
Bartiromo: Absolutely. I think everybody does. We were all under this wrong mentality that we were in a new era, that it's different this time. And I think it's really important to look at periods like that, and come out of periods like that, and say to yourself, "What did I learn?" And what I learned was, if it looks too good to be true, it probably is.
This interview was edited for length and clarity. Christopher Zara is a senior writer who covers media and culture. News tips? Email me here. Follow me on Twitter @christopherzara.
FOR FREE to continue reading
✔️ Unlock the full content of International Business Times UK for free
offer available for a limited time only
✔️ Easily manage your Newsletters subscriptions and save your favourite articles
✔️ No payment method required
Already have an account? Log in
© Copyright IBTimes 2023. All rights reserved.