Marjorie Taylor Greene Makes Waves Again In Feud Over LGBTQ Support
Georgia Republican Marjorie Taylor Greene stoked controversy again after dueling with a fellow lawmaker over rights for transgender people.
In a row that's spilled over into a very public dispute on the social networking site Twitter, Georgia Democrat Marie Newman chastised her Republican counterpart for voting against a bill meant to provide civil rights protections for members of the LGBTQ community.
With offices directly across the hall from one another, Newman and Greene offered dueling messages on civil rights. Newman planted a flag supporting LGBTQ rights outside her office, followed by Greene posting a sign at her office door reading "There are two genders: male and female. Trust the science."
The Chicago Tribune, meanwhile, reported that Rep. Cori Bush, a Democrat from Missouri, said she switched offices because Greene and her staff harassed her by not wearing face masks. Rep. Adam Kinzinger, an Illinois Republican who voted in favor of stripping Greene from her committee assignments, said Greene's comments smelled of "the hate and fame driven politics of self-promotion at all evil costs."
First-term congresswoman Greene has stirred controversy at least since taking office in January for her embrace of conspiracy theories ranging from widespread voter fraud to a gaffe on "Jewish space lasers" she said caused the devastating wildfires in California in 2018 and the QAnon group that believes a Satanic ring of pedophiles in high-ranking circles are bent against discrediting former President Donald Trump.
Eleven Republicans crossed party lines earlier this month to join all voting Democrats in disciplining Greene for her support of unfounded conspiracy theories.
"No member ought to be permitted to engage in the kind of behavior that Representative Greene has and face zero consequences," number two House Democrat Steny Hoyer said.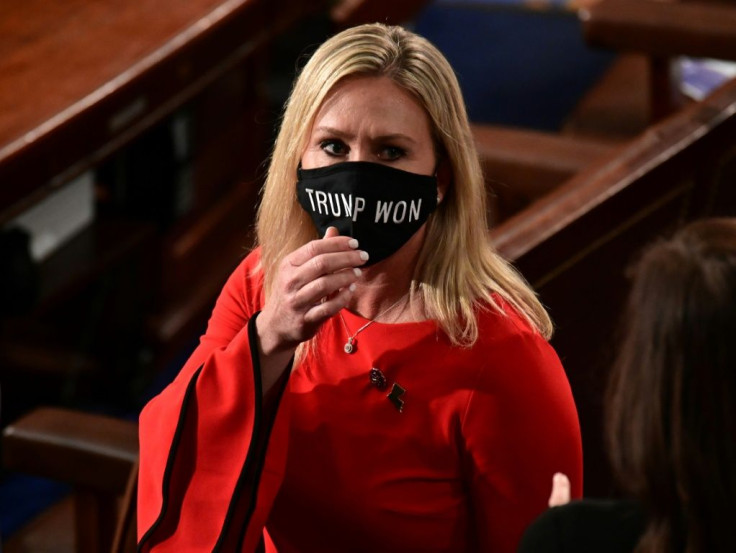 © Copyright IBTimes 2023. All rights reserved.