'Married At First Sight' 2020 Spoilers: Brandon Is 'Ashamed,' Meka Confronts Michael
The honeymoon is over on "Married at First Sight," and now the couples have to settle into their new homes and get to know each other's friends and families. However, honeymoon drama made that a little harder for some couples in Season 10, episode 8 of the Lifetime reality show.
Brandon and Taylor
They're living in separate rooms, but the couple has moved past the Panama arguments—well, maybe. Taylor's friends have questions about Brandon's temper. They let him know that they're disappointed with him. Brandon's aunt defends her nephew and explains that he sometimes needs time to regroup on his own, but that kind of blowup is not normal for him.
"I'm ashamed," Brandon tells the cameras. He apologized to the other couples, and he seems to soothe Taylor's friends and family's concerns.
"We both can change together," Taylor tells everyone. Brandon feels like she's on his side, and she says they're teammates.
They end up having a good time at their housewarming party, and after the gathering, Taylor says she's ready to move on from the drama. She keeps saying she wants to move forward, but Brandon notes that his wife keeps coming back to it. He is just ready to follow her lead, though.
Derek and Katie
Katie and Derek talk to their friend groups separately, and they're not on the same page. She feels like she's the only one initiating sex, while Derek feels like they're both initiating and really in sync. Katie, however, is more concerned that he's never been in love. She worries that he might not be capable of loving her.
The two have reached a plateau where they're not exactly hot and heavy anymore, but they aren't in love yet. Derek's friends advise him to work more and Katie's friends think they might be a good match too. Katie, however, keeps noticing the negative (like Derek's discussions about his "toilet time").
Derek is a pretty happy camper, though. He's happy that she fits in with his friend group, and he says he "honestly" falls asleep with a smile on his face.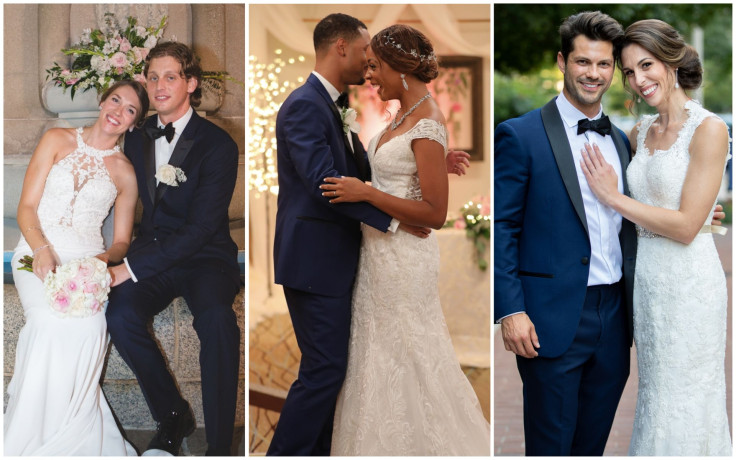 Mindy and Zach
As IBT's exclusive sneak peek showed, Mindy's friends grilled Zach. They aren't happy with him wanting to "create space" after the honeymoon, something even his fellow grooms don't understand.
Later, when Mindy is in her apartment with her pals, they warn her not to trust her husband. Her friend Mallory says he needs to act and show he's making an effort rather than just saying what Mindy wants to hear. Then, Mindy says she invited Zach over just before the doorbell rings.
"I can't believe that Zach came over. It gives me hope," she giddily tells the cameras. Mallory still doesn't trust him. After all, her husband visiting is kind of the bare minimum.
When Mindy's friends try to grill him again, Mindy defends him. She wants to enjoy this moment.
Michael and Meka
Michael hasn't worn his wedding ring in a while, and his wife confronts him about it. She's offended that he took off the ring so quickly, and Michael says it was an "emotional response." Meka, however, says it's a sign of commitment, and he can't ditch it just because they're struggling.
Michael agrees to put his ring back on. He says it's more meaningful this time because he knows who he is committing to.
Austin and Jessica
Their only issue seems to be the salary difference. Austin is embarking on a new career, and he's even putting in more effort at home with the cooking and cleaning. Their friends all agree that they seem great together, so there wasn't much drama for these two this week.
"Married at First Sight" airs Wednesdays on Lifetime.
© Copyright IBTimes 2023. All rights reserved.