'Married At First Sight' Reunion: Divorce, Cheating And Restraining Orders Revealed
"Married at First Sight" usually saves some drama for the reunion, but Season 10 really knocked it out of the park. A new divorce was revealed as was an affair. One former couple now has restraining orders against each other, and one bride and one groom from different marriages went on a date. Add in the cast member who walked off set, accusations of being on the Lifetime reality show for publicity and a new diamond ring, and it was a jam-packed episode. Here are the biggest moments from the "Married at First Sight" Season 10 reunion:
Katie Conrad and Derek Sherman are divorced. Katie says Derek went back to his old life like a bachelor soon after the cameras left. Though he put in some effort, it wasn't enough. They tried to move into separate rooms to work on their friendship, but on a trip to Nashville, they decided to divorce. They lived together until they found someone to take over their lease.
Katie cheated on Derek. Katie admitted to Derek that she slept with her ex recently, but he accuses her of cheating with her ex just after the honeymoon too. Derek claims other people on "Married at First Sight" told him that, but Katie denies it. He says he doesn't trust what she says. "Thankfully, Katie made it really easy not to be able to fall in love with her," Derek says.
READ: Derek Reveals His 'Biggest Mistake' With Katie
Michael Watson doesn't think Meka Jones was hurt. He continuously claims that every "inconsistency" can be easily explained, but he doesn't believe she was truly hurt. He does, however, apologize. Meka wishes she could have been a little calmer.
Mindy Shiben thinks Zach Justice may have wanted the publicity. Mindy is "embarrassed" for Zach after seeing the clip package of him talking in circles. However, she doesn't believe he ever genuinely was invested in their marriage. Zach apologizes for not giving her a chance.
Brandon and Taylor have protective orders against each other. Host Kevin Frazier reads Brandon's legal statement. According to the former groom, Taylor arrived at the restaurant he was at with another man, and she pushed Brandon before telling the authorities that he assaulted her.
Taylor says that she was barhopping with friends and suddenly saw Brandon talking to one of her male friends. Taylor immediately wanted to leave to avoid him, and Brandon allegedly tried to follow and take pictures. She asked him to leave her alone, and they ended up both getting arrested. She got her restraining order three days before he got one against her. She doesn't want him anywhere near her.
Michael walks off set. Many other "Married at First Sight" stars needed to go to court for the trial, and they all agree that it was an intense experience. Michael claims he believes Brandon wasn't the aggressor. As they recap some of Brandon's worst moments, Michael storms off the set. Host Kevin Frazier comes backstage to talk to Michael.
READ: Mindy Has No Regrets After 'MAFS' Divorce
The situation is making Michael uncomfortable. Kevin is turning to Michael because he's Brandon's only friend on the stage, but Michael feels like he is being made to defend the only other black man. Kevin points out that he himself is black as are others behind the camera. He just wants Michael's perspective because Brandon can't be here. Kevin agrees to stop asking about Brandon if Michael comes back to the stage. When they return, Kevin explains that Michael isn't Brandon's spokesperson, and they're moving on.
The wives have matching tattoos. The "Married at First Sight" wives didn't all get husbands, but they did get friends. They each have "ten" on one of their fingers.
Katie thinks Derek is "fake." Katie is angry that Derek claims cast members have told him that Katie cheated after the honeymoon, which she denies. Katie says she didn't sleep with her ex until they agreed to "just be friends." Derek claims that they went to dinner a week before the reunion, and Katie threatened him because she didn't want to discuss any of this at the reunion. She says they both agreed that they didn't want the drama from airing all this out on TV.
Zach and Katie went on a date. They said they just grabbed drinks, and Mindy was irritated by it. Zach asked Katie out before the show aired, and Katie says she wouldn't date Zach after seeing the show.
Austin Hurd gave Jessica Studer a new ring. They ended the show on a hopeful note with Austin saying he is still committed to his wife. They're going to get a dog and a house soon, but they want to wait a couple of years for kids.
Though it wasn't addressed in the reunion, Jessica and Austin are likely on a new show. As the only surviving "Married at First Sight" Season 10 couple, they can join "Married at First Sight: Couples Cam" next month.
"Married at First Sight" returns for Season 11 later this year with a cast based in New Orleans.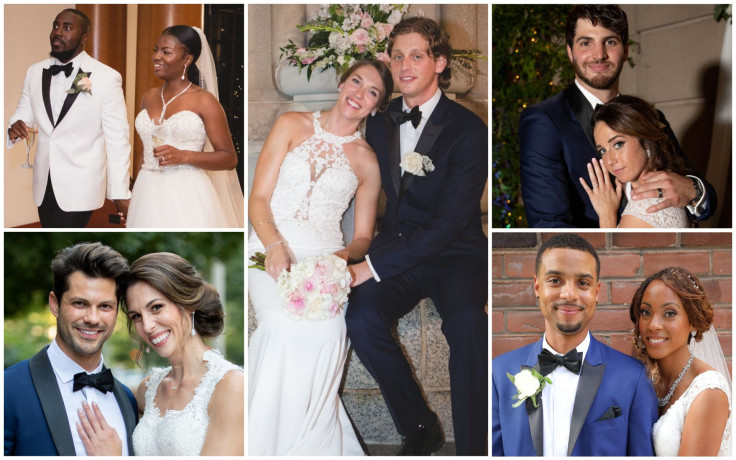 © Copyright IBTimes 2023. All rights reserved.
FOLLOW MORE IBT NEWS ON THE BELOW CHANNELS