Marriott Hopes Millennials Will 'Xplor' Its New Virtual Travel Game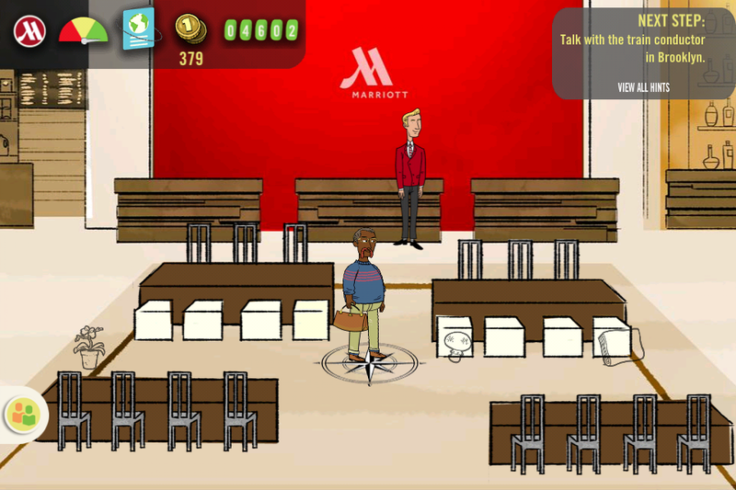 Hotel marketing teams are some of the most innovative of the lot in drumming up interest in their products, but a new initiative from Marriott International (NYSE: MAR) might just take the cake. The global hotel chain moved beyond the confines of humdrum social media Tuesday and into the realms of virtual gaming with the launch of an industry-first mobile travel app called Xplor.
Xplor allows people of all ages to create an avatar (ranging from backpacker to jetsetter), head out on a virtual journey to five global gateway cities (New York, Paris, Beijing, Dubai and Sao Paulo) and accomplish varied sightseeing challenges along the way. "Xplorers" search for clues at famous landmarks, solve puzzles unique to the region they're touring, answer trivia questions, recharge at virtual Marriott hotels, and "friend" one another to chat live and collaborate. As an added incentive, players can compete to win up to 1 million real-life Marriott Rewards points, redeemable at more than 3,700 properties worldwide.
"Social gaming is part of our innovation strategy to engage customers and attract the next generation of social, mobile travelers and employees to Marriott," said David Rodriguez, executive vice president and chief human resources officer at Marriott International. "With more than half a billion people playing social games globally, this is an exciting new channel for our company to promote travel and engage with people."
Those who download the free app will be automatically entered to win 100,000 Marriott Rewards points for each city completed. Avid players who complete the entire game can win additional goodies, including a grand-prize trip around the world, to be announced on Dec. 16. Like many apps, Xplor successes can be shared on Facebook, Twitter (#xplorthegame) and other social networks. A dedicated site, meanwhile, will offer leader board rankings and a discussion board.
Stephanie Linnartz, executive vice president and chief marketing and commercial officer at Marriott International, said the game would connect fans, travel aficionados and mobile gamers under the Marriott community. "We see guests effortlessly blending work and play in a global, mobile world. They embrace technology as a central part of their lifestyle."
Several employees in various departments, age groups and levels across the Bethesda, Md.-based company participated in developing the app, in partnership with Evviva Games, after Marriott executives said they noticed guests playing games to decompress between meetings, in the lobby and by the pool.
Xplor is actually the second social game offered by Marriott after My Marriott Hotel, which launched in 2011. That game was designed to attract potential employees to careers in hospitality by engaging them in the virtual experience of running a hotel. Marriott International said the game attracted players from 138 countries in its first year, and the chain hopes its new game, geared at securing brand loyalty with Millennials, will be equally successful.
Marriott expects the more global-minded Millennials, or those between 18 and 34, to account for a third of U.S. business room nights by 2020. As such, it sees mobile gaming as a way to claim an early stake in the market.
Marriott is not the only company reaching out to the younger demographic through social gaming. Everyone from real estate firms (Century 21 on We City) to libraries (New York Public Library's Find the Future: The Game) and TV shows (USA Network's Club Psych) has jumped on board. Major League Baseball, Coca-Cola, Wells Fargo and even the American Cancer Society have also reported successful outcomes from using virtual realms to search out potential customers who might be missed by traditional advertising.
© Copyright IBTimes 2023. All rights reserved.
FOLLOW MORE IBT NEWS ON THE BELOW CHANNELS