Massive Alfredo Sauce Spill Closes Down Portion Of I-55 In Tennessee
KEY POINTS
The spill occurred after a tractor-trailer crashed into a wall down I-55
The incident occurred Tuesday evening
This was the second spilling incident this week that impacted traffic on a major interstate
An 18-wheeler tractor-trailer crashed into a wall down Interstate 55 in Memphis, Tennessee, on Tuesday evening, sending huge quantities of alfredo sauce across the roadway.
Part of the road doused with the creamy condiment bore a whitewashed appearance, and the roadway had to be shut down temporarily before crews could commence clean up activities.
Traffic camera footage from the Tennessee Department of Transportation showed a white sauce covering all three northbound lanes of the interstate, reported Kron4. The spill also limited southbound traffic to a single lane.
The police and fire crews did not confirm what the truck was carrying. A WREG reporter present on site confirmed the wreck, which happened around 4.43 pm local time, spilled jars of Five Brothers alfredo sauce on the roadway.
No major injuries were reported following the spill. One woman was transported to the hospital in non-critical condition.
Video of the spill started to do the rounds on social media shortly after, and certain Internet users came through with their pasta and noodles jokes.
"Imagine being late to something important because you got stuck in traffic thanks to an 'Alfredo sauce spill' in Memphis," a tweet said.
"When Alfredo sauce is spilled on a highway it's technically referred to as an Accidenté," tweeted another.
"Get in the car kids we're going to the I-55 spilled Alfredo sauce Slip 'N Slide," read another tweet.
This was the second spilling incident, which affected traffic on a major U.S. Interstate this week. On Monday, about 150,000 tomatoes were scattered across I-80 in California after the truck containing them crashed into other vehicles before hitting the center divider.
The resulting spillage left the 200 ft of the busy roadway covered in "two feet deep" tomato mush, a report said, citing the New York Times. Three people were taken to the hospital, and at least one suffered major injuries following this incident. The route was shut for six hours for clean up.
"Anyone else find it hilarious that there is a tomato spill AND an Alfredo sauce spill in the news cycle right now? I'm just over here waiting for the noodle spill to really round this all out," wrote another Twitter user.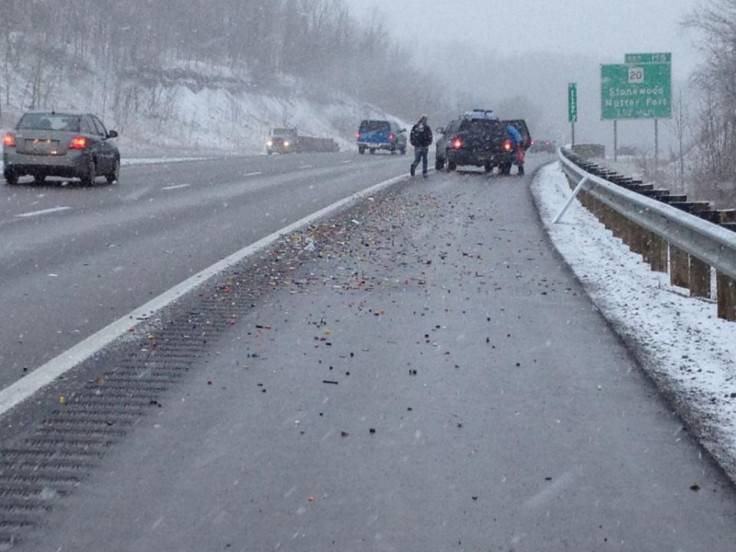 © Copyright IBTimes 2023. All rights reserved.