'Saucy' Mess: Massive Tomato Spill On Highway Causes Crash, Confusion [Photos]
KEY POINTS
Four people, including the truck driver, suffered injuries
It took troopers hours to clean up the "saucy" mess
The destination of the tomato truck was not revealed
Drivers on California's Interstate 80 in Vacaville witnessed a red, saucy surprise on Monday when a delivery truck carrying a huge load of tomatoes collided with another vehicle and overturned.
The truck, which was driving in the westbound lane of Highway 80, was transporting 50,000 pounds of tomatoes, California Highway Patrol officer Jason Tyhurst told USA Today.
As the truck struck another vehicle, it crashed into the center median and spilled the massive load of fist-sized tomatoes on the eastbound lanes of the highway. The accident led to a chain reaction of crashes, impacting at least seven cars and causing massive traffic on the busy interstate.
"One car traveling east became stuck on the highway and was struck by another vehicle," Tyhurst said. "Another car traveling in the same direction struck the two vehicles."
Three people, including the truck driver, suffered injuries in the crash. Another person was hospitalized with a broken leg, the official added.
The splattered tomatoes got mixed with dirt and oil on the road to create a life-threatening mess for commuters. According to the Highway Patrol officer, the crash formed a sea of red tomato sauce about "two feet deep" on the interstate.
"Those tomato skins, man," Tryhurst told the New York Times. "Once they hit the asphalt, it's like walking on ice."
The California Department of Transportation responded to the crash and rushed to the site to clear the tomatoes. Multiple lanes were shut down for hours to allow the troopers to clean the highway for service.
Maintenance crews used a backhoe to scrub the tomatoes and then spread absorbent powder on the road. All lanes were finally opened early Monday afternoon.
"As we got things rolling, Caltrans (the California Department of Transportation) came in and used a front loader and sweeper," Tyhurst told USA Today.
The destination of the tomato truck was not revealed.
During the peak tomato season, truck drivers often use busy highways to transport the produce from one part of the state to another. According to reports, California provides more than 90% of the country and almost half of the world's processed tomatoes.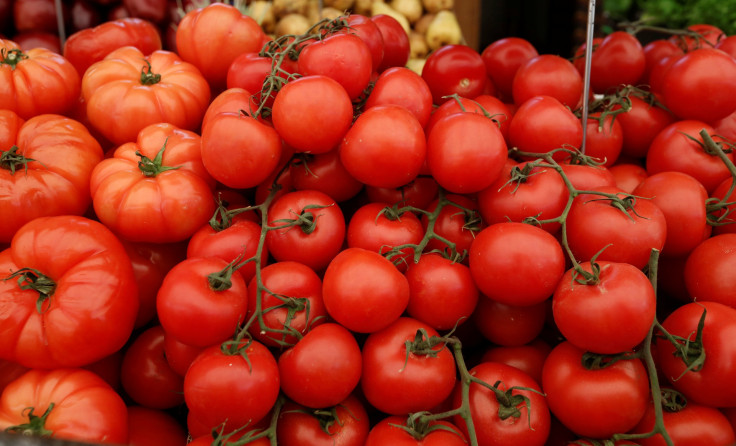 © Copyright IBTimes 2023. All rights reserved.
FOLLOW MORE IBT NEWS ON THE BELOW CHANNELS