'MasterChef Junior' Season 4, Episode 9 Recap: The Top 8 Face A Mystery Box And A Tag Team Challenge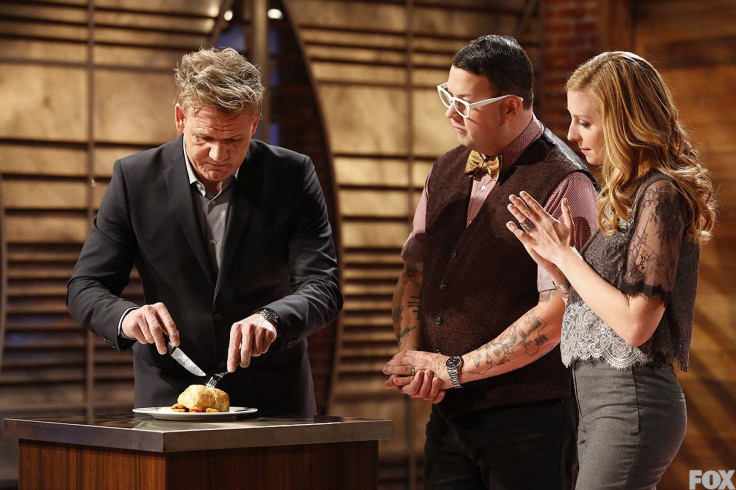 In the second hour of the "MasterChef Junior" midseason premiere, only eight contestants remain, but another two will find themselves on the chopping block. The young home cooks will compete in a Mystery Box challenge, judged by a very special guest. Afterwards, the contestants form tag teams for the elimination round.
"MasterChef Junior" Judge Christina Tosi, tells the contestants that she has invited her best friend to the show. She introduces her mom, Greta, and reveals that they will face a Mystery Box in the next round.
Greta has put together a Mystery Box, filled with everything that Christina loved to eat as a child. Under their boxes, the kids find an eclectic mix of ingredients. The list includes various breakfast cereals, chicken breast, worcestershire sauce and candy. As a special treat, they each get a chance to skype with their own BFFs, just before the challenge starts.
The competition gets underway, and Sam immediately runs into trouble. His dish is burning in the oven, and Gordon Ramsay helps him to safely take it out. He starts again, and still manages to serve a top three dish. His chocolate mousse, topped with toasted cereal tastes great, even if it looks a little messy.
Addison decides to play to her strengths and goes for another baked treat. She calls it her redemption dish, after being in the bottom three in the previous challenge. Her chocolate rice cereal and strawberry tart is a home run, and she regains her confidence.
Zac wins the challenge after taking a risk with a savory dish. He serves a pan-seared chicken breast with broccoli and potato noodles. The win gives him a big advantage in the elimination round, where he gets to choose his tag-team partner, as well as all make all the other pairings.
Zac chooses Kya as his partner and puts Sam and Kamilly together. He thinks that Sam and Kamillya are both quiet, and this might cause a communication issue. Meanwhile, he pairs Addison and Amaya together. Both girls are vocal and fairly bossy, and Zac hopes that that they will end up clashing. Finally, the last tag-team pair is composed of Avery and JJ.
Each team is tasked to prepare a platter of international street food, composed of five different dishes. In each platter, there needs to be some spring rolls, arancini with marinara sauce, samosa, steamed beef buns with hoisin sauce and some lamb kofta skewers. Both members of the losing team will be eliminated.
Once the challenge starts, all hell breaks loose. Amaya starts crying, as she lets the pressure get to her. Everyone starts to panic, and the judges try to help out by coaching them. Gordon notices that Sam and Kamilly have split up the dishes between them, leaving a lot of tasks pending in between switches, Meanwhile, Zac and Kya also get rattled and they forget to put breading on their arancini.
Amaya and Addison were practically screaming and crying during the entire challenge. Amaya says she almost had a nervous breakdown, but the pair manages to produce the winning platter. Their lamb is good, the samosa are spot on, and their arancini are delicious. All of the elements that they have on the platter are delicious and they prove that they can deliver good results even under extreme pressure.
Zac and Kya didn't do so well, and their platter is missing a few elements. Their beef is burnt, and their lamb is underseasoned. The samosas are good, but the judges notice that there is no breading on the arancini.
JJ and Avery didn't do so well either. They are missing two sauces and spring rolls. However, they manage to serve perfect beef buns. Their lamb koftas are unevenly cooked but they have good flavor. Their samosas are also good, and Christina thinks that it's generally a good effort.
Sam and Kamilly are not as fortunate. The pair is sent home, after they serve a disastrous platter. Their arancini and marinara sauce are missing, while their lamb kofta skewers are so raw, Gordon thinks they might still be breathing. The beef buns are also under cooked, and it's enough to send them home even if their samosas and spring rolls are done well.
Only 6 contestants remain in "MasterChef Junior" Season 4, and the competition is getting even more intense. Catch the next episode on Friday, at 8:00 p.m. ET on FOX.
© Copyright IBTimes 2023. All rights reserved.