'Masters of Sex' Season 2 Spoilers: Premiere Synopsis And Spoiler Roundup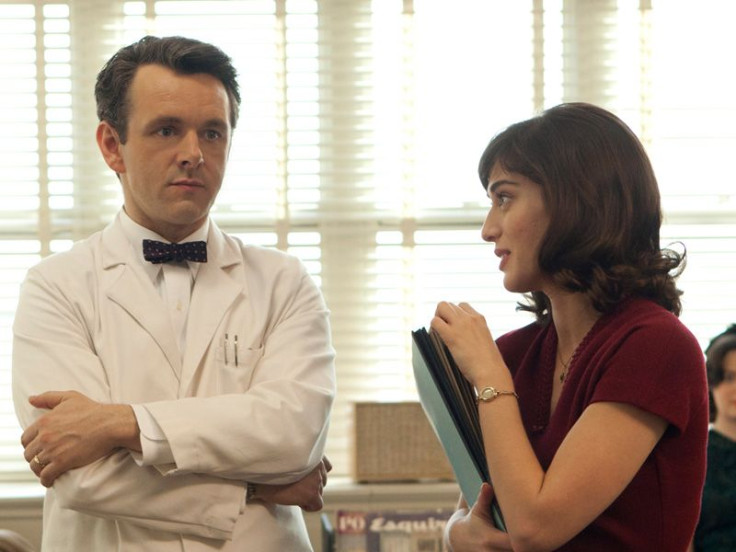 "Masters of Sex" Season 2 is going to get even more dramatic. According to the Season 2 episode 1 synopsis, Bill will have to deal with his firing while Virginia has to adjust to life in the hospital without him. Bill has a newborn at home with Libby, so it's not the best time to be unemployed, and Libby is getting frustrated with him. Virginia must deal with rumors after Bill's departure. Many think that she was the woman in the film during Bill's explicit final presentation.
Get ready for the Season 2 premiere on Sunday, July 13 with all the news from Season 2 below:
Betty's Back
Audiences saw Betty leave her life of prostitution behind in Season 1 episode 3 with Gene, a pretzel mogul who wanted to marry her. It looks the former prostitute won't be getting a happily ever after, but she did get married, according to TV Line. Annaleigh Ashford, Betty's portrayer, is a series regular this season and Greg Grunberg will be returning as Gene. Viewers will also meet Helen, Betty's ex-girlfriend. When Helen was described last season, Betty forgot to mention that she's a little quirky. Helen is a palm reader who is proud to be a lesbian. Helen is still in love with Betty, even though Betty is married to a man.
Dr. Master's New Secretary
After being fired last season, Bill Masters will need a new job. Once a hospital is willing to hire him, Bill will have to get used to another secretary. "Breaking Bad" alum Betsy Brandt will play Barbara, according to The Hollywood Reporter. Fans remember that Bill had a tough time dealing with new secretaries in Season 1 when he promoted Virginia to Research Assistant.
Virginia And Dr. DePaul Team Up
Dr. DePaul was pretty icy towards Virginia in Season 1, but now that Bill has been fired, Virignia needs a new doctor to work with. The two will be working on a new screening program for women that uses the Pap smear. The two will attempt to get the approval of Dr. DePaul's former professor, Dr. Pap. The screening utilizes a test named after the professor: the Pap smear. Dr. Papanikolaou will be played by guest star Rene Auberjonois, Showtime announced.
Prostitutes Are Back
"Masters of Sex" hasn't used the brothel much since Bill and Virginia's study was allowed in the hospital, but somehow the prostitutes will be back. Erin Cummings will play Kitty, a high class hooker who helps Virginia and Bill with their study.
New Guest Stars
Showtime announced via press release that Keke Palmer and Courtney B. Vance will guest star in Season 2.
Palmer will guest star as Coral in Season 2. Coral is the nanny hired by the Masters' to take care of their new baby. Bill is going to have to find a new job soon if he wants to be able to pay her.
Vance is Dr. Hendricks, the head of a St. Louis African American hospital. He is attempting to racially integrate his hospital.
Danny Huston will also be a recurring guest star, according to The Hollywood Reporter. The "American Horror Story" actor will play "the privileged head of a hospital's Obstetrics Department." He'll likely be at the new hospital that Bill starts working at this year.
Two Exits And A Near-Death Experience
Two characters will leave the show, according to TV Line. No word on who those characters will be, but they are definitely recurring characters.
One major character will have a very close run in with death, TV Line reported. within the first two episodes of the season.
"Masters of Sex" Season 2 premieres on Sunday, July 13 at 10 p.m. on Showtime. Will you be tuning in?
© Copyright IBTimes 2023. All rights reserved.