Maya Angelou's Works, Letters, Showcased In Harlem Exhibit Honoring The Literary Giant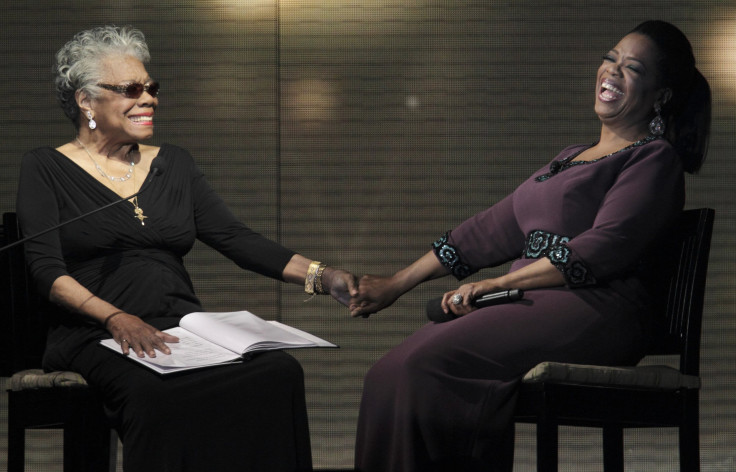 A new exhibit at the Schomburg Center for Research in Black Culture opened on Friday to honor the African-American poet and author Maya Angelou, who died in her North Carolina home Wednesday at the age of 86.
The New York Public Library opened an exhibit titled "Phenomenal Woman: Maya Angelou 1928-2014," at the Schomburg which featured a handwritten manuscript of Angelou's memoir "I Know Why the Caged Bird Sings," letters between Angelou and civil rights activist Malcolm X, and her school assignments dating back to 1937. The collection was reportedly donated to the center in 2010, which includes more than 200 boxes of her papers, photos and other relics. The exhibit will continue through June 30.
"We're hoping that by looking at this, people will see a broader scope of her hopes of her accomplishments but also her concerns and her interests," Mary Yearwood, a curator at the Schomburg, said, according to Reuters.
Angelou was born Marguerite Johnson in St. Louis on April 4, 1928. She began writing her autobiography at a very young age; the first volume, "I Know Why the Caged Bird Sings," which chronicled the first 17 years of her life, was published in 1969.
Her achievements included the recitation of her poem "On the Pulse of Morning" at former President Bill Clinton's inauguration in 1993. She was nominated for the Pulitzer Prize for her 1971 volume of poetry, "Just Give Me a Cool Drink of Water 'fore I Diiie," a Tony Award nomination for her role in the 1973 play "Look Away," and three Grammy awards for her spoken-word albums.
On Thursday, a public memorial service was held in Winston-Salem, N.C. at the Mount Zion Baptist Church, N.C., where she was a longtime member.
"She had a way. How do you describe someone in one word?" Angelou's grandson, Collin Johnson reportedly said at the service. "How do you tell them how she made you feel because she made you feel different things?"
© Copyright IBTimes 2023. All rights reserved.