'Maze Runner: The Scorch Trials' Is Nothing Like 'The Hunger Games,' Says Frypan Actor Dexter Darden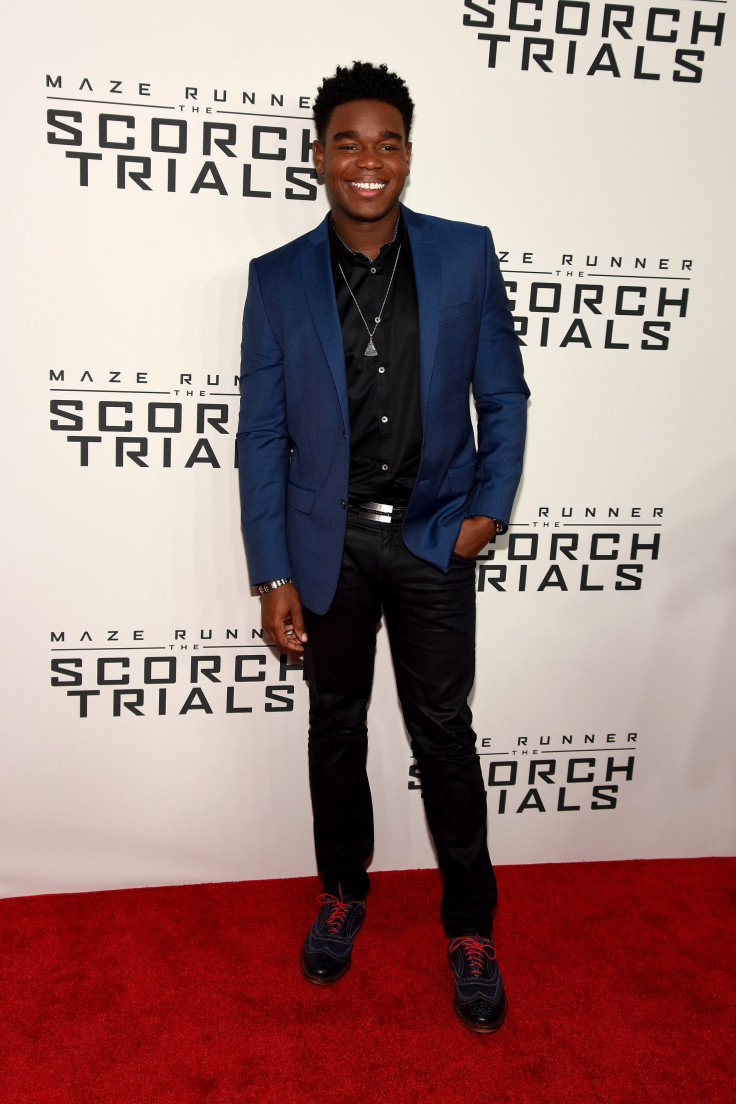 The highly anticipated sequel to Wes Ball's "Maze Runner" is finally here. The first film, released in September 2014, grossed a whopping $32.5 million in it's opening weekend and garnered high praise from critics and fans alike. Despite it's success, the sci-fi franchise has been unable to escape comparisons to both "The Hunger Games" and "Divergent." However, according to Frypan actor Dexter Darden, the film's upcoming sequel," Maze Runner: The Scorch Trials," couldn't be more different.
Darden, 24, told International Business Times there are many things that set the "Maze Runner" films apart from similar movies. The main difference, in his opinion, is the underlying theme of "brotherhood." The New Jersey native said that the unique and isolating environments -- i.e. the glade and, now, the scorch -- further differentiate "Maze Runner" and "Maze Runner: The Scorch Trials" from "The Hunger Games" and "Divergent."
"I think we're so different to be 100 percent honest," Daren told IBT. "I think what makes 'Maze Runner' so unique is that it is a brotherhood. It's really about a group of boys. It's not really a love story -- there's no love triangle, none of that. It's mostly about a brotherhood of boys who really don't know what's going on. All they know is the glade, so just having that environment is separating that."
Darden added that unlike the other films "Maze Runner" is frequently compared to, theirs did not have a $100 million budget. Both "Maze Runner" films were reportedly completed with a $30 to $40 million budget. Although you'd never be able to tell from watching the film, the young actor said "it makes a big difference" when comparing the film franchises side-by-side.
In addition to discussing the factors that set his franchise apart from others, Darden revealed what's in store for Frypan, Thomas (Dylan O'Brien), Newt (Tomas Brodie-Sangster) and the rest of the gang in "Maze Runner: The Scorch Trials." He assured us there's going to be a lot of change in store for viewers of the sequel, but Darden said it's all "good change." One thing that remains the same? The amount of action throughout the film. In fact, "Maze Runner: The Scorch Trials" may even pack a bigger punch than the previous film.
"I think you can definitely expect the same amount of action, if not more. Wes, our director, made it very clear that action is a big part of what 'Maze Runner' is," he said. "The biggest change, which is actually going to be a good change, is that you get to learn more about each character. 'Maze Runner' is really cool because you get to see it through Dylan [O'Brien's] world -- Thomas' world -- for the first time. This one, you kind of pick up with us all."
The "Maze Runner: The Scorch Trials" star said viewers will have "the opportunity to fall in love with somebody new." In addition to adding several new characters -- Jorge (Giancarlo Esposito), Brenda (Rosa Salazar) and Harriet (Nathalie Emmanuel) -- and new obstacles, called cranks, the film features a stronger focus on the supporting characters.
"Maze Runner: The Scorch Trials" picks up right where viewers last left off -- in a strange helicopter. As you may recall, the cast was picked up after cracking the mysterious maze in the first film and now they're gearing up for yet another adventure into the unknown. Darden said the second installment in the "Maze Runner" series introduces viewers to the scorch.
"... This time we get taken to this place that we think is a safe haven, but we learn that that may not be the case." Darden revealed. "We end up realizing that we have to find our way out of that place as well and we embark on this journey into the scorch which is like this desert having land where we're just kind of lost in the open and looking for an answer."
As for whether or not the group of actors could survive the maze, which was featured in the first movie, after filming, Darden seemed fairly confident that together they "would be able to survive really well." He said that his strategy would be for everyone to take on different jobs that align with their expertise -- faster people would be runners and more math-minded individuals would work on seeking out patterns. Darden even gave a little insight as to what each member of the "Maze Runner: The Scorch Trials" cast would do if they were to take on the maze. No word on their survival rate in the scorch, however.
"I think we'd end up just fine against the maze together. We're all good at different things. So Dylan's really fast, really athletic, so he would definitely be a runner in real life. Thomas --who plays Newt -- he would help me and Gally, Will Poulter, figure out the logistics of it, like the tough stuff," he said. "And Ki Hong would help Dylan. We all would be able to survive really well -- as long as there's no grievers!"
"Maze Runner: The Scorch Trials" hits theaters everywhere Friday, Sept. 18. Also, be on the lookout for new music from Darden, who has been hard at a few new projects since filming wrapped. The actor/musician said his upcoming project is a mixture of R&B and pop with influences from artists like Bruno Mars, Ne-Yo, Michael Jackson and Prince. Darden said fans should expect to hear his forthcoming project "really soon."
© Copyright IBTimes 2023. All rights reserved.