Media Bigwigs Donate To Hillary Clinton; Writers Donate To Bernie Sanders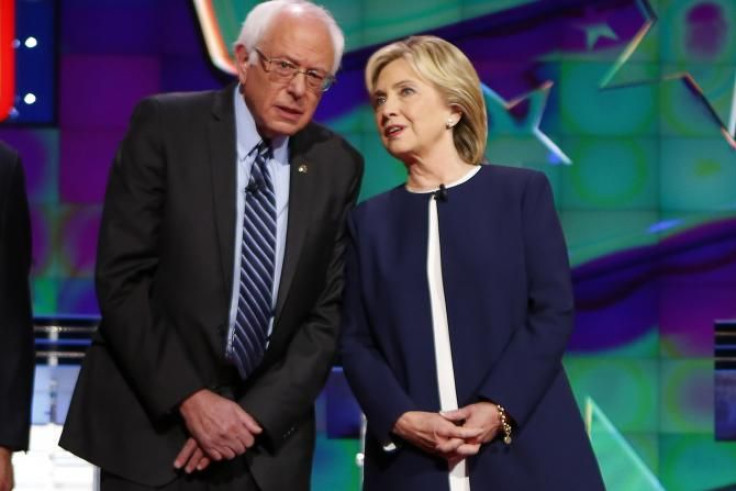 UPDATE: February 11, 4:30 p.m. EST -- After the publication of this article, Gawker Media altered its policy on political donations from staffers per a memo from Exectuive Editor John Cook. Writers are now required to disclose their contributions.
UPDATE: February 10, 3:30 p.m. EST -- A representative of Business Insider referred IBT to the company's Conflict of Interest policy regarding one of its staffers' donation to Hillary Clinton.
Original story:
Media people are political animals like anyone else. Federal Election Commission filings reviewed by International Business Times show that, so far in this election season, everyone from C-suite executives to political reporters has handed money over to his or her favorite candidate. On the Democratic side, Hillary Clinton received far more money, chiefly from company executives hitting the $2,700 cap for individual contributions. At the same time, Sen. Bernie Sanders got some cash from a few political writers who cover him fairly often.
The bigwigs who maxed out their money to Clinton include celebrity feminist and recent Vice hire Gloria Steinem; Facebook co-founder Chris Hughes, owner-publisher of the New Republic; Michael Clinton, the president of Hearst; and a News Corp. executive duo made up of Joel Klein, executive VP, and Antoinette Bush, the company's head of government affairs.
Also topping the Clinton list: Katharine Weymouth, former publisher of the Washington Post; Lynne Segall, SVP and publisher of the Hollywood Reporter; Roberta Myers, editor of Elle; and Lawrence Jacobs, Time Inc.'s general counsel.
Business Insider producer Chris Snyder gave a smaller amount to Clinton of $250 last October. When asked for comment, a spokesperson for BI referred IBT to its Conflict of Interest policy, which says that editorial staffers "with any responsibility for news should refrain from partisan political activity." The policy notes that "This activity also includes making any level of financial contribution to a partisan political campaign."
"The matters addressed by this code are sufficiently important that any lapse in judgment within the areas covered here may be considered serious enough to warrant discipline up to and including dismissal," the BI policy says.
Sanders' coffers, meanwhile, have seen nothing like that kind of executive firepower, but the Vermont senator did score a few donations from writers and reporters. Gawker's Ashley Feinberg, who writes about politics and frequently about Sanders in particular, gave him a total of $510 through several donations last year. Feinberg's posts on Gawker do not disclose that she has given money to the candidate, including those published after the donations.
Gawker editor-in-chief Alex Pareene told IBT that the company has no formal policy on political donations. "We don't pretend to be objective, so I don't think it's a huge deal. Actually, 'Disclosure: Here are all the doomed candidates we have supported' would be a good post."
Another Sanders donor is Paste magazine's Shane Ryan, who gave a total of $60 last September. Ryan doesn't disclose the donation in his writing either, though he has published several posts showing what you might call unapologetic support of the candidate.
"After Sanders' Big Win in New Hampshire, Establishment Figures Want to Scare You with Superdelegates. Here's Why It's Bull---t," reads one. "Hillary Clinton's Internet Supporters Desperately Want This Campaign to be about Sexism," reads another .
Paste Magazine's editor-in-chief Josh Jackson echoed Pareene on editorial policy.
"We don't have any prohibitions on our writers publicly contributing to campaigns. Though we do encourage transparency, we don't believe our writers give up their rights as public citizens," Jackson told IBT in an email. "Conflict of interest stems from personal ties to the subject or the possibility of financial or political gain. Most of our political writing is opinion-based, and the point of view of the writer is going to come through in the piece. For example, Shane Ryan doesn't pretend to be anything but a Bernie Sanders supporter and has stated several times on Paste that he's given to the Sanders campaign."
Lastly, Wonkette's Marty Kelley, alias "Doktor Zoom," gave Sanders a small donation of $35 last September, which is not disclosed in his posts on Sanders.
There's no formal industry standard against political journalists contributing to a candidate, though some will tell you it's frowned upon as a breach of professional etiquette, and flat-out unethical if the donation is not disclosed. The Society of Professional Journalists' Ethics Committee says journalists should generally avoid donating money to candidates or engaging in political activity of any sort. The organization's Code of Ethics cautions against conflicts of interest, "real or perceived."
Keith Olbermann, a former talking head for MSNBC, not a reporter, was indefinitely suspended in 2010 for making three donations to Democratic candidates during that year's election cycle and thereby violating "NBC News policy and standards."
The same rigor was not in place at Fox News Channel when Sean Hannity, another talking head and the channel's liaison to the GOP, was caught donating $5,000 to then-Rep. Michele Bachmann's political action committee without disclosing it. (His wife kicked in another $5,000.) Hannity did disclose on his radio show that he donated $4,800 to the failed congressional bid of a childhood friend.
© Copyright IBTimes 2023. All rights reserved.
FOLLOW MORE IBT NEWS ON THE BELOW CHANNELS