Meghan Markle Is Being 'Pursued' And 'Vilified' Just Like Princess Diana
Her ongoing family drama, as well as a slew of reports that claim she's at the heart of tension within the royal family, has led to Meghan Markle having a rough go of it during her first year as the Duchess of Sussex. Now, one of her famous friends is defending her and warning that things need to change before tragedy strikes her the same way it did her late mother-in-law, Princess Diana.
While promoting his upcoming Hulu series "Catch-22" at the Television Critics Association conference in California, George Clooney, who attended Markle's wedding to Prince Harry in May 2018, denounced the treatment she's received in the media and compared what's happening to her to Princess Diana—hinting that if things didn't let up on the Duchess of Sussex soon, it could be another tragic story.
"They're just chasing Meghan Markle everywhere, she's been pursued and vilified," he said, according to CNN. "I can't tell you how frustrating it is to see that."
"She's a woman who is seven months pregnant and she is being pursued and vilified and chased in the same way that Diana was, and it's history repeating itself. And we've seen how that ends," he added.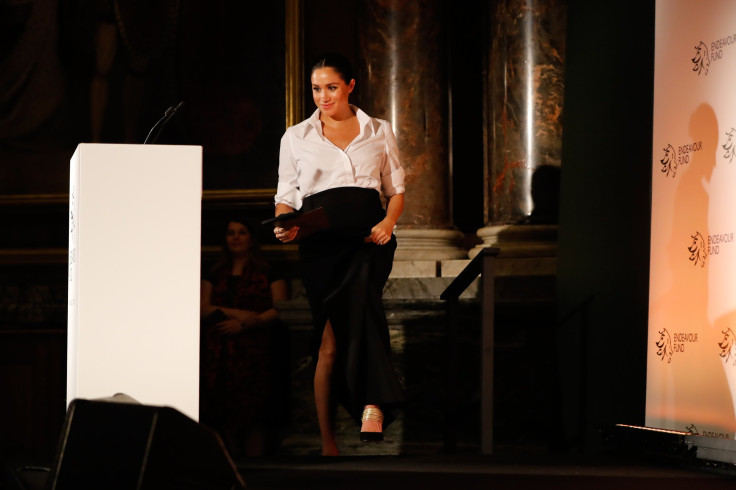 Markle has been the subject of relentless headlines in recent months, most notably over reports that she was involved in a feud with her sister-in-law, Kate Middleton, and her battle with her family has received renewed attention following her father's releasing a private letter she wrote him last year to the British press. Notably, Princess Diana was also often hounded by the press and died in a car accident in Paris in 1997 after her driver attempted to evade photographers who were in pursuit of Diana and her boyfriend at the time, Dodi Al-Fayed.
Clooney also criticized the coverage the letter has received, noting he was surprised something so raw was being broadcast and used against Markle.
"You're taking a letter from a daughter to a father and broadcasting it everywhere. She's getting a raw deal there, it's irresponsible. I'm sort of surprised by that," he said.
Clooney has famously criticized reports in tabloid media in the past, most notably before his wedding to wife Amal in 2014. He engaged in a stand-off with The Daily Mail at the time after they published a report that his then-fiancée's mother, Baria, was opposed to their wedding on religious grounds because she was a member of Lebanon's Druze community. Clooney went on to publish his own op-ed where he refuted the story and also rejected the publication's apology.
He later told Variety that he felt he needed to speak up because unlike other false stories that had been printed about him over the years, he felt that one had crossed the line because it could have put his wife's life in jeopardy.
"That's why you pick your fights at a tabloid. Every day they write things that aren't true, but every once in a while they write something that is actually dangerous to your family, and its probably not true. And that's the one you pick," he said.
© Copyright IBTimes 2023. All rights reserved.