Meghan Markle Desires For 'A Little Independence' While With Prince Harry In New Photos: Body Language Expert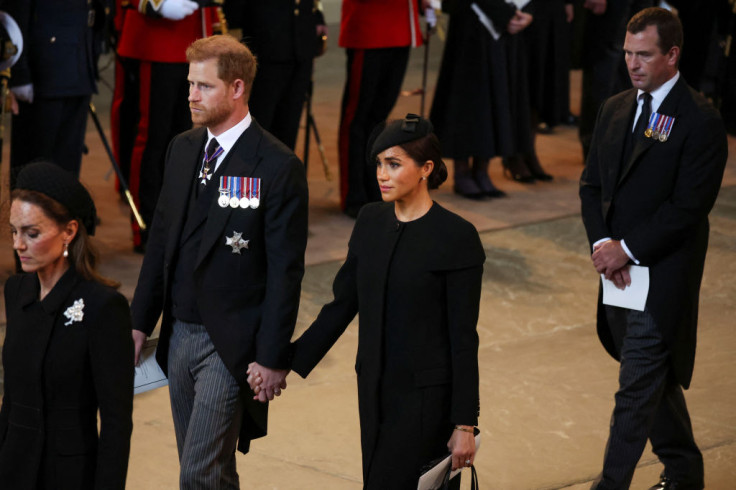 KEY POINTS
Body language expert Katia Loisel explained Prince Harry and Meghan Markle's newest photos
Loisel said the first photo with Markle standing in front of her husband was "Meghan's moment"
The black-and-white photo appeared to suggest that they are ready to take on the world
Prince Harry and Meghan Markle's newest photos suggest they are "ready to take on the world together," according to a body language expert.
The Duke and Duchess of Sussex seemingly responded to Buckingham Palace's photo of the new fab four Saturday by releasing two pictures from their attendance at One Young World Summit last month.
Katia Loisel, a body language expert, media spokesperson, trainer, speaker and author, who has been interviewed over 1000 times by media outlets worldwide, including ABC, Daily Mail TV and "The Morning Show," shared her thoughts on the Sussexes' newest photos released by Misan Harriman on Monday.
Loisel said that the first photo with Markle standing in front of Prince Harry sent a message that it was "Meghan's moment."
"Standing in an open dynamic pose, her legs spayed, direct eye gaze, torso and head directly orientated towards the camera, Meghan projects an air of confidence and independence," Loisel said, 7News reported. "However, despite Meghan's power pose, Meghan's outstretched arm and loosely connected finger hold indicate a desire for a little independence while remaining connected."
As for Prince Harry, the royal prince reportedly played a more "supportive role." He didn't vie for attention, with his body "non-verbally providing reassurance and shining the spotlight on Meghan," Loisel added.
She pointed out Prince Harry's body turned inward and orientated toward his wife. He was gently holding her index finger and gave a knowing smile, allowing Markle to take the center stage. The picture suggested "both support and sense of prince" from Prince Harry toward Markle.
"This position says, 'I've got your back," Loisel continued.
The second photo featured a black-and-white shot of the couple standing side-on to the camera. They were mirroring each other in unity.
"This powerful photo suggests a proud couple who are ready to take on the world, together," the body language expert explained. "Their bodies mirror one another, their upright posture, backs erect and chins slightly lifted indicating a united front and a sense of pride and perhaps defiance. Their hands are clasped, palms touching and fingers interlaced in their signature hand hold, suggesting a deep level of intimacy."
She added that staged portraits lack nonverbal cues, including fleeting micro-expressions. However, it was interesting to note that Markle gave a subtle smile while Prince Harry appeared stern.
British journalist and investigative reporter Tom Bower, the author of the book "Revenge," claimed that Prince Harry and Markle dropped their new pictures shortly after the palace's photo of the new fab four, featuring King Charles, Queen Consort Camilla, Prince William and Kate Middleton, to humiliate the royal family.
Vanity Fair editor Katie Nicholl said the timing was notable, and the Sussex made a "polarizing" and "bold move." The "New Royals" author claimed that Prince Harry and Markle were sending the royals a message that they could do whatever the royals do and were not going anywhere.
"This is clearly the Sussexes just making a point," she told Entertainment Tonight. "We're visible, we're bold, and we're not going anywhere... we're doing 'royal' a different way."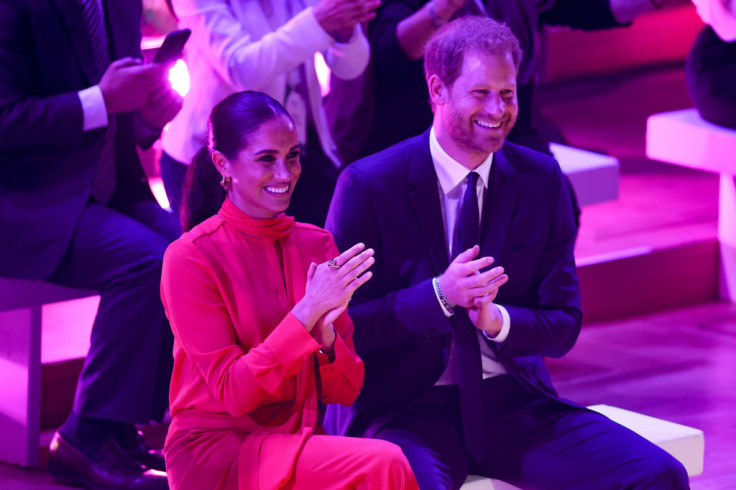 © Copyright IBTimes 2023. All rights reserved.