Meghan Markle Disappoints Royal Family With Her Podcast, Interview: Source
The royal family is not impressed with Meghan Markle's recent interviews and podcast, "Archetypes." After stepping down from their roles in the royal family for the sake of privacy, the Duchess of Sussex continues to speak about the family in public, a source revealed.
"Royal family is disappointed by Meghan Markle's latest comments in The Cut magazine and on her podcast," the source said, as reported by Entertainment Tonight on Wednesday.
"They are distressed that after stepping back from the royal family — claiming a need for privacy — she continues to publicize family matters in public," they added.
The royal family has a "loss of trust" with Markle, the source further revealed.
In The Cut interview published Monday, Markle shared her experience living with the royal family and how she has to make an "active effort" to forgive.
"It was bittersweet, you know? Knowing none of it had to be this way," she said about her experience in 2020. "I think forgiveness is really important. It takes a lot more energy to not forgive. But it takes a lot of effort to forgive. I've really made an active effort, especially knowing that I can say anything."
In this interview, Markle also mentioned how she had to give up her passport, lifestyle blog and social media account at the time of joining the royal family.
As far as her podcast is concerned, Markle explained how she was treated like a Black woman after she started dating Harry. This marked the second episode of the podcast, which dropped Tuesday on Spotify.
"If there is any time where there was more focus on my race it was when I started dating my husband," she said, InStyle reported. "Then I started to understand what it was like to be treated like a black woman because up until then I was treated as a mixed woman and things really shifted."
The 41-year-old actress married Prince Harry, Duke of Sussex in 2018. The couple welcomed a baby boy named Archie on May 6, 2019. They had another baby, a girl named Lilibet Mountbatten-Windsor on June 4, 2021.
Before marrying Harry, Markle was married to producer Trevor Engelson from 2011 to 2013. On the work front, Markle and Harry are planning to renew their vows in the United States. According to the source, this event will be streamed on Netflix.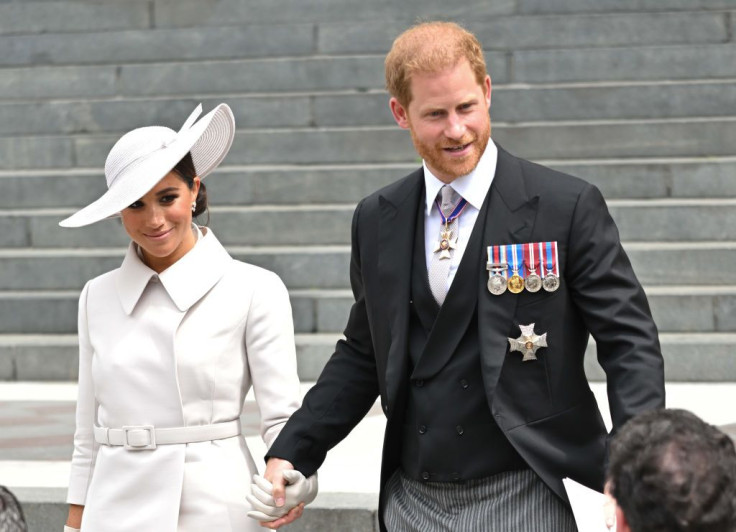 © Copyright IBTimes 2023. All rights reserved.