Meghan Markle Left Duchess Camilla 'Very Upset' After Upstaging Future Queen's Vital Campaign
KEY POINTS
Meghan Markle upstaged Camilla Parker Bowles and overshadow the latter's campaign
Meghan Markle reportedly insisted to release her photos from a private Theatre visit
Meghan Markle and Prince Harry got booed on their return engagement
Meghan Markle reportedly left Camilla Parker Bowles very upset after upstaging her vital campaign.
Russell Myers, The Mirror's royal editor, claimed that Prince Harry's wife stole the limelight from Prince Charles' spouse after she released her engagement photos on the day the Duchess of Cornwall was about to deliver her long-planned speech about domestic violence. Markle reportedly insisted that her photos during her visit from a theater be released which left the future queen "furious" and "very upset."
Camilla had been planning to gave remarks on the 10th anniversary of the Women of the World Festival in London. She planned it for nearly a year and Markle allegedly broke it by overshadowing her simply by demanding her pictures from a private visit to the National Theatre. The palace officials refused to comment about the issue but palace insiders shared that Markle just ruined Camilla's outing.
"Camilla's work is very important to her and her decision to highlight the scourge of domestic violence at the 10th ­anniversary of Women of the World was a carefully thought-out plan," the source told Myers.
"Over the last four years she has worked tirelessly, mostly behind the scenes but to great effect, to use her ­platform and personal experiences to highlight the issue and help sufferers. Of course it was known Harry and Meghan would be doing engagements this week, some privately, but everyone was in agreement that Camilla's speech should take p­recedence. ­Unfortunately some people had other ideas," the insider continued.
In related news, Markle and Prince Harry got booed on their return engagement. On Thursday, the Duke and Duchess of Sussex stepped out to attend the Endeavour Awards at Mansion House in London. While the majority of the crowd was very pleased to see them, one shouted "boo."
Prince Harry and Markle didn't let it spoil their outing. In fact, they were very sweet for the rest of the evening. Body language expert Judi James said that the pair was packing on "honeymoon style" affection.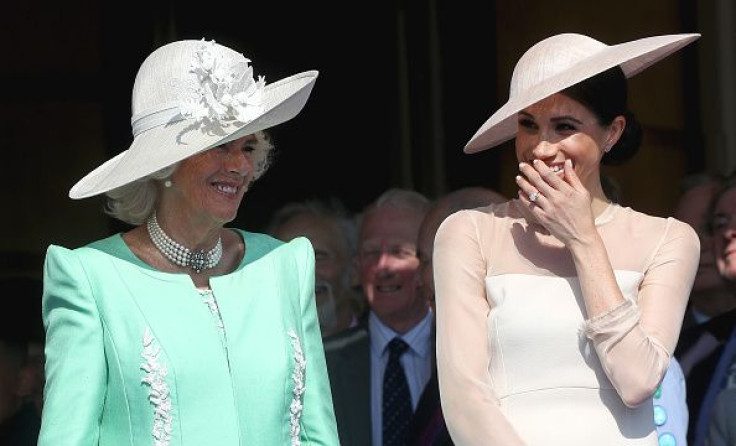 © Copyright IBTimes 2023. All rights reserved.