Meghan Markle, Prince Harry Changed Mind, Refused To Be Under 'Controlling' William
Meghan Markle and Prince Harry changed their mind and refused to be under Prince William and Kate Middleton.
The Duke and Duchess of Sussex have decided to have a separate household from the Duke and Duchess of Cambridge. Just recently, they also decided to leave their shared charity Royal Foundation to create a new one.
According to royal commentator Duncan Larcombe, the new parents are keen on doing "things their own way." However, he finds it odd why Prince Harry and Markle have to separate their charities when they are backing the same causes. He added that it isn't conclusive if it's a sign of "rift," but it is definitely a sign of "division."
"It is clear that Meghan and Harry were initially prepared to slot in under the wing of William and Kate but that's not how they feel a year on," Larcombe said, pointing out how the couple changed their mind.
"Harry is going to forge his own path with Meghan. For years, before he met Meghan, he was the royal gooseberry standing behind William and Kate," he continued.
Larcombe is convinced that Prince Harry wants autonomy on what he does, how he does it and how she does it, which for him is a "definite change to how it was 12 months ago."
A palace insider told Sunday Times that Prince William was "quite controlling" when there were only three of them, but when Markle joined the group he could no longer do the same.
Markle reportedly knows all the tricks and is helping Prince Harry maximize their "standable brand" and Prince William would need to get used to that.
"Meghan and Harry aren't going to be controlled by William. They are going to do it their way, and there is scope for them to do that," Larcombe added.
In related news, Prince Harry and Markle are reportedly hiring new staff to catch up with Prince William and Middleton's popularity. The Duke and Duchess of Cambridge remain the most popular royals on Instagram with over 8 million followers and the Sussexes are determined to close the 700,000 gap of followers between them.
Showbiz commentator Lizzie Cundy said that Markle was "unhappy" with the thought of Prince William and Middleton having more followers. She felt that hiring a social media expert is just a sign that their "rift is getting so bad."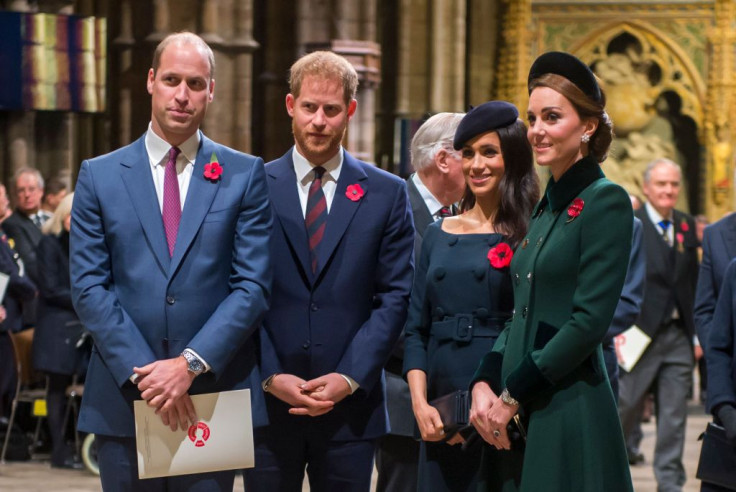 © Copyright IBTimes 2023. All rights reserved.