Meghan Markle, Prince Harry Made Another Blunder By Missing This Opportunity: Royal Correspondent
KEY POINTS
Prince Harry seemingly declined the Queen's invitation to spend the summer with her in Balmoral
Neil Sean said joining the Queen in Balmoral would be perfect timing for Prince Harry and Meghan Markle
The Duke of Sussex would need to make a special request to spend some time with his grandmother
Prince Harry and Meghan Markle made another blunder by missing the opportunity to be with the Queen in Balmoral this summer, according to a royal commentator.
Neil Sean, a royal and entertainment reporter for NBC News, MSNBC and Access Hollywood, weighed in on Prince Harry's concern about the Queen's assistant, Edward Young, on his YouTube channel. Based on Prince Harry's filing about his security concerns, "there were significant tensions" between him and Young. He was surprised that he got involved in the panel that denied him police protection.
According to Sean, Queen Elizabeth spends her summer in Balmoral and "normally invites people that she'd like to see during her long stay there," where they can catch up in the relaxing surroundings. They usually enjoy barbecues, long walks in the woods and highland games.
"Everything is fun for the Queen in Balmoral," Sean added.
"According to a very good source, as we told you here on the show, it looks like Harry and Meghan will be too busy to make that all-important highland trip," Sean continued. "But it would appear that this would have been a very good opportunity because Sir Edward Young wouldn't be there for the whole duration, he too will be taking a short break."
Some senior sources told Sean that joining the Queen in Balmoral would be perfect timing for the Duke and Duchess of Sussex to have an "informal chat" with Her Majesty "in the surrounding that she likes the most and discuss the problems that have engulfed" them.
It seemed that the Sussexes had already turned down the Queen's invitation to spend the summer with her because, according to Sean, "hot-headed Harry had made yet another big mistake, and it looks like the Queen's diary is fully full up."
Sean added that even if Prince Harry "wanted to make the trip, he would now have to put in a special request" to see if his grandmother has time to spare to meet them.
"That's exactly how monarchy works," Sean concluded.
In another episode on his YouTube channel, Sean revisited Prince Harry's statement about the right people surrounding the Queen. The royal commentator noted that many thought he was referring to the senior royals, including Prince Charles and Prince William. However, after admitting tension with Young, Sean believed Prince Harry was referring to the Queen's assistant when he said those words.
Prince Harry or his team reportedly claimed that his offer to pay for his security "was not passed on to the gracious monarch or senior members of the British monarchy," and he seemingly blamed Young, who turned out to be part of the committee that denied his security request.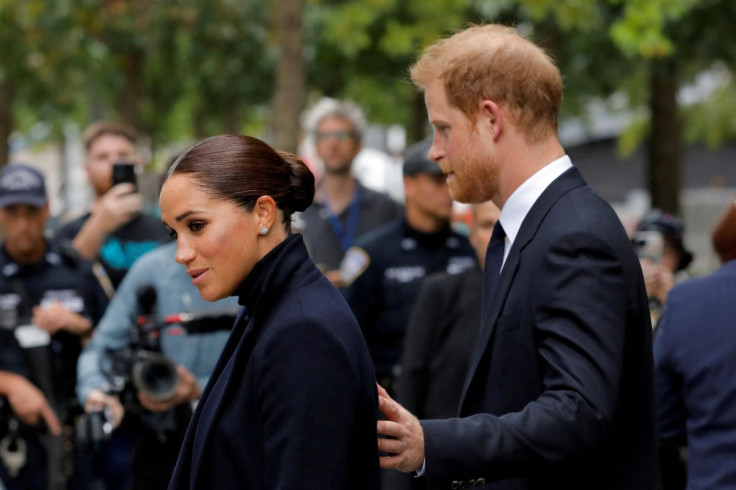 © Copyright IBTimes 2022. All rights reserved.
FOLLOW MORE IBT NEWS ON THE BELOW CHANNELS