Meghan Markle Was 'Looking For English Husband' When She Met Prince Harry, Royal Author Claims
KEY POINTS
British writer Tom Bower claimed Meghan Markle was "on a manhunt" when she met Prince Harry in 2016
The former BBC journalist alleged that Markle "carefully researched" Prince Harry's strengths and weaknesses
The claims came after the release of Bower's biography on the British royals, "Revenge: Meghan, Harry and the War Between the Windsors"
British writer Tom Bower has made bold claims about Meghan Markle and how her romance with Prince Harry began while discussing his new biography on the British royals in an interview.
The investigative journalist's book, "Revenge: Meghan, Harry and the war between the Windsors," was released last week with a number of claims about the Duke and Duchess of Sussex, including that they allegedly clashed with Victoria and David Beckham and that Markle was allegedly still living with ex Cory Vitiello when she went on her first date with Prince Harry in 2016.
Following the release of his book, the former BBC journalist and television producer appeared on GB News' "Breakfast with Eamonn and Isabel," where Bower was asked about the kind of pairing Markle and Prince Harry were when they met.
"I think they are both needy people, but I think the point is Meghan was on a manhunt," Bower claimed. "She was looking for a husband, an English husband, and Harry was available."
The author went on to claim that Markle "carefully researched" Prince Harry's strengths and weaknesses, so when the two met, the former actress "could easily, because she's an extraordinary good performer in those circumstances, reassure him that she was the one he was looking for." International Business Times could not independently verify Bower's claims.
Bower claimed that before he met Markle, Prince Harry had admitted that he was a "lonely man" and "couldn't find anyone suitable." The author claimed that the duke was "desperately looking for somebody" by the time he met Markle.
"Meghan fitted the bill. She provided everything he needed. She was good looking, she was good company, [and] she could talk the way he wanted to talk about his subjects like Africa and things like that," Bower claimed. "And they both needed each other, and I think to that extent, for Harry, it was a wonderful gift, a match made in heaven, and also for Meghan because that was the sort of person [she was] looking for, famous and rich."
However, his claims contradicted Markle's past statement that she didn't know much about Prince Harry before they started dating.
"Well, I didn't do any research about what that would mean… I'd never looked up my husband online," she claimed during her 2021 interview with Oprah Winfrey. "I just didn't feel a need to because everything that I needed to know, he was sharing with me, right? Everything that we thought I needed to know, he was telling me."
Markle and Prince Harry have not publicly addressed Bower's claims in the interview and in his newly released book.
Meanwhile, when asked whether he thinks Prince Harry and Markle still need each other, Bower told hosts Eamonn Holmes and Isabel Webster that he believes they do, adding that he thinks the couple's relationship works and that the duke seems happy in the U.S.
However, Bower criticized the couple for allegedly "financing their well-being by trashing the royal family." He added that "much depends now" on what Prince Harry will say in his upcoming memoir.
The Duke of Sussex announced last year that he is working on a "wholly truthful" memoir that will tell his story, including "the highs and lows, the mistakes [and] the lessons learned."
British journalist Phil Dampier — author of several royal books, including "Royally Suited: Harry and Meghan in Their Own Words" — recently claimed to New Idea that Buckingham Palace was allegedly concerned about what Prince Harry might say about his stepmother, Camilla, Duchess of Cornwall, in his upcoming memoir.
"The fear is that deep down Harry has never truly forgiven [Camilla] for being Charles' mistress and then wife," the royal expert told the outlet. "As he grows older, Harry seems to see himself as his mum's defender. I'm sure he will settle a lot of old scores in the book."
Prince Harry's memoir is expected to be released later this year.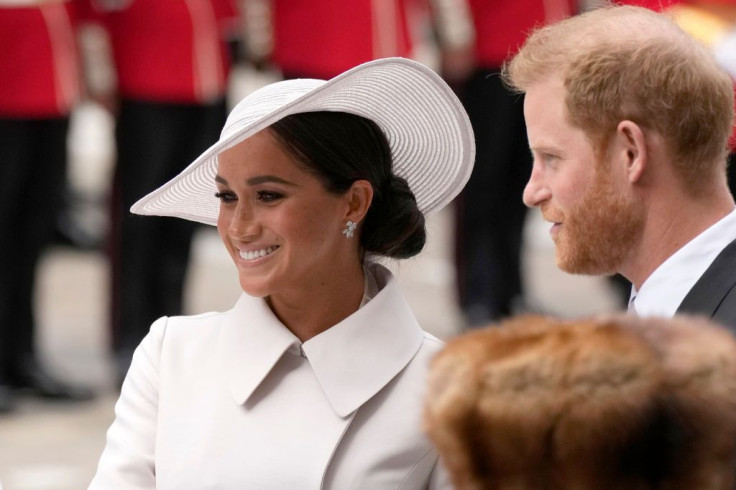 © Copyright IBTimes 2022. All rights reserved.
FOLLOW MORE IBT NEWS ON THE BELOW CHANNELS