Meghan Markle, Prince Harry Allegedly Clashed With Victoria And David Beckham, Book Claims
KEY POINTS
Tom Bower claimed in his new book that Meghan Markle and Prince Harry were allegedly "addicted" to reading about themselves in the press
Markle allegedly suspected Victoria Beckham of "indiscretion," the author claimed
Prince Harry allegedly confronted David Beckham about the suspicion, which damaged their friendship, according to the book
Prince Harry's friendship with Victoria and David Beckham hit a rough patch after the royal and his wife Meghan Markle allegedly accused them of leaking stories to the press, a new biography of the British royal family has claimed.
British writer and investigative journalist Tom Bower — who is known for his unauthorized biographies of the royals and notable figures in the business and media world — discussed the Sussexes' friendship with the Beckhams in his newly released book, "Revenge: Meghan, Harry and the war between the Windsors.
Bower — who was a reporter on BBC's "Panorama" and an award-winning producer of over 200 television documentaries — claimed that Prince Harry and Markle were allegedly "addicted" to reading about themselves in newspapers and tabloids but were worried that their secrets were getting out through their celebrity pals, according to Us Weekly.
"Harry and Meghan were shackled," Bower claimed in the book. "Every night they scoured the internet to read the newspaper reports and the trolls' postings on social media. Irrationally, they grouped the two together and fed each other's frenzy about the media. Convinced that as champions of goodness they were being persecuted by mendacity and racism, they felt victimized by the mildest criticism."
Markle, 40, "suspected Victoria Beckham of indiscretion," the author alleged. "Harry called David Beckham to repeat the accusation. Outraged, Beckham's truthful denials damaged their relationship."
International Business Times could not independently verify the book's claims. Reps for both couples have yet to respond to requests for comment, according to Us Weekly.
It is unclear where they stand today, but the Beckhams' friendship with Prince Harry and his brother Prince William goes back years. The couple was invited to the Duke of Cambridge's 2011 wedding to Kate Middleton as well as the Duke of Sussex's 2018 wedding to Markle.
After Prince Harry and Markle announced their decision to step back from their roles as working royals in January 2020, the former professional soccer player spoke to Entertainment Tonight about how "proud" he was of the decisions his longtime friend made regarding his royal status and how the duke was adjusting to life as a new father.
"I think he's enjoying being a young father for the first time and that's what we always spoke about," David told ET. "When you are a parent, it changes everything for you."
David also said at the time that he hopes Prince Harry continues to prioritize his personal happiness.
"I haven't spoken to Harry about him moving. We speak as friends and that's the most important thing for me," he told the outlet. "He always needs to be happy. […] We love him and he's an amazing person—and that's the most important thing—but I'm proud to see him growing up as an individual and being that person that every father wants to be."
Earlier this year, rumors had surfaced that Prince Harry and Markle could attend David and Victoria's son Brooklyn Beckham's wedding to Nicola Peltz in Palm Beach, Florida.
Ahead of Brooklyn's wedding in April, 9Honey royal correspondent Natalie Oliveri spoke about the Sussexes' friendship with the Beckhams during an appearance on "Today Extra."
"Meghan has been wearing Victoria's clothes for many years now, so there is quite a close friendship there," the journalist claimed.
However, it was later reported that no one from the British royal family came to the nuptials.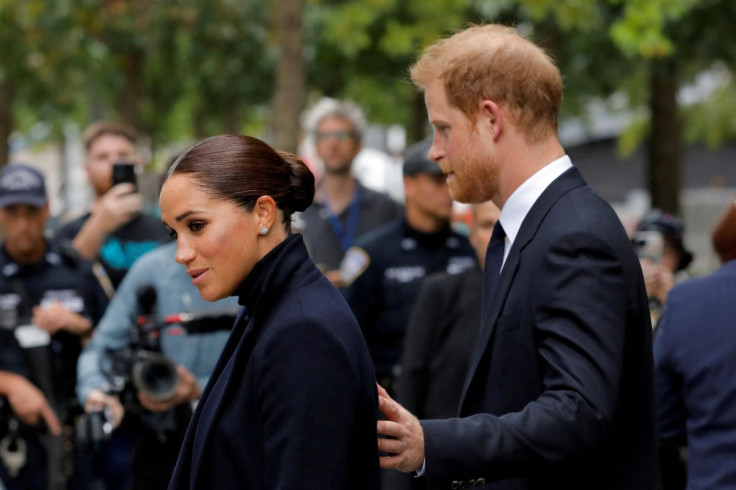 © Copyright IBTimes 2023. All rights reserved.