Meghan Markle's Style More 'Experimental,' Kate Middleton 'Demure,' Royal Expert Says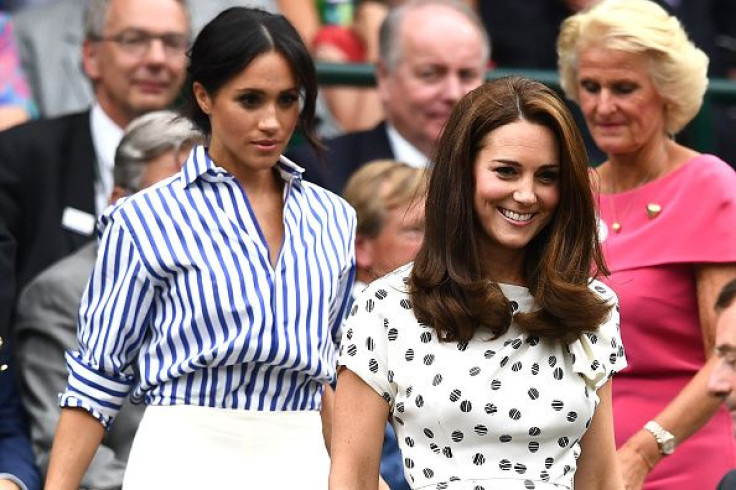 Meghan Markle's fashion choices are more "experimental" than sister-in-law Kate Middleton.
According to royal expert Richard Fitzwilliams, the Duchess of Sussex and Duchess of Cambridge have different styles. This could be due to their rank in the royal family hierarchy. "Kate is looking for the perhaps slightly aloof, slightly demure, look," Fitzwilliams told Express. "Meghan's the wife of the sixth in line to the throne, not the future King, so she can, I think, be a little more experimental, if she wants to."
Middleton usually opts for English designers when it comes to her outfits. Fitzwilliams finds the royal mom of three's look to be "extremely attractive." "I think Meghan and Kate compliment each other. Kate, after all, is the future queen and she has, as it were, she tends to wear more demure clothes," the royal expert continued. "The particular look is extremely attractive, it's also, I think, rather specialised."
"There are certain brands for example, I mean whether it's Alice Temperley for example that she wears or various well-known designers," he added. "McQueen says Kate has poise, she has beauty, she does have that regal look, so if she chooses, and Kate tends to choose large numbers of English designers for example."
According to fashion blogger Christine Ross, Markle will also not copy Middleton's maternity fashion. The Duchess of Sussex's maternity style will "stay true to the elegant, clean lines and simple cuts that she has always preferred."
Just like Fitzwilliams, Ross believes that the two duchesses have different preferences when it comes to their manner of dressing "Meghan loves a modern, urban style whereas Kate loves her country look," Ross explained.
On the other hand, Middleton didn't make it to Lyst's top 10 fashion influencers for 2018 but Markle made it into the top three, next to Kylie Jenner and Kim Kardashian. Last year, Markle also surpassed Middleton when she got the fourth spot while Middleton fell from no. 5. This year, Prince William's wife is at no. 16.
This is the first time Lyst has extended its rankings to a top 20. Otherwise, Middleton wouldn't have made it this year.

© Copyright IBTimes 2023. All rights reserved.